10 Oct 2018
Overseas Cosmetic Brands Retain Appeal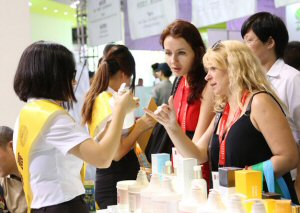 The Chinese mainland now has the world's second-largest cosmetics market, lagging behind only the United States. Sales of cosmetics and personal-care items across the mainland are expected to top US$39 billion in 2018, compared with $71 billion in the US. Given the much larger population, actual spend per person on the mainland is relatively modest, at about $28 per capita. As a result, the market still has plenty of potential despite top-line growth in the double digits in recent years, although this is starting to slow.

The China Beauty Expo, now in its 23rd year, is the biggest trade show of its kind in Asia. From the number of international exhibitors at the event, it was clear that foreign brands remained the most significant force in the mainland market. Despite this, the number of domestic producers is on the up, with many optimistic about regaining market share from the numerous overseas interlopers. For others, though, it is more about working in tandem with the global players.

Nampa, a six-year-old Beijing-based distributor, which imports foreign natural and organic cosmetic brands, has recently established an operation in Shanghai to take advantage of the local free trade zone facilities, which should streamline its access to non-China products. At present, the company imports and distributes the DiksoNatura haircare line from Italy and Fraganta perfumes from California, both of which have robust organic credentials.
Price Gap Narrows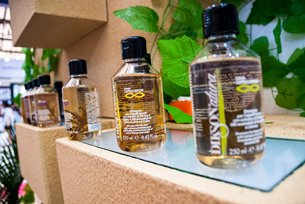 Upbeat as to how mainland consumers view imported cosmetic and beauty products, Nampa's Managing Director Zhuo Chen said: "More and more Chinese people are looking for imported goods. They are considered to be intrinsically safer and to offer more consistent quality. At the same time, Chinese products are also increasing in price, so the cost gap between them and imported brands is narrowing."

Echoing his sentiments, Karen Wang, the company's Marketing Director, said: "We see a good long-term opportunity in China and are targeting the growing number of mainlanders that have had previous exposure to overseas products."

The company has attended the show since 2013 and observed that this year there seemed to be fewer willing buyers than at previous events. The company's staff attributed this to the increased fragmentation of the distribution channels, as well as the emergence of a number of online channels, such as WeChat, and the higher number of brands exhibiting at the expo.

Among this extended number was CIIC, a Shanghai-based state-owned enterprise that imports brands from Hong Kong, Europe and Japan. Among the many Japanese brands displayed on its stand was E-Standard, a range of hair products that includes shampoos, treatments and oils.

CIIC's Senior Manager Naya Weng has seen mainland consumers' interest in E-Standard increase considerably in recent years, saying: "We first came to this show with E-Standard three years ago, but there wasn't much interest at that time as it wasn't well-known. Now it's much more well-known and there's been a lot more interest."

The brand is sold at Isetan department stores in Japan but, as it doesn't have a CFDA certificate, it is only available online on the mainland.

Health and beauty products from Korea have long enjoyed a good reputation in many Asian markets, including the mainland. Consequently, there were a good number of Korean companies at the show, including Dr Marshmallow, which was making its second visit. Founded five years ago, the company had on offer an enzyme powder cleanser considered much better for oily skin than liquid cleansers.

Undeterred by the red tape holding back his company's expansion into the mainland, Chief Executive Kim Miji said: "The product is not yet on sale in China, as we are still waiting for a licence. Many people, however, are expressing interest and we are already exporting to Vietnam, where it's sold to clinics and is available both online and offline."
Hong Kong Connection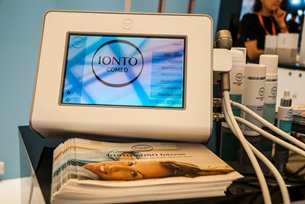 Ultra V, another Korean company, was represented at the show by its Hong Kong branch, which formally opened in May last year. Founded in 2012, the company has two main product lines – a special thread used for a low-invasive, facelift-like treatment developed by well-known Korean cosmetic surgeon Dr Kwon, and the Idebenone skincare range.

Positive as to the likely interest by mainland consumers, Ultra V General Manager Carmen Lee said: "The skincare range is for care after facelift surgery and can be used directly by the patient. In the yellow luminous ampoule treatment that we carry, there is a kind of anti-aging ingredient for the skin."

"The product is already very popular in Korea and took $2.5 million in orders on its first appearance on the Lotte home shopping channel."

Ms Lee did, however, feel that the reception at a previous event in Guangzhou was better than at the Shanghai expo, saying: "There are a lot of customers here who are still unfamiliar with this type of product. In the show down south, attendees already knew about it and had come to value it."

In addition to the local distribution, there was also a fair number of European companies at the event. Appearing as part of the dedicated French pavilion and supporting its exclusive distributor in China, family-run Corine de Farme was exhibiting at the show for a second time. With a sales network already spanning 60 countries, the company has high hopes for the mainland market.

Explaining just why he is setting so much store by the mainland, Chief Executive Eric Jacquemet said: "It's an important market for us. While the middle class is growing – our primary customer demographic – we still need to bring something different to the market if we are going to succeed.

"Market demand has so far been fantastic for us and we have enjoyed double-digit sales increases. It is, however, one of the most difficult markets for product registration and the rules keep on changing."

A veteran of this difficult market is southwest Germany-based Ionto Comed. Some 15 years ago, it developed a transliteration of the company brand name in Chinese, with the characters meaning "forever beautiful and healthy". The company was founded in Germany 40 years ago as a medical-device manufacturer, entering the Hong Kong market in 1998.

This year, on display at its stand was the new fully computerised non-invasive ultra-sound diagnostic technology, designed for use in conjunction with its range of skincare products. Introducing the system, Chief Executive Martin La Fontaine said: "The computerised system guides the operator towards the appropriate treatment."

Fellow German company Oricont has been selling in the Chinese market for four years, focusing primarily on body-care products and household-cleaning items. To date, though, it hasn't done quite as well as it had initially hoped.
Pricey Transport
Blaming its lack of profitability largely on soaring transport costs, Managing Director Michael Rohweder said: "The main problem for us is freight charges. When we first started four years ago, it was $150 for a 40 foot container, now it has risen to $700. That doesn't make much difference when you are selling high-cost items such as mobile phones, but when the items are low cost, it becomes far more important."

This was the third time the company had exhibited at the show and, although Mr Rohweder felt that the number of visitors was down on previous years, he believed the quality was somewhat better.

One of the more unusual mainland companies at the show was Shanghai-based Feeglor. The company imports and sells the highly prized Syrian Aleppo soap as well as its own Feeglor brand.

Company founder Lei Min, outlining the struggle to import the soap from such a conflict-hit region, said: "Production of Aleppo soap dates back to the Middle Ages. It's a hard soap made from olive and laurel oils, solidified with vegetable-based sodium that is also called Aleppo green gold. Sadly, the war has now made it very difficult to get a regular supply."

China Beauty Expo 2018 took place from 22-24 May at the Shanghai New International Expo Centre.
For more China market opportunities, please visit: http://research.hktdc.com