18 Oct 2018
Green Light for Belt and Road-backed Laos Project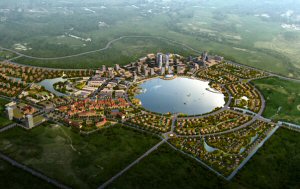 Belt and Road Initiative - (BRI) backed infrastructure upgrades in Laos have enjoyed a busy few months of late. Not only has it been announced that work on the Chinese mainland-funded US$6 billion Laos-China Railway project had passed the 20% completion mark, but it has also transpired that the Lao government and Guangdong Yellow River Industrial Group (GYRIG) have come to an agreement on the proposed development of a Special Economic Zone (SEZ) in the country's Champassak province.

The formal announcement follows the August 2017 signing of a memorandum of understanding between the two parties, which saw the GYRIG agree to review the overall viability of the project and to work on initial design concepts. With that review now completed, apparently to the satisfaction of all the parties concerned, GYRIG has formally committed to covering at least part of the $10 billion cost.

With the project officially designated as the Khonphapheng Special Economic Zone, it will be sited in the far south of the country, near the Cambodian border. Set close to Pakxe, the provincial capital of Champassak, it falls within the highly scenic Siphandone region. Ringed by a number of national parks and adjacent to the Khonephapheng Falls – the mightiest waterfall in Southeast Asia – it is a region that already attracts thousands of tourists a year. Handily, it is less than 400 kilometres by road from Siem Reap, Cambodia's prime tourist destination, and its nearby international airport.

According to the strategic agreement between the Laos authorities and the mainland contractor, the SEZ will be built in two phases, with the first scheduled to be completed by 2025. This initial stage will focus on ensuring all the zone's required infrastructure is in place, including roads, utilities and drainage facilities.

The second phase will then involve the construction of the actual on-site commercial properties, including several restaurants, a shopping centre and range of other tourism-related businesses. Over the long-term, there are also plans in place to construct a dedicated air-transport facility. In total, the project is estimated to require about 9,000 hectares of land, of which 7,000 has already been allocated.

This will not be the country's only SEZ, with the first such site developed in 2002. Today, there are 12 SEZs in operation, which are in total home to 377 domestic and overseas companies extend across a combined area of 19,612 hectares, representing total registered capital of $8 billion.

The Lao government is now committed to building 41 further special and specific economic zones, with a combined target of creating 50,000 new jobs. It is hoped that the programme will boost local yearly per-capita income by as much as $2,400, almost double its current estimated level.

In line with this, in July this year the government introduced a new, wide-ranging package of tax breaks, all of them related to SEZs. As part of this raft of incentives, any SEZ developer that pursues a programme of road construction or ensures the provision of electricity, water or drainage services will be granted an exemption from all VAT charges, while other SEZ-related construction activities will only incur VAT at 50% of the statutory rate.

Furthermore, any SEZ developer investing in industrial production, tourism, the services sector, healthcare, education or real estate will be entitled to a 16-year corporate tax exemption in all Zone 1 locations and an eight-year exemption in all Zone 2 locations. Once these initial exemption periods expire, companies will then be taxed at the country's statutory corporate rate of 24%.

In terms of further incentives, any production facility with a 100% focus on the export sector will be entitled to pay value added tax at a reduced rate. At the same time, any overseas investor that buys land or rents property in any of the designated zones will enjoy a number of visa privileges.

An overseas investor purchasing property in any such zone with a value of $100,000 or above, for instance, will be automatically granted multiple-entry visas for themselves and their family. These visas will be valid for up to 10 years and may be extended at the government's discretion. In the case of any non-Laos resident renting an apartment within the perimeter of one of the designated zones, they will automatically be entitled to a three-month, multiple-entry visa.
For more China market opportunities, please visit: http://research.hktdc.com