24 Oct 2018
Chinese mainland Investors Flock to Thai Resorts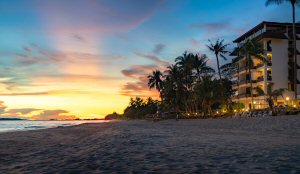 Tourism in and between many of the countries along the route of the Belt and Road Initiative (BRI) is growing fast. About 85 million trips are expected to be made to the Chinese mainland from countries in the BRI region between 2016 and 2020, with the collective spend estimated to be about US$110 billion. After the mainland, one of the other big beneficiaries is likely to be Thailand. In 2017, the country received more than 9.8 million tourists from the mainland alone, representing about 28% of its total arrivals for the year. Holidaymakers from the mainland are particularly prized for their big-spending ways.

As well as the many major BRI-backed infrastructure projects already under way – including new airports, rail links and road networks – a number of commercial operators have also looked to capitalise on the growing Thai-China tourism trade. Nok Air, a Bangkok-based budget airline, for instance, has opened a direct route between Pattaya and Zunyi, a prefecture-level city in China's Guizhou province, while also announcing plans to introduce flights to several other mainland cities, including Baotou, Linyi, Yichang and Nanchang. Meanwhile, Thai Smile, the budget-flight wing of Thai Airways, the national carrier, has launched a Bangkok-Datong service, linking the Thai capital with one of the most popular tourist destinations in the northerly Shanxi province.
Gateway Projects
In terms of larger-scale plans, moves are also afoot to develop U-Tapao, currently a joint civil-military airport, into a third Greater Bangkok gateway facility in line with the aims of the Eastern Economic Corridor (EEC) initiative, a key element of the BRI masterplan. The EEC initiative also extends to a planned upgrade to the tourism facilities of Pattaya and Rayong, two of Thailand's primary visitor destinations.

Both resorts have attracted substantial investment from the mainland, a development that has triggered something of a property boom in the two locations. In fact, with 86% of mainland property buyers first visiting the locations they ultimately invest in as tourists, this has seen Bangkok, as well as Pattaya and Phuket, enjoy a surge in real-estate purchases by mainland buyers.

Huang Xiaodan is the Founder and Chief Executive of Uoolu, a Beijing-based portal that matches would-be mainland buyers with overseas properties. Highlighting the appeal of Thai property, he said: "Thai real estate stands out on account of its high value proposition, impressive rental yields and low thresholds. In total, Thailand represented half our total 2017 transactions, driving our turnover up by 307%."

Despite Thailand's clear success in attracting individual mainland investors into its property market, the corporate sector is proving to be a little harder to woo, at least according to Suphin Mechuchep, Managing Director of JLL Thailand, a Bangkok-headquartered commercial-real-estate agency. Assessing the current state of the market, he said: "While Chinese corporations have been actively looking for opportunities to invest in a wide range of real-estate assets in Bangkok and in the major resort markets, actual investment activity has remained limited. To date, most of the deals that have actually gone through have either been joint-venture property development projects or acquisitions of stakes in Thai property development companies."
Joint Ventures
Indeed, a quick look at the projects underway clearly bears out Mr Mechuchep's point. Among the currently active Thai-mainland joint-venture property developments is the Baba Beach Club Phang Nga, comprising 16 hotel villas, 104 residential suites and 42 villas, with the project backed by the mainland's Junfa Real Estate and Charn Issara Development, a Bangkok-based property developer. Mainland-based investors are also working with Thai developers on a number of other projects, including The Terminal Phuket, a mixed-use development, and Artemis Sukhumvit 77, a 30-storey residential project.

Looking to the future, the Thai cabinet recently approved plans for a Southern Economic Corridor (SEC), an infrastructure initiative comprising 28 projects at a combined cost of US$6 billion. Stretching down the coastline southwest of Bangkok, it will transform the region into the Thai Riviera, a series of resorts that will form the backbone of the SEC. As part of the plan, four coastal provinces – Phetchaburi, Prachuap Khiri Khan, Chumphon, and Ranong – will be reinvented as high-end tourism hubs.

While the combined scale and scope of these tourism-oriented initiatives may seem daunting, it should be remembered that currently less than 10% of mainland citizens – the primary target of all these developments – are passport holders, a clear indication of the vast growth potential of the mainland's outward-bound tourism sector.
For more China market opportunities, please visit: http://research.hktdc.com