23 Nov 2018
Is VR the Future of Spa?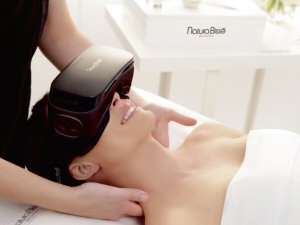 Technology is revolutionising the spa experience, with customers invited to don virtual-reality (VR) visors as they undergo facials and massages to put them in the right frame of mind. Videos encourage mindful breathing to a backdrop of beautiful images, while audio tracks feature positive affirmations to help clients change their mood and look at life with renewed optimism.

The revolution is being driven by brands including Barcelona-based Natura Bissé, whose Mindful Touch VR Experience is available in hotels globally including the Sanderson London and the Bacara Resort & Spa in Santa Barbara, California. Since this Summer, W Hong Kong's Bliss Spa has been the first place in the Asia-Pacific to offer the VR-led spa treatment. By leveraging on VR technology to encourage mindfulness, Natura Bissé believes it can elevate the effects of its award-winning facials, which are popular with Hollywood A-listers. "Mindfulness is a powerful practice that will help you focus on the present moment to quiet your mind and restore your serenity. You can now turn your beauty ritual into a genuine mindfulness experience and enjoy its positive effects from different perspectives," the firm says.
Spa with a Difference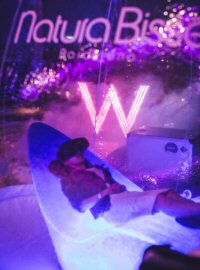 With its brownie buffets and rhythm 'n' blues soundtrack, W's Bliss Spa does not represent the typical five-star spa experience in Hong Kong. Famed for its hip vibe and forward-thinking attitude, the W brand – which is part of Marriott group – decided to launch the VR experience in Hong Kong first as it is a mature market for spa and wellness, W Hong Kong's Bliss Spa Director Jane Wang said.

The Mindful Touch VR Experience begins with an immersive VR video and audio track that invites clients to focus on their breathing and on bodily sensations. Once the short film is finished, the session continues with a voice-over that helps clients anchor themselves in the present moment before receiving one of two Natura Bissé facials – Diamond Life Infusion Experience or Diamond Multisensorial Lifting Experience.

Most spa guests are unafraid to don the VR visors prior to their facial and are curious to see – and feel – the effects, Ms Wang said. "People here are always very open-minded to new experiences and technology and willing to give it a try. Bliss Spa at W Hong Kong is always looking for the latest 'new and next' experiences for our guests as part of the brand DNA. Natura Bissé has been a world leader in innovation for facial and body cosmetic treatment development. The same philosophy brings us together to create a memorable experience for our guests."

As Hong Kong can be a very stressful city to live in, guests are looking for total well-being instead of just improving their physical health, remarked Ms Wang. "The VR experience calms clients' busy minds before the treatment, and helps them reach a deeper sense of physical and mental well-being."

Since its launch this June, the Mindful Touch VR experience has received "tremendously positive" feedback from guests and quickly established itself as one of the spa's signature treatments. "Many guests – especially those from the world of finance and frequent business travellers – have claimed the VR experience part has the power to help them reach deep relaxation together with the treatment," Ms Wang said. While many guests have warmed to the idea of VR in the spa, she acknowledged that some guests still prefer to keep things traditional and stick to a tech-free facial.
VR Paired with Pure Air
Following on from the success of the Mindful Touch VR experience, Ms Wang elaborated that the spa has launched another treatment with Natura Bisse, the 3D Collagen Shock facial, where clients watch an image compilation underpinned by a calming soundtrack while having a head, neck, arm and foot massage followed by a 50-minute collagen facial. "This is a new concept for facial and body treatments taking place in a clean atmosphere where the air breathed is 99.95% pure," Ms Wang said. As with the Mindful Touch, W Hong Kong's Bliss Spa is the first to offer the treatment in Asia Pacific, she added.

Experiencing Natura Bisse's feel-good effects will not be confined to Bliss Spa clients; Ms Wang said the hotel is now set to embrace wellness elements as part of the overall experience to provide "a complete wellness journey" for in-house guests. A "Wellness Break" for event guests that will encourage delegates to wind down in-between meetings is also set to debut, she said.

Is VR the future for W Hong Kong's Bliss Spa and other spas in the region? The jury is still out. "We need to do a thorough analysis regarding the market, guests' resources, preferences and so on before we incorporate any technology such as VR into the spa."

Nevertheless, the VR experience is taking root elsewhere in the hotel, as W Hong Kong will launch the ICAROS VR experience in its gym, which enables guests to "fly", "dive" or "drive" through virtual worlds while improving their fitness.
Related Links
Marriott
Natura Bisse