10 Dec 2018
Boutique Pizza Makes Foray into Asia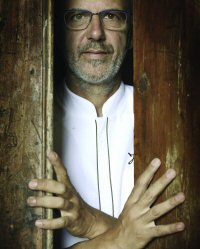 From the consistency of the dough to the cheese on the topping, the characteristics of what makes a good pizza continue to be debated. Many pizza purists say it cannot actually be called pizza if it's eaten outside Naples, where one of the world's most popular dishes was born. Widely regarded as one of the best pizzerias in the world, Geneva-based Kytaly seeks to challenge that notion, with its success attributed to chef Franco Pepe's secret family dough recipe. Now the pizzeria has opened its first restaurant outside Europe in Hong Kong, with 19 different takes on this classic dish on the menu. This includes its signature pizza Margherita Sbagliata (Mistaken Margherita), which is topped with a basil reduction, Kytaly owner Alessandro Bortesi said.
Kytaly Hong Kong is the first international outpost for the brand. Why did you decide to open your first overseas iteration of the restaurant in Hong Kong?
We decided to bring our pizza to Asia because we think that there's a lot of work to do in re-educating people to understand what is a real pizza. We decided to start in Hong Kong because we think it is the most international city and [has the best understanding of] European culture [in Asia].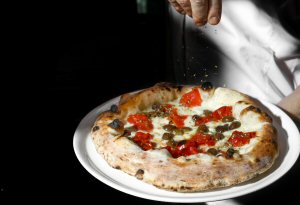 How does Kytaly Hong Kong differ to Kytaly Geneva in terms of menu, design and décor?
In many ways! Here we only bring our pizza, and because our pizza is so awarded, we decided to create something very special, a design and atmosphere uncommon for a pizzeria, something very glamorous – we have a lovely roof terrace, for example.

Hong Kong already has pizza restaurants. What gives you the edge and how are you taking on the competition from existing pizzerias from overseas?
Our pizza is unique: our dough, our recipe, our products, everything is very high quality. We make our dough every day with a very special flour created just for us. We work with a nutritionist to study the perfect balance between our products and focus on a pizza that is healthy for our body and easy to digest (Kytaly's dough is 70% water and made without preservatives and additives). We are not a pizzeria – I think we are the evolution of the pizza. Behind us there are farmers and an agronomist that keep working on the research and development [of pizza]. This is what makes us different from other pizzerias.

Which menu items are proving popular so far at Kytaly and have you developed the menu with a Hong Kong audience in mind?
What is popular in our restaurant is the reaction of the people to our dough, and most of the people tell us that they found the pizza very easy to digest. This is very important to us.

The man behind the pizza, Franco Pepe, has won many awards, including top spot in the 50 Top Pizza Awards for his restaurant Pepe in Grani in 2017 and 2018, and title of "The Best Pizza in the World" in 2016. How important are these accolades in helping you build the brand in Asia?
The awards are always important, as I think this can help us highlight the fact that we are working hard to educate people that pizza can be fine dining, and something healthy.

What are the advantages of being located in Hong Kong and how would you describe its dining scene?
The advantage of being located in Hong Kong is that it's one of the top cities in Asia … in Europe you have Paris & London and in Asia you have Hong Kong. The dining scene here is crazy: there are so many restaurants and so many choices.

How will you grow the Kytaly brand over the next 12 months in Hong Kong?
We will introduce a new menu based on a Mediterranean diet, something new that's never seen before.
Related Link
Kytaly