7 Dec 2018
Putting Kennedy Town on the Map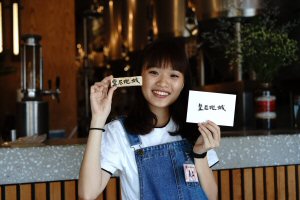 Discovering authentic neighbourhood gems – be that a quirky coffee shop or a retro boutique – has taken off as travellers seek to experience genuine local experiences. One organisation that has embraced this movement is iDiscover, which has launched several maps and apps dedicated to heritage districts in Asia, most recently Kennedy Town.

Kennedy Town, on the west end of Hong Kong Island, is home to an eclectic mix of old-school businesses and new hot spots like Little Creatures Brewing, which hosted a pop-up event to mark the launch of the app and printed map. "The K-town pop-up was a great hit and gave an intimate insight into the spirit of this unique neighbourhood and why it's important to map the locals' stories and memories before they disappear," said iDiscover Project Manager Stephanie Cheung.

Hosting the event in a craft-beer bar created a really interesting synergy, she added. "It was very much a local event but spoke to new residents and expats who have moved to Kennedy Town but perhaps know little about the uniqueness of the area. The highlight was definitely seeing the residents' proud smiles, and newcomers' curious looks, and how we brought very different people into the same space."
Collaboration Process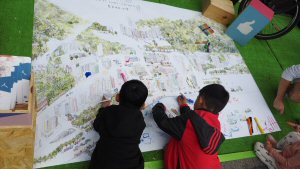 Community-led production was definitely the key to creating the app and map, Ms Cheung said, explaining that it collaborated with Caritas Mok Cheung Sui Kun Community Centre to put the app and map together. The guide attributes the organisation as key to its success as it helped connect them with locals and gain their trust.

Krzysztof Bandel, Venue Manager of Little Creatures Hong Kong, said the bar was keen to support the community and educate people about the history of Kennedy Town while also recognising that this initiative may bring more traffic through Kennedy Town and help small local businesses directly promoted by the app and map . The highlight for Mr Bandel was bringing different generations and cultures living in the neighbourhood to one room to share their stories and experiences of Kennedy Town. "We especially loved hearing stories from small business owners that have operated in Kennedy Town for more than 50 years," he said.

Design studio One Bite Social provided event curation and launch event set up. Managing Director Billy Kwan said the pop-up event was a celebration of old and new Kennedy Town where people of all ages bonded over storytelling and art activities. "Kennedy Town has a good blend of new and old of Hong Kong, and it's important for both elements to work together to ensure the sustainability of the neighbourhood in the long run."
A Resilient Neighbourhood
The resident story-sharing was an opportunity to appreciate Kennedy Town's history and was always the best part of each mapping project, Ms Cheung said. "What intrigued us most was the different layers of Kennedy Town. It is now Hong Kong's new hipster hood, but locals still call it Sai Wan – Western Circuit – and for years this remote neighbourhood at the end of the tramline was the 'backyard' of the island. Here you'd find slaughterhouses, factories, wholesale markets, squatter villages, incinerators and even a mortuary. The early years have shaped K-Town's community into one of the city's most resilient and vibrant, forming a neighbourhood with a unique spirit. These residents are all strong-spirited and proud to call Sai Wan home," she says.

Having launched an app and map to Sai Ying Pun earlier this year, Ms Cheung said the narratives of the two neighbourhoods are completely different even though they are very close to one another geographically. "In Sai Ying Pun it was all about the spirit of craftsmanship and for Kennedy Town what surfaced was the history as an industrial 'backyard' and how this has fostered the character of the place and community spirit," she said.
At Peace with Gentrification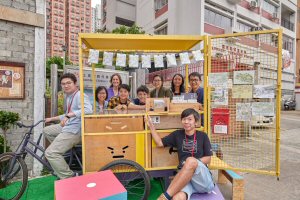 The app and map showcase 20 sites, and Ms Cheung said the booklet had engendered a fondness for the eateries highlighted, particularly Cheung Heung, Cheuk Kee and Ho Ho, the former of which lent their pastry-making equipment for the exhibition and provided egg tarts and milk tea on the day of the pop-up. "They have been in the neighbourhood for decades and have witnessed changes and new developments; they are the living heritage of Sai Wan."

Some say that, like Sai Ying Pun, Kennedy Town is becoming too gentrified, something Ms Cheung remains pragmatic about. "There's very little we can do about it, apart from trying to make newcomers, residents and businesses understand and respect the spirit of place, embrace the local culture and history, and connect with the established local community. All around town, we see young creative entrepreneurs who do that really well, and we would like to see more of those in Sai Ying Pun and Kennedy Town. So many old shops have already been demolished or are fighting the struggle every day, so this is our small contribution to supporting them."
Highlighting Other Hong Kong Districts
Ms Cheung said an app and map for Causeway Bay will be live by the end of this year and iDiscover is busy creating a guide for Shek Tong Tsui, another hub located in the west of Hong Kong Island, which it hopes to launch next month. "We've just kickstarted the curative process in North Point and Yau Ma Tei as part of a project with the Hong Kong Institute of Architectural Conservationists, and are talking to [non-government organisations] in Kwai Fong and To Kwa Wan," she adds.

Across Asia, iDiscover has now mapped 40 neighbourhoods and is happy with its organic growth trajectory, which, Ms Cheung said, has enabled it to build a solid product while slowly expanding and finding the right partners. iDiscover is experiencing increasing demand from local organisations in heritage districts that want to work with the firm and will be expanding into Myanmar, Sri Lanka, Thailand and the Philippines.

"Our objective for next year is to firmly establish the brand for promotion of heritage towns all over Asia and in two years to expand to 100 destinations," said Ms Cheung. "Over the past few months, in partnership with Hong Kong-based digital solution provider Juicyapp, iDiscover has additionally been creating version 3 of the iDiscoverApp, with increased on-and off-line functionality and an enhanced consumer interface that will launch early next year."
Related Links
iDiscover
Little Creatures
One Bite Design
Urban Discovery Asia