14 Dec 2018
Seafood Gourmets go Green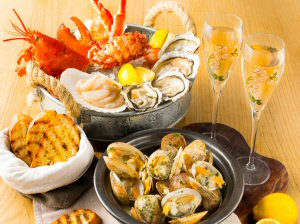 The ocean is filled with delicacies to tempt palates in seafood-loving Hong Kong. But with marine life globally under threat from overfishing, there is growing awareness of the need to dine more responsibly.

Making an informed choice is becoming ever easier. The introduction of labelling such as the Marine Stewardship Council (MSC) Chain of Custody (CoC) Certification gives clarity to vendors and customers over the status of seafood sold, while the World Wildlife Fund (WWF)-Hong Kong has produced a locally specific guide consumers can refer to as they shop.

As a city with one of the highest rates of seafood consumption per capita – ranking second in Asia and seventh globally in a 2011 study by the United Nations' Food and Agricultural Organisation – Hong Kong is an ideal position to take a stand for sustainability and the environment.

And the trend is catching on, with food and beverage operators and supermarkets responding in greater numbers. As the Australian Trade and Investment Commission (Austrade) notes in a report highlighting opportunities for Australian suppliers, "there is a rising demand for sustainable seafood in Hong Kong, mostly led by five-star hotels, high-end restaurants and upscale retailers".

Alibi Cordis, a modern European restaurant and bar in Hong Kong, features a sustainable menu with all seafood coming from sustainable sources.
Exhaustive Research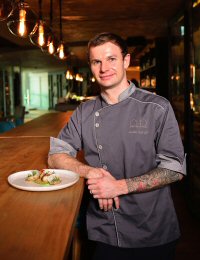 "We seek the guidance of globally accredited organisations such as the WWF, Marine Stewardship Council (MSC) and Aquaculture Stewardship Council (ASC). We also do our own research to ensure the fisheries match our criteria of sustainable methods," said Alibi's Chef de Cuisine, James Oakley. "We consider the method of catch, the effects on the marine environment, the species and alternative species. For example, hand-dived scallops are selected to avoid the damage that normal harvesting methods would cause to seabed habitats."

A signature dish is Alibi's Symphony of Seafood, featuring fresh Canadian lobster, Alaskan king crab legs, hand-dived scallops and fresh oysters from around the world. "It shows people the array of beautiful seafood we all know and love which is still abundant and available to us sustainably," said Mr Oakley. "Most importantly, our guests can enjoy safe in the knowledge that the seafood is responsibly sourced."

Shane Pateman, Managing Director of Cordis, Hong Kong, agrees that customers "care more and more about what they eat". "They want to know where it came from, how it was reared or grown, what the method of farming was and everything that happened after it was harvested," he said.

In June 2018, Hong Kong-headquartered Shangri-La Hotels and Resorts announced it had received full MSC Chain of Custody certification for all its 53 properties across Mainland China and Hong Kong, as part of the group's sustainable-sourcing strategy.

"By being the first (hotel group) to partner with the MSC in Asia, we hope to galvanise others in the hotel industry to join us in offering certified sustainable seafood to make a positive impact in the world collectively," said Shangri-La President & COO Oliver Bonke.
Environmental Entrepreneurs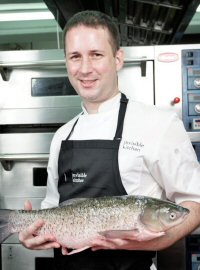 Progressive entrepreneurs are also making a difference.

When Stephanie Kudus, a former banker turned restaurateur, founded her Hawaiian-themed hospitality group of Pololi in 2014, she introduced poké, a style of cuisine featuring marinated fish – traditionally, tuna – to Hong Kong. Her group now has four locations, including seafood-focused Pololi and Kai concepts, and a BBQ meat brand, Blazed.

"When I started Pololi, the goal was to just make and serve great poké," Ms Kudus said. "After several months, I realised we were going through a lot of fish – and started to look for suppliers where we could get sustainable seafood."

Finding a sustainable ahi (tuna) supplier was challenging – but it was worth it, she added, "because now we can ensure a sustainable supply for ourselves and our future".

Singapore-born Ms Kudus believes everyone should be a responsible consumer. "We all need to play a part to create the world that we want to live in," she said. "Sometimes it just needs to start from one person."

An avid scuba diver, she also sees first-hand the fragility of the ocean environment.

"As a [food and beverage] outlet, we also have a responsibility to educate our customers," Ms Kudus said. "It's not enough to just be eating sustainable seafood, it's a way of life – you want to be about to make eco-friendly choices to lessen your impact on the world."

Tom Burney, a chef from the United Kingdom and founder of Invisible Kitchen, has a reputation as one of the greenest caterers in Hong Kong. Having trained in the United Kingdom, where the sustainable seafood movement had already gained traction, he was keen to bring those concepts to Hong Kong.

His green policy specifies 100% use of certified sustainable seafood, along with guidelines covering meat and produce sourcing, packaging and recycling.

Sustainable seafood is about retaining species for the future. We can't produce seafood in the way we have been," Mr Burney said. It is also about preserving the natural habitat from profit-focused fishing, he added, noting that since the European Union placed quotas on cod, the once-endangered species has recovered.

From a business perspective, a sustainable menu also introduces customers to interesting new products, he said. "If customers want a bespoke menu and ask for, say, abalone or caviar, we will always offer them alternatives."

Not all of his early suppliers met Mr Burney's sustainability requirements, so WWF-Hong Kong helped him find businesses that would. He continues to work with environmental non-government organisations (NGOs), including WWF-Hong Kong, for whom he created video recipes for the recent (November 2018) Sustainable Seafood Week. Mr Burney also started a Facebook page linking other food and beverage operators with greener suppliers.

Together, he believes Hong Kong hotel chains and food and beverage SMEs alike can have "a massive impact" in preserving global fisheries.
Green Shopping Guide
WWF-Hong Kong has produced a sustainable seafood guide to help consumers make informed choices when shopping and dining.

The Guide for Hong Kong covers more than 70 popular seafood species that can be found in local wet markets, supermarkets, frozen-food shops and restaurants. These are divided into categories for easy reference: Green is a recommended species; yellow means think twice; and red is the category to avoid.

All seafood species, wild caught or farmed, included in the guide were rigorously assessed by marine scientists following stringent criteria compiled collaboratively by WWF and other NGOs.

The WWF-HK Seafood Guide is available for download (App available for iOS and android.)
Related Links
Cordis
Invisible Kitchen
Pololikai
Shangri-La