14 Jan 2019
Cocktails on Tap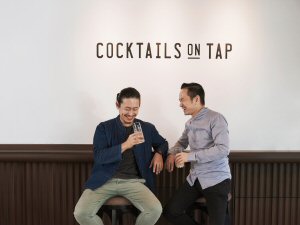 If you are a cocktail fan but do not enjoy waiting for your drink to be mixed, then a trip to Draft Land is in order. Founded by one of Asia's biggest names in mixology, Angus Zou, and with the backing of Hong Kong cocktail supremo Antonio Lai (Diageo World Class HK and Macau Champion in 2015), Draft Land simplifies the bar experience by serving everything on tap. With a first bar already open in Taipei, this unique concept is also proving a hit with Hong Kong's bar-goers from its spot, on Wyndham Street in Central.

The cocktail scene in Hong Kong has reached a very mature point of late – but is the city ready for cocktails on tap?
Hong Kong's cocktail scene itself is indeed quite mature, yet at the same time, based on the research we did in Taipei, there is a sizable market to tap into. There is a portion of drinkers not yet keen on drinking cocktails due to common misconceptions that cocktails take longer to order, make, and arrive at the table; are expensive; and can be intimidating for those unfamiliar with cocktails. Instead of the regular craft cocktail drinkers, our target audience is those who look for speed, quality, sustainability and affordability when it comes to drinking – like craft-beer drinkers. When we brought on the concept of "Cocktails On Tap" and opened Draft Land in Taipei, many people took to our concept in an instant. Many times we noticed returning guests enthusiastically introducing our concept to their friends and we were surprised and happy to have them as our unofficial ambassadors.

Tell us what's on offer.
Draft Land will offer a simple, fuss-free experience of high-quality cocktails at a reasonable price. We seek to simplify the bar-going experience down to the essentials, starting with serving everything on tap across the board. In addition to the signature draft cocktails, we will offer a small selection of craft beers, wines and soft drinks. Street food-inspired bar snacks will be available too, such as mini corn dogs and parmesan tornado fries.

Many Hongkongers don't drink, or only drink a little. Will you be offering no- and low-alcohol options to cater to this market?
Yes – we believe that drinkers and non-drinkers alike deserve an equally exceptional drinking experience. In addition to having cocktail names, ingredients and pricing on the menu board, we also display the alcohol level of each cocktail from zero to five stars, which is determined by a systematic calculation of alcohol by volume in each cocktail.

What are the similarities and differences with Draft Land in Taipei and Hong Kong?
Draft Land outlets at both locations are centred around the same core concept: a simple, stress-free experience of high-quality cocktails at a reasonable price. Draft cocktails in Taipei are created with reference to Jerry Thomas, the father of American mixology, with classic cocktail categories including "Fizz", "Cobbler" and "Punch" while in Hong Kong, cocktails are driven by flavours representative of the two cities.

Angus, you have done guest bartending stints in Moscow, Bangkok, Singapore and Bangkok. How does the Asian cocktail scene compare to the European and United States cocktail scene?
Asian culture is more reserved so people care more about the drinks than the chat; the different ingredients and spices used, resulting in cocktails with more complexity. At the same time, the Asian bar scene is continuously learning from their Western brothers and sisters while building up a unique style from within.

Antonio, you've been working in the drinks business and cocktails since 1997. What's been the biggest change you've seen in the past 20 years?
We have a fast-growing market of discerning drinkers with high expectations keen to understand what goes into their cocktails. While classic cocktails will always have a share of the market, we still have to come up with new drinking experiences. You may ask whether we are going backwards by serving pre-batched cocktails on the tap, but there's a lot of "crafting" that goes into each of our draft cocktails.

Will there be more Draft Lands opening up either in Hong Kong, Taipei or elsewhere?
With Draft Land being the first to introduce cocktails on tap in Asia, we plan to move into other Asian cities that boast a thriving cocktail scene like Tokyo and Bangkok.

Angus, what are your long-term goals for Draft Land?
Our long-term goal is to get the idea of "Cocktails On Tap" across Asia. We've partnered with Antonio Lai, arguably the best and most forward-thinking bartender in Hong Kong, to open Draft Land in Central. We look forward to partnering with similarly pioneering bartenders from other cities.

Drinks Festival
Hong Kong's vibrant cocktail bar sector reflects Hong Kong's edge as a wine trading hub, with wine-related businesses – including auctions, retailing, warehousing, catering and logistics – developing alongside wine trading and distribution. Following the Hong Kong Government's decision to eliminate all duty-related customs and administrative controls on wine in 2008, wine imports have seen a seven-fold leap – from HK$1.6 billion in 2007 to HK$12 billion in 2017. During this period, Hong Kong developed rapidly as a wine trading and distribution centre, serving as a gateway for wines entering Mainland China. Those in the drinks business, or drinks enthusiasts, should set aside 7-9 Nov this year – that is when the Hong Kong Trade Development Council will host the 12th edition of the Hong Kong International Wine & Spirits Fair at the Hong Kong Convention and Exhibition Centre.
Related Link
Draft Land