11 Jan 2019
Taking Pulse of Cinema, TV Industries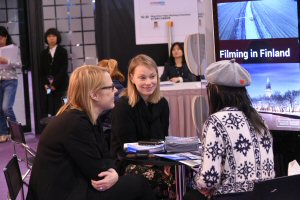 Two questions film-makers or television executives may want to ask a millennial are "When did you last go to the movies?" and "What did you watch on TV over the weekend?" Their answers would possibly be, respectively, "Last time I flew long-distance" and "I don't have a TV".

Nevertheless, with their attention for most of their waking hours hopping between tiny mobile screens, middle-sized desktop monitors and massive wall-mounted screens at home, millennials absorb video content, including film and TV productions, all the time – but they just may not think of what they see as "cinema" or "TV" because they do not share their parents' cinema or TV experience.

This new environment – film and TV relabelled "multimedia" – offers immense potential. Nowhere is this potential more obvious than in Mainland China, which has spent the past four decades creating one of the world's largest middle classes, whose members are just as avid media consumers as their peers anywhere else in the globe.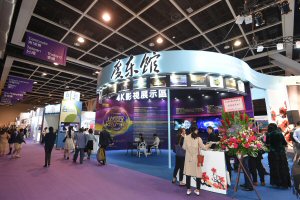 This new world of voracious film and TV consumption, though not under the usual name, calls for content providers to adapt. And the 2019 Hong Kong International Film & TV Market (FILMART) is the ideal opportunity.

Organised by the Hong Kong Trade Development Council (HKTDC), FILMART will be an integrated forum where buyers can find any content under one roof. It is not specific to either the film or TV sector.

Running from 18 to 21 March 2019, the 23rd FILMART at the Hong Kong Convention and Exhibition Centre will host the usual range of networking events and will further boost promotion of TV and documentary events. The 2018 event drew 8,733 participants from 52 countries and regions and hosted 854 exhibitors from 37 countries and regions.

FILMART has increased TV coverage in recent years with more than 370 exhibitors from 33 countries and regions in 2018, including big names from around the world such as Mainland China's Mango TV, Guangdong TV, Japan's NHK, TBS, Fuji TV and several regional TV stations, Korea's KBS, SBS, MBC, JTBC, as well as Southeast Asia's Vietnam TV.

Doc World will return in 2019, having been launched in 2017 to provide a wider variety of content, offering documentaries as well as entertainment. In 2018, Doc World featured more than 200 exhibitors from 31 countries and one of FILMART's first-time exhibitors from Japan closed a deal with a Korean buyer on the second day of the show.

FILMART's venue in Hong Kong, in the Guangdong-Hong Kong-Macao Greater Bay Area, will give industry players an excellent platform to display their wares for Mainland China's gigantic market. Exhibitors and attendees will be able to network with mainland TV stations and film companies, as well as high-level government officials.

FILMART will draw several heavyweights in the global industry, including Netflix, Paramount, YouTube, Fox and iflix.
From Animation to Docs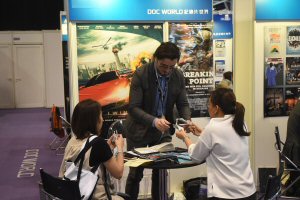 To prepare industry players for the brave new media world, FILMART has four major thematic zones.

TV World will showcase leading TV stations from various countries and regions as well as related networking events.

Animation & Digital Entertainment World features exhibitors specialising in animation, digital post-production, video games and edutainment software. Numerous networking events will facilitate the industry's development and foster business opportunities.

Global Filming Support Zone exhibitors will display unique locations for filming and present competitive shooting incentives and offers including tax rebates, insurance, allowance and talent support.

Doc World will be the ideal channel to find documentary projects for investment and seek co-production partners.
Thematic Conferences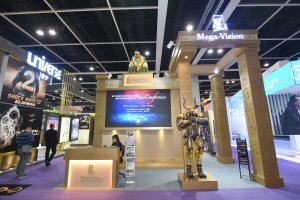 To improve the exchange of intelligence, educate industry players and create a breeding ground for entertainment elites in Asia, the HKTDC will upgrade the seminar series into a regional conference entitled "Entertainment Asia Forum" in 2020.

The forum will comprise keynote sessions and thematic workshops across different tracks, including innovation and technology, content development and market trends. As a transition in 2019, several topics will be covered as keynotes in the seminar series at the upcoming FILMART.

These will include the transforming media landscape, development of OTT (over-the-top, direct streaming sales) platforms in Asia, ways social media is shaping entertainment and renowned filmmaker sharing.

Thematic sessions will cover storytelling for documentaries, market opportunities in the mainland, innovation and technology in entertainment (such as blockchain and immersive technologies), and more.

FILMART is a must-attend for film and TV producers and distributors, cinema operators, video- and disc-producing and rental companies, broadcast TV, cable TV, pay TV, satellite broadcasting TV. Providers of OTT, film equipment, facilities and services, festival or fair organisers, film or TV associations and other film-related companies and organisations should also attend. People in animation companies, digital entertainment firms, music and related services companies in film or TV production, licensing firms, advertising agencies and telecommunications companies also need to put it on their calendars.
Early Bird Discount
Interested in visiting FILMART 2019? If you register on or before 25 Jan 2019, admission will cost just US$90 (HK$685). After that date, you will need to pay US$320 (HK$2,495) so register now!
Related Link
FILMART