25 April 2019
LED makers ramp up market share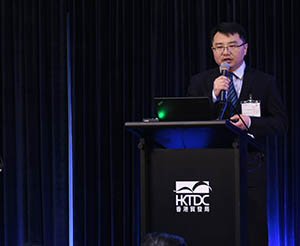 The use of metal-organic chemical vapour deposition (MOCVD) technology is lowering costs and accelerating delivery times for Mainland Chinese lighting products, changing the global market landscape, according to Figo Wang, Chief Research Analyst and Research Director at LEDinside, TrendForce Corp. He was speaking at the Innovation in Smart Lighting Forum during the recent HKTDC Hong Kong International Lighting Fair (Spring Edition).

The successes of mainland producers have cut the earnings and market share of the traditional big players but given users great opportunities, he told delegates. The market, until very recently, was dominated by two companies, one American and one German; but the recent entry of mainland producers has halved both prices and delivery times. In the mainland's large domestic market, local suppliers had a market share of 47% in 2016 but this rose to 69% in 2018. With the supply increase, some upstream companies will lose money, said Mr Wang, but equilibrium will soon return to the market. The domestic producers' new pricing strategy meant there was no more price discrimination against small companies, he said, so more companies can afford MOCVD technology, lowering the entry barrier.
Mature demand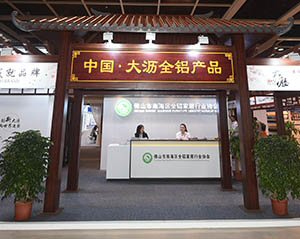 On the demand side, the LED market was maturing, he explained. The lighting segment was the largest market for the LED industry, but the growth rate of this segment is insignificant. The micro and mini LED segments are growing, but they are facing a supply shortage. TrendForce's analysis of mainland lighting and luminaire exports shows they have been falling since 2015 because of the strong renminbi and United States tariffs – since the US is a US$8 billion market. Exports to the US shot up in October and November because of the tariff uncertainty but have fallen in recent months, he said.

LED lighting continues to replace grey lighting, said Mr Wang, and is growing 2–3% per year. But inventory expands every year, which will be a challenge for the LED lighting market. In the medium-to-long run, higher prices attract more participants but this in turn leads to more competition and lower prices. Since demand is peaking and technology is advancing so quickly, there will be pain in the manufacturing segment, he predicted, but the survivors will benefit. "Smart lighting will add value and help increase demand," he concluded. "Market demand will be driven by innovation."

The four-day fair, organised by the Hong Kong Trade Development Council (HKTDC), welcomed about 21,000 buyers from 124 countries and regions, with a significant growth in attendance from such markets as the mainland, Indonesia, Ukraine, France, the United Kingdom, Italy, Spain, Switzerland and the Nordic countries. More than 1,430 exhibitors from nine countries and regions were featured at this year's Spring Lighting Fair, offering exhibitors and buyers an ideal promotion and sourcing platform.

Benjamin Chau, HKTDC Deputy Executive Director, said: "Smart lighting technology has seen rapid development in recent years. Simple automatic lighting has evolved into today's IoT lighting systems that are energy-efficient, beautifully designed and easy to manage. Even as uncertainty continues to loom over the global economy, the growing trend for smarter lighting has not dimmed, and orders for smart lighting products have continued to grow. Smart lighting products once again enjoyed the spotlight at this year's Spring Lighting Fair, with plenty of new lighting systems and wireless lighting controls products on display. The HKTDC also organised an array of seminars and forums during the fair to promote industry growth."
Bespoke approach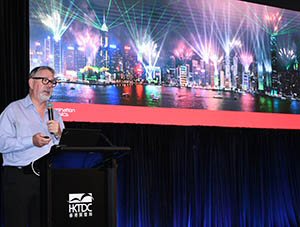 Simon McCartney, co-founder of Illumination Physics (IP), told the seminar that façade lighting had to be totally integrated with the architecture. Globalised products and standardisation in effect forced architects to adapt their creations to the lighting fixtures available, he said. The company, however, believes in the opposite approach; lighting specialists such as IP should adapt their lighting products to the architect's creation and provide "exactly what is required for each application".

He illustrated the changes the sector has undergone with pictures of HSBC headquarters building, from dull in 2003 with wash lights and direct lighting to dynamic in 2018 with a vast multimedia wall.

Mr McCartney reviewed six case studies in Hong Kong, Macao, Singapore and Cyprus to show the ways in which IP adapted LED lighting to building design. In the façade design for the HSBC Main Building in Hong Kong to celebrate the bank's 150th anniversary, for example, IP replaced the halo lighting on the façade with LED lighting, using thin strip LEDs inside the wall, which are invisible from the outside during the day. The content is legible from a distance of 100 to 3,000 metres. HSBC can now use the media wall for marketing and branding, but its main function is to form an integral part of Hong Kong's "A Symphony of Lights" lightshow. As a bonus, "the use of LED lighting reduced energy use by about 80%", Mr McCartney said.
Bright prospects for smart lighting
The HKTDC commissioned an independent on-site survey during the fair in which 363 buyers and exhibitors were interviewed. Respondents were cautiously optimistic about the lighting market in 2019, with 53% expecting overall sales to rise this year and 36% anticipating sales will remain unchanged. Only 39% of respondents foresee that product prices will increase, while 49% expect prices to remain unchanged. The Middle East and ASEAN (Association of Southeast Asian Nations) regions are the two emerging markets most favoured by respondents, followed by Hong Kong, the mainland, South Africa and Australia.

Survey respondents expect that the Hong Kong Special Administrative Region Government's smart-city initiatives will benefit the lighting industry. Of those surveyed, 56% believe government policies are conducive to the lighting industry's development; 89% consider the outlook for smart lighting to be promising; and respondents anticipate that smart lighting systems designed for home automation (38%), outdoor security (21%) and energy efficiency (15%) have the greatest growth potential in the coming two years.
Smart cities create opportunities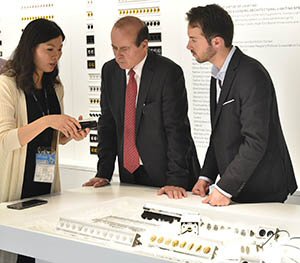 Horoz Electric, a trading company from Kazakhstan, has been involved in that country's domestic lighting industry since 2007. Company owner Azamat Tolykbayev came to the Spring Lighting Fair to find automatic lighting products and new technologies for residential and government projects. He said: "At present, only 2% of the street lights in Kazakhstan are equipped with sensors. To bid for large-scale government projects, we are particularly interested in sensor street lights, along with garden lights, stadium lights and swimming pool lights." The buyer identified five potential suppliers from Dongguan, Ningbo and Shenzhen that provide automated LED lighting products for residential projects, saying he planned to order 1,000 pieces each of different styles.

Hong Kong exhibitor DIMON Technology is a green technology and lighting design and manufacturing company with research centres in Hong Kong, Shenzhen and the UK. Over the past three years the company has completed large-scale smart public lighting projects in Europe, Hong Kong, Macao and North America.

Joseph Tsui, DIMON's Executive Director, said this was his company's first time joining the Spring Lighting Fair and it was keen to promote its latest lighting technologies, products and services to local and overseas government officials, property developers and property management companies. During the fair, the exhibitor met new buyers from the mainland, Norway, Poland, Spain and Turkey who expressed interest in DIMON's products. To further increase the company's exposure and establish more international connections, Mr Tsui said DIMON would look to join the HKTDC's Autumn Lighting Fair in October.
Related link
HKTDC Hong Kong International Lighting Fair (Spring Edition)