17 May 2019
Premium party wear for kids
Roomila Chandra's party wear brand Tachéri has been in the works for some time, as the mother of two registered the business several years back. After her second child turned one, she set about bringing her brand to life by designing a collection of upscale party outfits and learning about the world of manufacturing design. Given that her background is in economics and marketing, design was completely new to her and last year proved to be a steep learning curve as she sought to understand the world of product development. "It took me about 10 months from design concept to finding the right high-end fabrics to production. The manufacturing world is not an easy industry to be in, but it's not impossible to learn and make it work even if your background is not in design."
Engaging with target consumers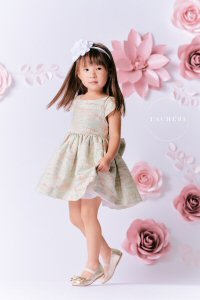 Tachéri was soft-launched in Hong Kong in December last year to test the initial product line with a network of mums. "I found that having a test period was extremely beneficial as I was able to get – and am still getting – first-hand feedback on my product from discerning mums. By talking directly with my target consumers, it helped get a better understanding of what are the important design elements they have questions on, which I then make sure to highlight on my website," says Ms Chandra (main picture).

With experience in sales and marketing for a high-end children's apparel company in New York, then working in public relations in Hong Kong, she had some useful skill sets in place before setting up the business. "The sales and marketing experience helped when strategising what product to design and develop, and the public relations knowledge assisted with understanding the branding side of things and creating a solid marketing strategy from day one."
Staying focused on the goal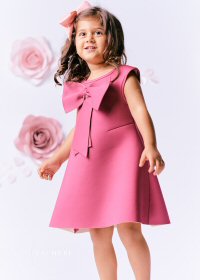 Ms Chandra set up her brand as she was keen to access good quality party wear for her children without the designer price tag. "I wanted to create special garments that utilised the knowledge I had as a mum and incorporated what my kids liked from high-end party wear while being more affordable than other designer brands," she said.

One of the biggest challenges of starting a business for Ms Chandra is being prepared for the number of different hats you have to wear. "Juggling different responsibilities and roles from day one is extremely challenging. I was also venturing into a role as a designer, which I didn't have much experience in."

Having to learn on the job as she met with fabric suppliers, workshops and tailors was an enormous challenge but she stayed focused on her goal of designing comfortable, party-worthy garments using premium fabrics that were also hand-washable – a must for any mum, she believes.

Ms Chandra designs the entire collection from concept to finish herself, drawing inspiration from her upbringing, family and travelling experiences in addition to the classic 1960s films she loved watching growing up. "A lot of my designs are influenced by the 1960s silhouettes and shapes you saw in fashion then. I'm also a fan of oversized shapes, so you'll see I use a lot of oversized bows on my outfits and hair accessories, and I incorporate a lot of volume on my skirt sets."
Adding value through content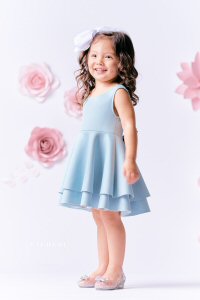 To help build brand awareness and grow Tachéri's online following, Ms Chandra is collaborating with mummy bloggers and other high-end children's brands, and building a blog dedicated to all matters of celebration to provide additional value to its audience. The start-up is also keen to working with other types of bloggers, from children's fashion to party styling.

Ms Chandra says it is important to understand the different facets that interest Tachéri's target consumers and increase engagement through sharing relevant information on its upcoming blog. "I love to think holistically about my customers and the environment in which they use my children's party wear. I think about where my target consumer's child will wear their Tachéri outfit, or whether they are planning a birthday party for their child, hosting an event for the holidays, and what components of that celebration would they want tips on." By adding value to her target consumer through content or shared solutions to problems, she hopes to make her customers' lives a little easier.

She has found there are many advantages to being an entrepreneur in Hong Kong, observing that it's a relatively smooth and easy process to register a business in the city. "I've also found that given the entrepreneurial world in Hong Kong is still small but fast growing, there are a lot of opportunities to network at events and connect with other entrepreneurs." There are a number of classes and workshops that new business owners can attend to sharpen their business acumen, she said, adding: "I find that people in Hong Kong generally have a can-do attitude and are very open to helping out whenever possible."

For the moment, Ms Chandra is focusing on building her business online and leveraging on the power of social media. "By having incredible access to our target consumers via social media, we can actually create the right market to sell our products in. Back in the day, brands would create a product then find the market for it, but today, you have the ability to build an audience around certain interests that will then tie back to your product."

The fashion world will focus on Hong Kong in July, with all eyes on the Hong Kong Trade Development Council's HKTDC Hong Kong Fashion Week for Spring/Summer.
Related link
Tachéri