19 June 2019
Greater Bay Area start-up corridor beckons HK entrepreneurs
Hong Kong has a vibrant start-up ecosystem but a limited market size, tight space and small industrial base mean entrepreneurs usually have to look abroad early in their development.

Fortunately, the Guangdong-Hong Kong-Macao Greater Bay Area development plan means they do not have to look far; in fact they can plug directly into an area which has none of these shortfalls. A seminar organised by the Hong Kong Trade Development Council (HKTDC) heard several of the HKTDC's managers who operate in the region run through the opportunities the Greater Bay Area presents.
Science corridor
Crystal Ho, Director, Guangzhou, for the HKTDC, pointed out that under the Greater Bay Area Outline Development Plan, Hong Kong, Shenzhen, Dongguan and Guangzhou will form the Greater Bay Area Science and Technology Corridor, which is the most open science and technology project in the mainland and in the Greater Bay Area, backed by a strong economy. These cities have complementary advantages. Hong Kong is pre-eminent in international talent, Dongguan is a world factory, Shenzhen is good at industrial development and application, and Guangzhou has the advantage of market coverage.

Ms Ho said Hong Kong has a vibrant start-up ecology, with the advantage of access to ample finance. The city does have a relatively small number of unicorns (start-ups worth more than US$1 billion). However, she stressed that the HKTDC actively seeks business opportunities for Hong Kong enterprises. For example, the Guangzhou office has contact with 14 local unicorns to facilitate business-matching with Hong Kong enterprises.

Success stories in this field include design services firm inDare, which serves well-known brands in the mainland. Its founder, Chen Fengming, is from Hong Kong and opened the inDare China headquarters in Shenzhen in October 2015. Another example is Dongguan-based Walnut Technology, which designs built-in artificial intelligence systems and 3D somatosensory control skateboards. The founder attended the Hong Kong University of Science and Technology, and the firm is also a Hong Kong start-up.

Brian Ng, Director, Mainland China, HKTDC, said that following up on the Closer Economic Partnership Arrangement (CEPA), the Greater Bay Area development plan attracts intense interest because the policy has brought many new opportunities for Hong Kong enterprises.
Tax levied at home rate
Authorities managing the Greater Bay Area in March agreed to implement a set of measures that benefits Hong Kong people. Mr Ng emphasised the tax arrangements; in the past, under mainland regulations, anyone working in the mainland for more than 183 days per year must pay taxes at the local rate. These regulations have been relaxed, excluding days when a person stays less than 24 hours. This means Hong Kong people commuting to Greater Bay Area centres on a daily basis pay the tax equivalent to the Hong Kong tax rate. The local governments bear the shortfall between the mainland and Hong Kong personal tax rate.

Mr Ng also pointed out that in future the mainland economy is expected to be developed and promoted through the Greater Bay Area, and authorities have set a target to surpass other bay areas including San Francisco Bay and Tokyo Bay. Hong Kong has four key strengths when contributing to the Greater Bay Area – finance, shipping, trade, and science and technology. Mr Ng believed the city's international financial centre status and the abundance of international talent gave Hong Kong the potential to develop into a science and technology centre.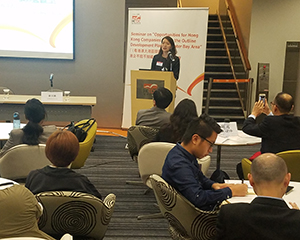 Mandy Ng, Regional Director, Southern China, HKTDC, said authorities had set a goal of making the Greater Bay Area an international innovation centre and a world-class bay area and urban agglomeration by 2022, and to create an entire economic support system through innovation by 2035.

Ms Ng said Hong Kong can finance development in the region and has extensive experience in supplying offshore services, "green finance", and supplying quality insurance services. Hong Kong's efficiency in freight forwarding, logistics and passenger transport are world-renowned, she said. In the Greater Bay Area's Science and Technology Corridor, Ms Ng believed Hong Kong can use its role as a science and technology centre to promote the role of technology products and develop creative industries, as well as to cultivate talents and introduce professionals.

In addition to contributing, she said Hong Kong can also promote the project, including through major exhibitions such as the HKTDC Hong Kong Film and Television Entertainment Expo (FILMART) and Business of Design Week. The HKTDC's SmartHK Forum will be held in Guangzhou in August this year, with the themes of Innovation and global connections.
Four core cities complementary
Ms Ho stressed that business models are changing rapidly. It is said that Hong Kong enterprises are actively investing in the development of Greater Bay Area, complementing each city and drawing on Hong Kong's unique advantages, especially policy promotion and intellectual property protection. She recommended Hong Kong enterprises pay more attention to business development through scientific research.
Financing innovation
Jim Zeng, Director, Shenzhen, HKTDC, said that in Shenzhen alone, there are nearly 4,000 active venture capitalists, underlining the importance of financing strategy in the Greater Bay Area start-up ecosystem and new economic fields such as smart technology and next-generation communications. Giving Tencent as an example, he said the company's largest shareholder is the South African media conglomerate Naspers. At the time of the purchase in 2001, the United States was ahead in technological development while Asian investors were unaware of Tencent, leaving the company available for the South African purchase. Today, however, Tencent itself has become a leading investor in start-ups.

Mr Zeng also cited Shenzhen JFZ Capital as an example. In addition to supplying capital, the company is also good at finding suitable CEOs for start-ups to help them go to market, and holding innovation and entrepreneurship competitions to fund the winning team's business. JFZ also reserved Rmb10 billion (US$1.4 billion) to support 100 start-ups. He said there are many innovative financing channels in the mainland to attract and nurture start-ups.
Related link
HKTDC Research – GBA