3 July 2019
Bold buys vote of confidence in toy retailers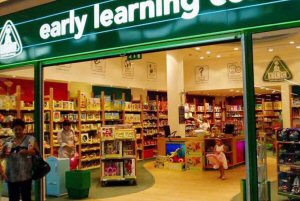 The global toy retail market continues to find itself in a protracted period of change and reinvention, with many vendors struggling to stay abreast of the frequent changes to consumer behaviour. While the prevailing economic conditions remain challenging, however, there are still many opportunities opening up for those successful retailers looking to expand their global footprint. Indeed, amid all the media reports of high-street Armageddon, it is actually encouraging that there are operators that still see the retail channel as a rich vein of opportunity.

A prime case in point would be The Entertainer, the Amersham-headquartered specialist toy retailer. Having recently completed the acquisition of the Early Learning Centre (ELC) – one of the United Kingdom's most iconic toy retail brands – from Mothercare, the company is clearly in expansionist territory. ELC – as its new subsidiary is affectionately known – operates within 80 Mothercare stores in the United Kingdom, as well as through 400 internationally franchised outlets, while also having a robust online presence. As well as its retail locations, the Entertainer's acquisition also sees it take control of ELC's portfolio of popular British toy brands, including its Happyland pre-school range. Topical toys from the range include the Harry and Meghan play set (main picture).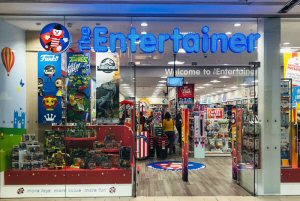 The completion of the deal follows a strong year of growth for The Entertainer, which saw it open 16 new stores in the UK and five additional Entertainer-branded outlets in various overseas markets. It also signed off on the acquisition of Poly, the Spanish toy retailer, adding a further 57 stores to its portfolio.

Speaking following the conclusion of the purchase, Gary Grant, The Entertainer's Founder and Executive Chairman, said: "We are delighted to add ELC to The Entertainer family. It's a much-loved British brand and comes with a rich history of supporting parents and grandparents as they look to nurture their children and grandchildren through early years' learning, development and play.

"For our part, we will look to bring new life to the product offering, while maintaining the high level of quality ELC is renowned for. By combining our experience with that of ELC's passionate and capable partners around the world, we look forward to re-invigorating the brand for generations to come."

Apparently, the deal itself had taken a year to finalise, with ELC ultimately informing stakeholders that £6 million (US$7.64 million) would be received on completion of the deal, with up to £5.5 million in respect of inventory due within a few months of the formal signing and a further £2 million in earn-out fees payable over the next two years. Considering Mothercare paid £85 million for ELC in 2007, The Entertainer appears to have picked it up at a very competitive price.

Indeed, it seems to be a great deal for all parties – offloading ELC helps to push Mothercare closer to clearing its bank debt, while keeping the iconic brand alive. Previously, Mothercare had openly acknowledged that it did not have "the necessary capital, resources or scale" to continue to invest and develop own-brand ELC toys, making the sale almost inevitable.

Among the majority of industry observers, The Entertainer was seen as the perfect company to reinvigorate the brand, especially with its UK toy manufacturing partner, Addo Play, in an ideal position to refresh the master ELC brand, as well as its portfolio of sub-brands. With Mr Grant frequently asserting in the media that the high street is far from dead, it is good to see him backing up his words with action.

Prior to the acquisition of ELC, rumours had been circulating that The Entertainer was considering a bid for Hamleys, that most iconic of British toy retailers, a suggestion Mr Grant had always dismissed. Nevertheless, when it comes to the toy-trade rumour mill, there is rarely any smoke without fire.

It has long been an open secret that C.banner, Hamleys' Beijing-headquartered owner, had little enthusiasm for the brand following a series of setbacks, including its failed 2018 bid to become the majority shareholder in the House of Fraser department store group. C.banner – historically, a footwear group and one with no previous experience in the toy sector – bought Hamleys from France's Ludendo Groupe for £100 million in 2015. Prior to that, it was owned by Baugur, the now-defunct Icelandic investment group, which had bought it out of public ownership in 2003.

Over the years, its successive owners had tried to reinvent Hamleys – a household name in the UK – as a global brand, with varying degrees of success. In 2017, it was forced to close a number of loss-making stores in the UK, Ireland and the Nordic countries, a restructure that subsequently turned that year's £12 million loss into profit of £2.4 million 12 months later. It was clear, however, that the operation required significant investment if it was to move forwards, with C.banner seemingly unwilling – or perhaps unable – to come up with the necessary funds.

As a result, a sale appeared inevitable and several parties were thought to be interested. The eventual winner was Reliance Brands, Hamleys' Indian franchise partner, which struck a deal in April this year to acquire the group for £67.96 million in an all-cash arrangement – something of a rarity in the current retail climate. Considering the price C.banner had paid only four years previously, it appeared that Reliance was acquiring a bargain – all the more so considering the positive statement issued with regard to the group's prospects the previous autumn.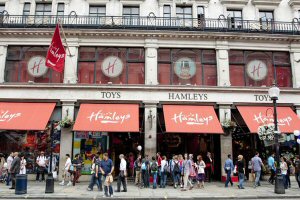 In specific terms, its then parent company – Hamleys Global Holdings – announced in October 2018 that UK sales were up 2.7% in the first eight months of the year. As part of the same statement, the company also forecast it would return to net profitability within 12 months.

Reliance Brands knew the Hamleys offer well, as it operated a chain of 88 Hamleys franchise stores in India. Having established itself as India's leading telecoms player, Reliance had been drawing up plans for a major retail onslaught, which would combine its conventional outlets with its online resources, ultimately allowing it to go head-to-head with Amazon and Walmart in India.

Speaking at the time of the acquisition, Darshan Mehta, Reliance Brands' Chief Executive, noted that Hamleys pioneered the concept of experiential retailing and that, at one stroke, the deal had seen his company emerge as one of the key players in the global toy retail industry.

Expanding upon this, he said: "The worldwide acquisition of the iconic Hamleys brand and business puts Reliance in the frontline of global retail. It follows naturally on from the past few years, over which we have built a very significant and profitable business in toy retailing in India under the Hamleys brand."

Without doubt, Reliance is a huge player in its domestic market, but this will be its first foray into the international arena. With a central London flagship store certainly a bold place to start, it will be fascinating to see how it all pans out and what plans Reliance has for the brand, both in the UK and beyond.

In particular, many will be interested to see whether the long-mooted idea of a New York flagship store for the brand will be resurrected now that C.banner is out of the equation. Whatever happens with regard to that particular issue, toy suppliers across the globe will certainly appreciate the renewed investment and enthusiasm that a new owner will hopefully bring to the table as a fresh chapter begins for the world's oldest toy shop.

Given the global retail climate, it is likely that more mergers and acquisitions will take place in the months to come. Retail, though, is no place for the faint-hearted right now. Success there requires passion, knowledge and commitment – not to mention access to a very healthy bank balance.

Related link
HKTDC Research