13 Dec 2019
Art graces novel harbourfront mall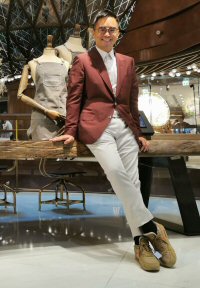 K11 MUSEA, on the Victoria harbourfront at Tsim Sha Tsui, realises a 10-year vision to reinvent the former dockside precinct into a pioneering experiential concept that brings art, people and nature together. Lead architect Forth Bagley, principal of Kohn Pedersen Fox, said K11 MUSEA "will change how we approach retail design", and set a new benchmark for mixed-used buildings around the world.

K11 MUSEA is the brainchild of New World Development Vice Chairman Adrian Cheng, who founded the K11 brand in 2008 as a sustainable "arts meet commerce" business model.

Its late-August opening marked the final milestone of Victoria Dockside, a US$2.6 billion urban regeneration of the 28-hectare dockside precinct, which in addition to the 10-storey cultural-retail component K11 MUSEA, comprises the Grade A office building K11 ATELIER, luxury residence K11 ARTUS, ultra-luxury Rosewood Hong Kong Hotel, Rosewood Residence, the remodelled Avenue of Stars and Salisbury Garden.

Conceiving K11 MUSEA as "a muse by the sea", Mr Cheng wanted to create a space where the community could come together, be inspired by world-class offerings, "and form a generation of change-makers to enrich everyday life through the power of creativity, culture and innovation". It would be "a home for imaginations to run free: a destination that allows visitors to find their muse at every turn", he said.
Creative assembly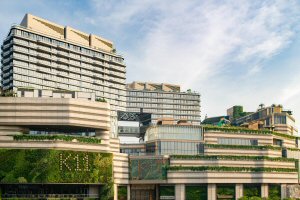 About 100 local and international creative powers – including architects, artists, designers and environmentalists – were assembled to realise the vision. They were responsible for such innovative design concepts as the Galaxy of Creativity in Opera Theatre, a dramatic grand atrium featuring the Escalating Climbers sculptural installation, and the spectacular Gold Ball, to be used for exhibitions and events, which appears to float under the ceiling sculpture called the Oculus.

This is just the beginning, as within the 1.2 million square foot space, retail stores are positioned as spaces for globally recognised brands to exhibit their design talent, craftsmanship and heritage as well as showcasing limited-edition collections and experiences, surrounded by esteemed works of art, world-class design, gastronomy experiences and a cultural education series.

The tenant mix includes a number of exciting "firsts" which consolidate K11 MUSEA's pioneering position within the retail landscape.

Brands which have anchored their presence include New York's Museum of Modern Art (MoMA), which has opened its largest MoMA Design Store in Asia.

James Gara, Chief Operating Officer of MoMA, describes K11 MUSEA as the ideal location to create a unique art-driven retail experience "and empower people to see how design and creativity can enrich our daily lives". Featuring culturally relevant design elements, the new Hong Kong flagship offers a wide selection of design objects and gifts from classic twentieth-century designers to today's brightest design talent.
Hamper maker's Asian debut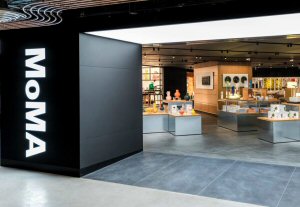 British department store Fortnum & Mason chose K11 MUSEA for its debut store and restaurant in Asia. Fortnum's 181, named in honour of Fortnum's address in London's Piccadilly, is a unique new dining destination that brings the brand's 312 years of food and drink expertise to Hong Kong. Its bar and dining room serve up a specially curated, innovative and seasonal menu across lunch, afternoon tea and dinner as diners enjoy stunning views of Hong Kong Island across the water.

K11 MUSEA is also home to the first permanent location outside Paris for L'ÉCOLE School of Jewelry Arts. Supported by luxury brand Van Cleef & Arpels, L'ÉCOLE is building on the "instant success" it had earlier enjoyed from three successful pop-ups in Hong Kong. Its new venue will offer a complete set of courses, talks and exhibitions, inviting the public to immerse themselves into the world of jewellery with the guidance of leading experts.

Another first is the Hong Kong arrival of Japanese fashion brand Yohji Yamamoto, eponymous label of the avant-garde designer who celebrates asymmetry and imperfection. His 2,000-sq-ft monochrome store, next to the mall's main entrance for high visibility, draws on Japanese gardens for inspiration.

The fashion experience continues with British designer brand Alexander McQueen's first concept boutique in Hong Kong; while Off-White, the luxury streetwear brand of American designer Virgil Abloh, introduces some exclusive pieces.

From Sergio Rossi comes the first store in Hong Kong to offer integrated online customisation services, while in the first Asia showroom of luxury online retailer Moda Operandi, shoppers can pre-order next season's runway looks directly from the designers.

Italian premium sneaker brand Golden Goose has opened its first flagship store in Hong Kong – and the fourth store worldwide – to introduce to shoppers the LAB offering, a one-to-one shoe customisation experience. Other iconic shoe brands Jimmy Choo, Manolo Blahnik, Roger Vivier and Sergio Rossi have also taken up space.

For the latest in accessories, Korean eyewear brand Gentle Monster has opened its largest flagship store in Hong Kong, while Delvaux, the world's oldest luxury leather goods house, introduces an exclusive series of Hong Kong-themed charms.

Danish brand Lego chose the venue to roll out Hong Kong's first LEGOLAND Discovery Centre. This ultimate indoor playground will offer rides, LEGO build and play zones and a gift shop, providing hours of fun.
Digitised mall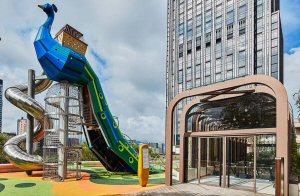 Thanks to Hong Kong's first in-mall mobile digital tour and a designated app, shoppers can click and collect clothes, make dining reservations and place food orders as they go. This innovative online/offline experience also lets guests navigate the extraordinary art collection, architecture design and iconic furniture displayed throughout the space.

Sustainability is central to the design and operations of K11 MUSEA. The complex contains extensive greenery, enclosed green cabinets of exotic plants, rooftop urban farming, and more than 50,000 sq ft of green walls. These designs contributed to K11 MUSEA's green building certifications, including US LEED Gold Level Certification and Hong Kong BEAM Plus (Provisional Assessment – Gold level) Building Certification.

To raise public awareness on sustainable development, K11 MUSEA is home to the Nature Discovery Park, Hong Kong's first urban biodiversity museum and sustainability-themed education park. Visitors can enjoy the guided Nature Discovery Tour co-organised with the Jane Goodall Institute Hong Kong to discover over 250 sea creatures, 200 species of butterflies as well as an extensive collection of plant species.

The park, together with a family-friendly rooftop adventure playground Bohemian Garden by Danish firm Monstrum, makes K11 MUSEA a destination which Mr Cheng hopes will "inspire global millennials, and facilitate a broader discussion on the interconnectedness of creativity, culture and innovation".

Visitors will be able to further engage with the creative community via Kulture11, K11 MUSEA's dedicated cultural programming which will include live music, dance and theatre performances as well as cultural dialogues.
Related link
K11 MUSEA