2 March 2020
Fitness anytime, anywhere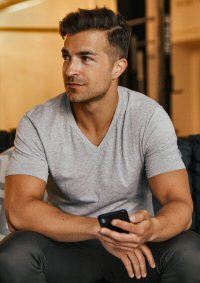 Enabling users to work out on their own terms, Munich-based fitness app Freeletics takes a holistic approach, advising on nutrition, sleep and stress as well as exercise routines. It has 40 million users worldwide and describes itself as the most popular fitness app in Europe. It is winning over fans in Asia, with more than 100,000 users in Hong Kong alone. By putting a personal digital coach in users' pockets and offering nutrition coaching, community support, motivational and educational content, Freeletics helped users build lasting habits and reach long-term health and fitness goals, CEO Daniel Sobhani said.
What does the Freeletics app offer and what is the brand's ethos?

We give users the chance to work out anywhere, anytime for around the price of a daily cup of coffee [a minimum sign up of three months is required, which costs HK$269]. We try to understand user's preferences, their sports and fitness history, and what exactly they hope to achieve. We provide a personalised training plan that takes a holistic approach for a proper understanding of health and fitness, as we believe long-term solutions are about more than just training.
You joined Freeletics in 2014 and were at the helm when it closed US$45 million in series A funding in 2018. What were some of the funding challenges and how did you overcome them?
There were a lot of sleepless nights! That was a special situation as until then, we'd never taken any investment cash and that was a very sizeable round. By far the biggest challenge was helping investors understand our vision, and building trust that we could achieve our goals.
How has the app taken off in Hong Kong, and how do people use it here compared with other markets?

We currently have around 100,000 users in Hong Kong, and the feedback we've received is that it fits well to the needs of people living in the city. We did a survey here and found that exercising was a top priority for 70% of respondents, but they face extreme difficulties in fitting it into their schedule. The survey also revealed that 84% of respondents believe they need to exercise for at least 30 minutes to see the benefits, which is a common misconception. Cost was another factor; 79% didn't have gym membership and almost 90% had never used a personal trainer due to the high costs involved. Freeletics gives users the flexibility to train wherever and whenever they want, and can devise short work-outs too. Fifteen minutes [of bespoke training] can be as effective as 45 minutes in the gym. We can also help them to create a workout that considers noise affecting their neighbours, or if they only have a 2 metre by 2 metre space.
How do you plan to grow your market share in Hong Kong and the rest of Asia?

The Asian market is different to Europe, and we will adapt the app according to factors such as cultural considerations, media consumption and tech infrastructure. The Asian market will become our focus by the end of 2020/2021.
How do you plan to reach out to overweight or obese individuals and provide the motivation they need?

The key to helping those people is gaining their trust. When we talk to users and prospective users, a lot of them have been disappointed by some fitness solution that's unsustainable, and they've not only lost trust in solutions but also themselves.
In this increasingly digital world, is there still a role for stationary gyms and personal trainers?

I believe no one size fits all. Some people achieve their goals using digital solutions, others are more suited to the gym. Some combine the two. With Freeletics, we unite the digital and physical world. If users want to train in a gym, they can, but at home is fine too. It's not where you work out that's important, but that you actually work out in the first place.
What is your focus for 2020?

We're not so much interested in the number of users we have but their engagement. We want to develop deep and lasting relationships with users as we help them reach their goals. We're aiming to have around 30% higher engagement and around 42 to 50 million users by the end of the year.
What are your long-term plans for the brand?

Our vision, and challenge, is to help users become the greatest version of themselves by being the most advanced holistic digital fitness coach, and focusing on changing mindsets. In the next five years, we want to build seamless experience that switches from online to offline so that we're not just a digital product. In the next decade, we hope to develop our own global competitions, and move deeper into the core root of health problems in society, and include some education around health and fitness. Ultimately, we want to help people get on a positive track early on in their life.
Related link

Freeletics