Hong Kong: The Bridgehead for Chinese Outbound Investment
The 13th Five-year Plan (2016-2020) is to promote innovation as a long-term strategy to facilitate growth in a sustainable manner. Emphasis is also put on further improvement in utilitsation of foreign investment and outbound investment activities. Coupled with the Belt and Road Initiative, mainland enterprises are encouraged to enhance their outbound investment activities, including the countries along the Belt-and-Road.

There are an increasing number of mainland enterprises seeking to transform and upgrade themselves via investment in advanced technologies, intellectual property and brands, while bringing such know-how back for use in the mainland's domestic market.

Apart from state-owned enterprise, more and more mainland private enterprises are also looking to invest in a wide array of sectors, covering industrial and manufacturing technologies, clean technology and new materials, distribution network, consumer brands, modern business solutions, etc., so as to maintain their competitiveness in the world market.
Investment Trends
According to the 2015 "Statistical Bulletin of China's Outward Foreign Direct Investment" published by the Ministry of Commerce of the People's Republic of China, Chinese outbound investment amounted to US$145.7 billion in 2015, the 2nd largest outward investor in the world.

Despite a relatively small global share of accumulated outbound investment, it is worth noting that the volume of Chinese outbound investment has been growing substantially in recent years. From 2004 to 2015, China's outward FDI grew at an average annual rate of about 35%.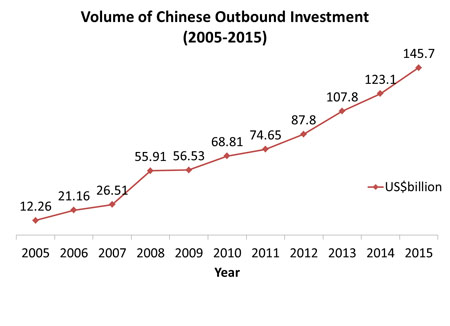 Major Sector Focus of Chinese Outbound Investment
Chinese enterprises have invested in a wide range of sectors overseas, including leasing & business services, finance, mining, wholesale & retail trade, manufacturing, transport/storage/postal services, real estate, construction, production of electricity/gas, etc.