Thailand's Industries: Expertise & Quality Breed Success



Thailand has built its industrial sector into a regional powerhouse, combining its rich natural resources, skilled workforce and advanced technology to manufacture products of the highest quality that are now exported to the world. Its reputation for high quality products and services is further enhanced by well-integrated logistics and communications systems to provide fast, efficient delivery to clients taking advantage of Thailand's strategic location as a regional transportation hub. Competitive pricing, friendly industry people and flexible approach to meeting the customer's needs make doing business with Thailand a pleasure indeed.

Thailand's Automobile Industry: Driven to Excellence
Product of Thailand: Autos, Parts, Components and Accessories

In the years since it's entry into the industry in 1961, Thailand has become the number one automobile-manufacturing centre in Southeast Asia. Toyota, Honda, Mitsubishi, Volvo, BMW, Mercedes, Ford and GM ---- in fact virtually every globally recognized automobile producer has set up operations here to supply the Thai market and provide vehicles for export throughout the region. Integral to this is a thriving auto-parts industry, which has sprung up to complement the manufacture of finished vehicles. Thai-made automobiles and parts are of the highest quality, a result of the technology transfer from the leading international automobile manufacturers and a commitment to excellence from the top down.

A Strong Supporting Role
Another big factor supporting Thailand's growing automobile manufacturing giant is a success story in its own right --- Thailand's burgeoning auto parts industry. The global manufacturers operating in Thailand naturally desire to have a local source for the state-of-the-art parts they incorporate into their vehicles.
There are three tiers of auto parts companies in Thailand:

First tier companies, also known as original equipment manufacturers (O.E.M.), comprise the group of parts manufacturers which supply the automobile producers.
The second and third tier companies are after market manufacturers (AFM) and replacement equipment manufacturers (REM), respectively. In all, there are nearly 2,000 parts manufacturers in Thailand, more than 700 of which are first tier. More than 3,000 different parts are manufactured in Thailand to provide for car manufacturers' and owners' every need, and besides parts for automobiles throughout the world, the Thai parts industry also supplies quality parts for transport trucks, buses, motorcycles and even tuk-tuks.

A Dynamic Future
Thailand's automotive industry is on a course to expand into wider markets outside Southeast Asia. Currently at number 15, the country is expected to break into the global top 10 in terms of automobile production and export by 2010. Thailand's domestic market and its central location within Southeast Asia make these goals quite viable. With an infrastructure, skilled labor pool and investment climate that few can match anywhere in the world, Thailand has delivered on its promise to the many multinational automotive firms that have already set up shop here. And with the firm priority to continue to develop these assets to their fullest potential, tomorrow promises to be even more spectacular.

Combining Vision With Quality
Thailand's automobile manufacturing industry accounts for more than 10% of the country's GDP, and is the number one manufacturing industry in Thailand in terms of value. In 2005 production of new vehicles passed the one million unit mark, and Thailand leads the world in the production of one ton pickup trucks for export.
The conditions which brought about this phenomenal growth assure that expansion will continue. Thailand has a highly skilled labor force, and the government has created a business environment that is conducive for both local and foreign investors. This has been done, for example, through revision of the vehicle tax structure, liberalization of foreign investment statutes, and last but not least, free trade agreements. The FTA signed with Australia opened up a wide new market. The ASEAN Free Trade Area cuts tariffs on automobiles, as well as raw materials, imported within ASEAN to 5 % and pledges to remove them altogether by 2010.
Moreover, the infrastructure is in place to keep pace with manufacturing, with state-of-the-art automotive clusters in several provinces and an expanding deep-sea port at Laem Chabang in Chon Buri province. A regional center for automotive research and development is also in the works.

Building a Better Place
Product of Thailand: Construction Materials

Building a Better Place
While globalization makes the world a smaller place, it also accentuates individuality and unique lifestyles. The evolution towards demand for better quality of life heightens the quality of supplies. What was good enough in the past is no longer sufficient for today's needs. The world craves avant-garde invention that pleases every niche group of people.
Thailand has been responsive to the changes. Latest construction material creations have been offered to meet the increasing demand for sophisticated residences, commercial buildings and business premises.

Inspired by design
Relentless demand for fresh ideas and products motivates the industry to continuously create greater construction materials. Ordinary roof, floor and wall tiles have been artfully transformed to exceed our imagination. Adding styles to match the character of individuality is an art well adopted by Thai manufacturers. A private space can be easily converted into a personal spa with some creativity and inspiration from the latest bathroom products.

Quality is the key
Safety is the utmost importance for any construction projects. Apart from ISO standard, Thailand has seriously adopted universal standards such as ANSI, AJA, URS and GMP in the making of construction materials to feed the world market. Our dedication to improve product quality to best match numerous forms of application allowed Thailand to offer impressive variety of quality products. Cement, for instance, is uniquely catered for any work from high pressure infrastructure to delicate interior finishing.

Born and bred leader
Thailand is blessed with wealth in resources. Those, together with cutting edge technology, skillful workforce, and legendary local know-how, enable Thailand to be the premier provider of construction materials from the ground up. Standard structural materials such as cement, pillar, pre-cast concrete, steel and metal are offered at best values. We are also known as the provider of technologically advanced products such as lightweight yet durable autoclaved aerated concrete blocks, acoustical barriers, low water absorption/high abrasion resistance tiles, insulating glass and many more. Massive effort has been put into research and development to replace consumption of natural resources with new materials while creating values through design, quality and durability.
Friendly to nature
Natural beauty influences the creation of new materials. Woods and stones are widely mimicked in construction resources. Many are almost impossible to tell the difference in a glance while rendering other advantages such as durability, lightweight, installation-ease, and heat-resistance qualities.
Energy saving is another major concern in the industry, bringing thermal protection walls, ceiling insulator, tinted glass panel, water-saving sanitary and those with similar features in high demand.
The well-being of the home occupants especially their health is taken as priority in product development. Thai manufacturers are able to produce paint free from any health disruption substance with anti-fungal, anti-bacterial and easy-to-clean features. Some other health-conscious materials are tempered safety glass, mold-proof cement grout, chemical resistance polyvinyl chloride irrigation and polyethylene drain pipes.

The Future Comes Apace
Product of Thailand: Electric & Electronics

Thailand's electronics industry has been growing strongly in the past decades. Today Thailand is a global leader in the manufacture of electrical and electronics products. Due to the country's policy in foreign investment promotion, highly skilled workers, good transportation systems and low production cost, many brand-name entities of telecommunication equipments, home appliances, computers and electronics components have been attracted from all over the world, making Thailand among the most technologically advanced manufacturers. In 2005, Thailand has become the world's largest hard disk drive (HDD) by producing over 155 million HDDs in one year.

Innovations: More is more
Modernization has prompted the needs for compact, intelligent and multifunction gadgets. Computerized rice cookers today facilitate variety of cooking requirements, some even come with baking feature. Air-conditioners employing nanotechnology also serve as air-purifier. Television sets are expected to support the popular home theaters with high quality screen and audio system. Thailand has all the technologies needed to accommodate the latest market trends.

Quality Standards
Every part and product exported from Thailand has been tested and proofed to meet international standards to ensure highest quality, safety, compatibility and durability. Some of the quality standards adopted by Thai manufacturers are UL, CCC Mark, and Safety Mark.
Green products are increasingly prevailing in global marketplace. Electrics and electronics from Thailand strictly follow the universal trend as well as specific standards in each country, naming Waste Electrical and Electronic Equipment (WEEE), Restriction of the use of certain Hazardous Substances (RoHS), and setting eco design requirements for energy-using products (EuP).

Energy efficient appliances
Appliances account for about 20% of household's energy consumption. From awareness promotion campaigns on natural resources conservation, consumers are more responsive to the concept of energy efficiency by getting the most benefit for each unit consumed in addition to selecting electrical appliances that have energy saving feature. Furthermore, Thailand has invested in manufacturing facility for solar cell in order to promote optional source of renewable energy especially in remote areas.
On-going research and development supported by the government results as the country's excellence not only in electrics and electronics industry, but also in related industries; automotive and agriculture for instance.

A Taste of Thailand
Product of Thailand: Food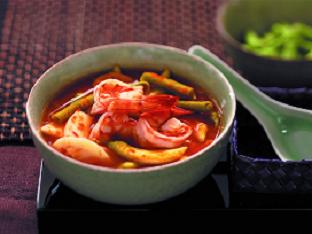 Overview
A favorable tropical climate, abundant water, and strong heritage of farming and fishing have made Thailand a prodigious producer of quality food and one of the world's leading exporters. Large quantities of fresh, frozen and processed food are exported around the globe with a reputation for quality, freshness and outstanding taste.

Great Variety
Thailand produces a great diversity of food for home consumption and export: cash crops like rice and corn; tropical fruits; garden vegetables; meat and poultry; seafood, with shrimp leading the way; beverages and fruit juices; and a wide variety of herbs and spices.

Value-Added Food
Thai food manufacturers have invested in the latest technology and production facilities to create value-added processed and packaged food. Fast-frozen seafood, chilled vegetables, canned and bottled products from fruit to cooked rice are in great demand on world markets, while the growing popularity of Thai cuisine has increased the market for ready-to-cook Thai meals and finger food like corn chips, rice crackers, banana slices and nuts.

High Quality
When you buy Thai food, you can be assured of the highest quality - fresh, clean, free from pesticides and additives, and with a color and taste to savor. A long tradition of agricultural prowess combined with the most modern technology ensures that food from Thailand not only meets international hygiene standards but also has a superior quality that is very attractive to world markets.

Superbly Fresh
To ensure food stays farm and sea fresh, Thai exporters provide prompt and efficient delivery through a well-developed logistics system. This fast factory to store delivery service coupled with renowned reliability of supply is a key factor in Thailand's continuous growth of food exports.

Hygienic Production
From farm to factory, safe and hygienic methods are employed to produce high quality food to international market requirements. Government agencies encourage best practices in healthy farming, while today's food processing companies have achieved the highest standards of production and packaging, such as ISO 9000, ISO 14001, GMP, HACCP and SQF. The result is high-quality and tasty food for export that more than satisfies import regulations around the world.

Healthy Food
As global demand for healthy food grows, the Thai government is promoting organic food production, grown and processed to high international standards, with the aim of establishing Thailand as a regional center for organic food. Training and development under guidance from international experts is rapidly increasing the quality of organic fruit and vegetables available for export.

Halal Food
Thailand successfully produces Halal food products for the international market. All products, ingredients and production processes are inspected by the Central Islamic Committee of Thailand, which awards approved manufacturers with the special Halal trademark, recognized throughout the Muslim world.

Inspiration of Life
Product of Thailand: Furniture


Market Leader
A combination of abundant resources, consistent quality and innovative designs has thrust Thailand to the forefront of the Asian furniture market. Its manufacturers and designers create a fascinating variety of traditional and cutting-edge products that are highly functional, fashionable and affordable, luring international buyers to the Thai marketplace.



Fabulous Materials
A land rich in natural resources has encouraged diversification in its furniture industry. Traditionally Thai craftsmen have used wood to create articles for the home. For today's markets, Thai designers turn to plastics and steel from the country's growing industrial sector, rattan and bamboo for an oriental flavor, synthetics and new composite materials, as well as fabulous cottons and Thai silks for which the country is renowned.

Working with Nature
Environmental concerns dictate the choice of materials used: plantation-grown teak especially popular for outdoor furniture, fast-growing species like bamboo, rattan and water hyacinth, parawood (rubberwood) harvested from sustainable rubber plantations after 25 years when its wood becomes harder, non-toxic and offers a beautiful finish. Thai designers utilize all these materials and more, taking nature as inspiration for colors and texture, to create unique furniture designs for the world market.

So Much Quality
Quality plays an important role in Thailand's furniture prowess - quality of design, production and materials. Thai craftsmen have ages-old traditional skills in making furniture for the home by hand. These skills combined with modern machinery, international-standard production techniques, superb natural materials and innovative designers are some of the reasons Thai furniture is so much in demand around the world.

Astonishing Styles
Thailand's furniture makers have diversified so much, there's something for everyone in an astonishing range of products and styles in traditional and innovative materials. There's furniture for offices, homes, public places, gardens, outdoors, spas, industrial facilities, beaches and conference halls in styles that range from the traditional to contemporary, formal to leisure, children's to novelty. Quality products for every market.

Oriental Touch
A rich culture and proud heritage of artistic craftsmanship ensure that furniture made in Thailand has a distinctly oriental flavor. Today's designers have embraced new materials, contemporary designs and the international styles of tomorrow, while remaining in tune with the traditional ideas of their forefathers. The result is enticing designs with a warm Thai touch.

Thai Gems & Jewelry: Unrivalled Growth & Success
Product of Thailand: Jewelry


Over the past twenty years, Thailand has evolved into the acknowledged regional center for trade in gems & jewelry by combining its renowned skill in production and design with cutting edge technology and internationally recognized testing facilities. This market pre-eminence is reflected in the Bangkok Gems & Jewelry Fair, an industry showcase ranked fifth in the world that is now organized twice a year to meet the demand of and international buyers and trade and to help Thailand achieve its goal of becoming Asia's Gems & Jewelry hub.

World Leader for Colored Stones
Thailand is one of the world's largest centers for colored stones, particularly rubies, sapphires and emeralds, with innovative techniques for enhancing their quality and appearance plus craftsmen skilled at polishing and setting these beautiful stones into stunning jewelry. The country is also renowned for cutting and polishing diamonds, producing high quality products that account for 30 percent of exports.

Artistic Fair & Innovation
Imaginative designs flow effortlessly from the drawing boards of Thailand's jewelry craftsmen. Their artistic flair, style of setting and combinations of gems, especially when working with gold and silver, result in breathtaking creations that are in high demand internationally. Not surprisingly, world's jewelry traders view Thailand as an incomparable source of innovative designs.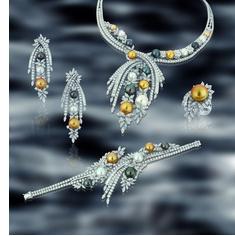 Top Quality in Cutting & Setting
Meeting world standards of quality in cutting and setting gems and jewelry is the major reasons for Thailand's success, aided by a highly skilled workforce with outstanding abilities in setting and design. Such skills ensure consistency in quality and reliability in production of each piece of jewelry enhanced by assured after-sales service.

Trendy Fashionable Silver Jewelry
Gold and silver are important element in the country's growing exports of high quality gems and jewelry products. However, a long tradition of Thai artisans working in high purity silver, with intricate designs and superb embellishments, is now generating growing international interest in the country's silver creations as trendy White Wave fashion items.

Traditional Wisdom & Modern Technology
Thailand has developed a special heat treatment technique to enhance the quality of colored stones, increasing their brightness and clarity. The industry is well supported by the Gem and Jewelry Institute of Thailand, an outstanding analytical laboratory that is ranked seventh in the world by the World Jewelry Confederation. Its experienced gemologists are able to analyze, grade and authenticate gemstones, trace country of origin and provide internationally recognized certification for exporters.

A Reputation for Skilled Workers
A well-trained workforce provides extraordinary skills in cutting, setting, design and craftsmanship, all at very competitive labor rates, enabling Thailand to serve many different markets with a variety of products ranging in quality from low to ultra-high.

Gifts & Decorative Items, Tableware and Housewares

Every Object Tells A Story
Gifts enhance moments that mean a lot to us, capturing feelings between the giver and receiver. The best gifts have value in addition to sentiment. As useful items, they make our lives more comfortable. As cultural objects, they communicate something of their origin, through craftsmanship and design.
Thai products embody this spirit -- exciting emotions and pride while serving as beautiful, meaningful objects in their own right. Some products are inspired by nature, lifestyle or culture; others acquire value and meaning from the dedication of their maker. Whatever their values, Thai gifts, decorative items and houseware products have enriched the markets of the world.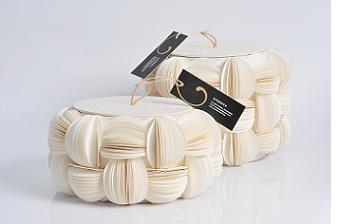 Thai Products Offer Meaning
Thailand's reputation as one of the world's top producers of gifts, decorative items and houseware is based on outstanding creativity and skill that go into designing and manufacturing attractive high-quality products.
In addition to their beauty and functionality, these products also carry an emotional factor that gives them meaning. Thai products continually spark our interest, thanks to the cultural heritage behind them. This is what international markets seek - not just quality and price, but products that will truly be appreciated as a gifts, admired and utilized in years to come.

The Sense of Season
Seasonal events like anniversaries, birthdays, religious and other festivals are traditions celebrated by all, from families to much larger emotional gatherings. In such celebrations, decorations play an essential role in enhancing the mood of the occasion. Beautiful decorative items, such as those from Thailand, are prized and stored, to be brought out to celebrate succeeding seasonal events, picking up new stories to tell with each passing year.

Thailand's Cultural Heritage
Thailand is rich in craftsmanship and cultural heritage, with techniques passed down through generations. These skills are used to create elegant and attractive objects that embody local traditions and materials, serving as gifts and houseware with an emphasis on design and utility.
Today's young Thai designers and manufacturers are incorporating this traditional creativity and craft into cutting-edge products at the forefront of international trends. They are imbued with Thai culture, ingenuity and skill, while the designs now on the market utilize new-wave materials and fashions that are much in demand around the world.

Contemporary Lifestyle, Contemporary Quality
In the modern era, Thailand's wide range of products for the home and kitchen help us make better use of our precious time. High standards of quality and design ensure that Thai products will stand the test of time while pleasing our aesthetic sensibilities.
Diversity and ingenuity are important considerations in today's contemporary lifestyle. Thai designers and manufacturers have the ability and skill to cater to the world's needs and tastes, with a diverse range of products, styles and materials, produced with a commitment to quality and safety.

Thailand…The Finest Experience in Healthcare, Beauty and Spa
Product of Thailand: Healthcare, Beauty and Spa

Thailand's Healthcare in A Class of Their Own
Thailand's healthcare services combine unswerving dedication to patient care with first – class facilities and world-class expertise.
With state-of-the-art facilities in Bangkok and world and around the country, staffed by internationally accredited medical personnel. Thailand's has firmly established itself as the preferred healthcare destination for overseas patients, making the kingdom one of Asia's top choices for quality medical treatment.
People travel to Thailand from across the globe for medical check-ups as well as treatment for complex diseases, elective operations and cosmetic surgery of all kinds.
With the Ministry of Commerce's Department of Export Promotion working tirelessly with the private sector to promote Thailand's healthcare services overseas, it is estimated that the number of international patients in Thai hospitals will pas the one million mark, by the end of the year, an increase of more than 10% from 2004.
In Thailand, there is no waiting list since there are over 30 private hospitals ready to serve foreigners with facilities and services on a par with, and in many cases, even better than those overseas. While costs are far less, some hospitals offer the kind of service more commonly associated with five-star hotel-expert concierge, gourmet meals, a halal kitchen, prayer rooms, and even tour packages for the family.
But above all, it's famous hospitality of the Thai people – a genuine compassion and caring springing naturally from the country's ancient heritage – that put Thailand's healthcare services in a class of their own.

Thailand: A Preferred Destination for Total Well-being
Thailand is the country where visitors can combine good health and good times in one single visit – a preferred destination for those in search of total well-being.
Long admired for its natural beauty, rich ancient heritage, friendly people and cosmopolitan modernity, the country has for decades been the favorite playground for international holidaymakers. Today, Thailand is scaling the new height to achieve its new status as the Medical Hub of Asia.
With ultra-modern facilities and qualified human resources, powered by the joint public-private efforts, the kingdom has already carved a niche for itself in offering excellent services in healthcare, beauty and wellness, all with the signature Thai hospitality.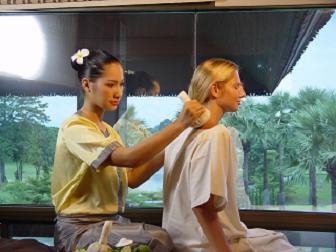 Thai Spas and Traditional Thai Massage
The Personal Touch
One of the fastest growing aspects of Thailand's healthcare industry is personal wellness. Here East meets West to offer the best of both worlds; from traditional Thai massage, weight loss programs, holistic treatments and a fabulous range of luxurious spas that offer the wholehearted welcome that is the hallmark of Thai culture.
Thai spa is famous around the world for its rejuvenating properties. The product of centuries of traditional wisdom passed down through the generations, Thai spa has been refined and polished into a system of physical therapy. Yet another element of Thai culture now popular internationally, Thai massage does more than ease tired muscles and relieve stress; it is reputed to harmonize energy flows within the body, resulting in a fresher, more balanced outlook.
Spas are a popular form of relaxation around the world, but few can offer such a perfect blend of professionalism, caring and individual attention as those in Thailand. Along with very latest in modern facilities and spa products, Thai spas offer a taste of the famous Thai hospitality, making them a destination catering to your every indulgence. Many spas in Thailand now offer separate facilities for men too, emphasizing relaxation and healthy skin rather than beauty.

Herbal Wonders for Health and Beauty
For Health and Beauty
With more attention being paid to natural, holistic lifestyles and individual health and well-being, natural herbal products are enjoying an overwhelming surge in popularity worldwide.
Thailand's tropical climate and enormous biodiversity enable its people to draw on this vast natural resource to create unique medicinal remedies, beauty care and health-giving products unavailable elsewhere.
The astounding healing and beautifying properties of Thailand's plants have been known and used for generations by local people but it is only recently that they have been scientifically researched and systematically developed to maximize their potential. What had once been regarded as folk wisdom is now gaining scientific backing and herbal products are finding popular support in those areas where modern medicine is least effective.
This unusual synergy of traditional wisdom and modern technology offers a unique range of superior products for all your health and beauty requirements.
For further information, please contact DEP Call Centre no. +66 1169 or email: depcallcenter@depthai.go.th