Notice
Due to the special security arrangement enforced by the government, visitors without special permit will not be allowed to enter the Hong Kong Convention and Exhibition Centre from 00:01 of 29 June (Thursday) onwards. In line with this, our centre will be temporarily closed from 29 to 30 June (Thursday to Friday). Sorry for any inconvenience caused.


Highlight of Entrepreneur Workshop - "Hong Kong Import and Export Procedures"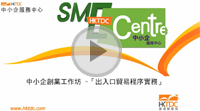 Highlight of SME Management Workshop - "Skills in Risk Management"

Highlight of SME Management Workshop -
"Management by Ennea Psychology - Tips & Skills"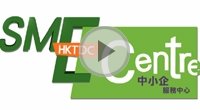 Helping Hong Kong Companies Grow: The HKTDC SME Centre
The newly-renovated HKTDC SME Centre is a resource and service facility that provides practical information and free professional advice for business starters and small to medium-sized enterprises (SMEs). This helpful centre also offers comprehensive export-marketing services to businesses.

New book promotion




Six-Week Start-Up : a step-by-step program for starting your business, making
money, and achieving your goals!

The New Rules of Marketing and PR : how to use social media, blogs, news
releases, online video, and viral marketing to reach buyers directly
Quick Reference to the Trade and Customs Law of China
HKTDC SME Centre opens for business
The SME Centre is a centralised resource and interactive service centre for SMEs, and is equipped with up-to-date trade information, electronic databases and business facilities for your use. Welcome to experience for yourself.