Happy Innovations Exhibition
17 Ways to Make Your Life Happier
How to live a joyful life - living in a city with full of innovations or filling every city corner with playful games?
Some Hong Kong emerging young design talents, who always have great ideas in their mind, create a series of Happy Innovations to explore new possibilities and innovative solutions to build a more livable and happier city. Inspired by urban living, designers join hands to co-create a happy city and spread joy through three themes – PLAY, LIVE and INSPIRE.
PLAY is playful and engaging designs that make a change on daily routine. Designers turn city into an enjoyable play area with unconventional application of ordinary objects and materials. LIVE aspires fresh and creative spatial designs, and unique furniture making the home sweet home. INSPIRE covers a series of innovative designs that enlightens us to inner peace and happiness.
Happy Innovations is a pre-show promotion campaign of DesignInspire, an international creative exhibition. It aims to promote the Hong Kong creative and design industries, and shares the joy of global creation with public. This year, Happy Innovations invites over 25 designers, who are raising stars in various design disciplines, and the Hong Kong Institute of Architects to take part as special creative partner.
Exhibition Details
Date:
22 Nov 2017 – 5 Dec 2017
(Free Admission)
Opening Hours:
11:00am – 10:00pm
Venue:
Gallery by the Harbour
(Shop 207, Level 2, Ocean Centre, Harbour City)
Participating Designers:
Dennis Cheung, Stefan Chui, Daydreamers Design x Department of Architecture of Chu Hai College of Higer Education, HIR Studio, Gary Hon, Kathy Lam & T.T. Cheung, Max Lam, Lim+Lu, Lo Sing Chin, Mike Mak, Gary Ng, One Bite Design Studio x German Tops, Stickyline, Sunny Wong, Tony Electronic, Xavier Tsang, Wyan Yeung, Matthew Lo & Eric Cheung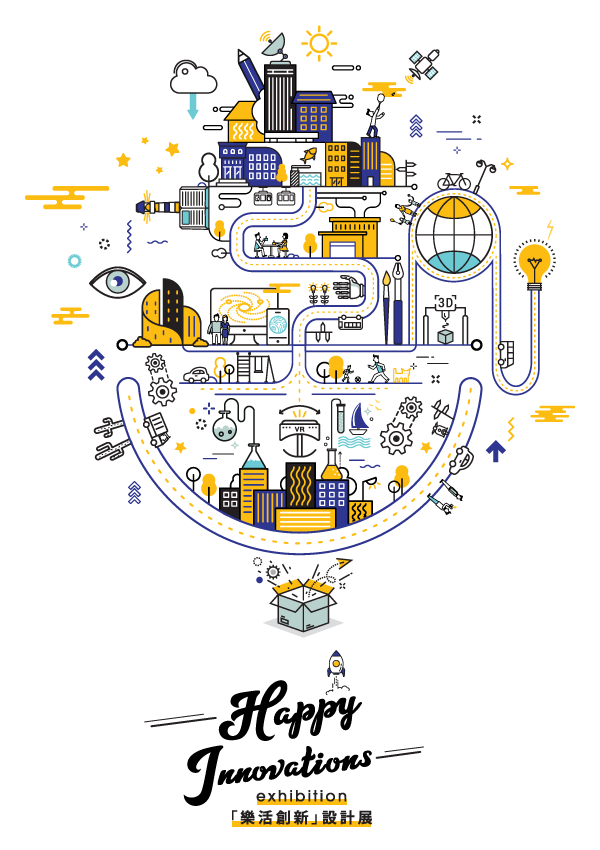 (in alphabetical order of Designer & Work Name)
*Information is subject to change without prior notice.