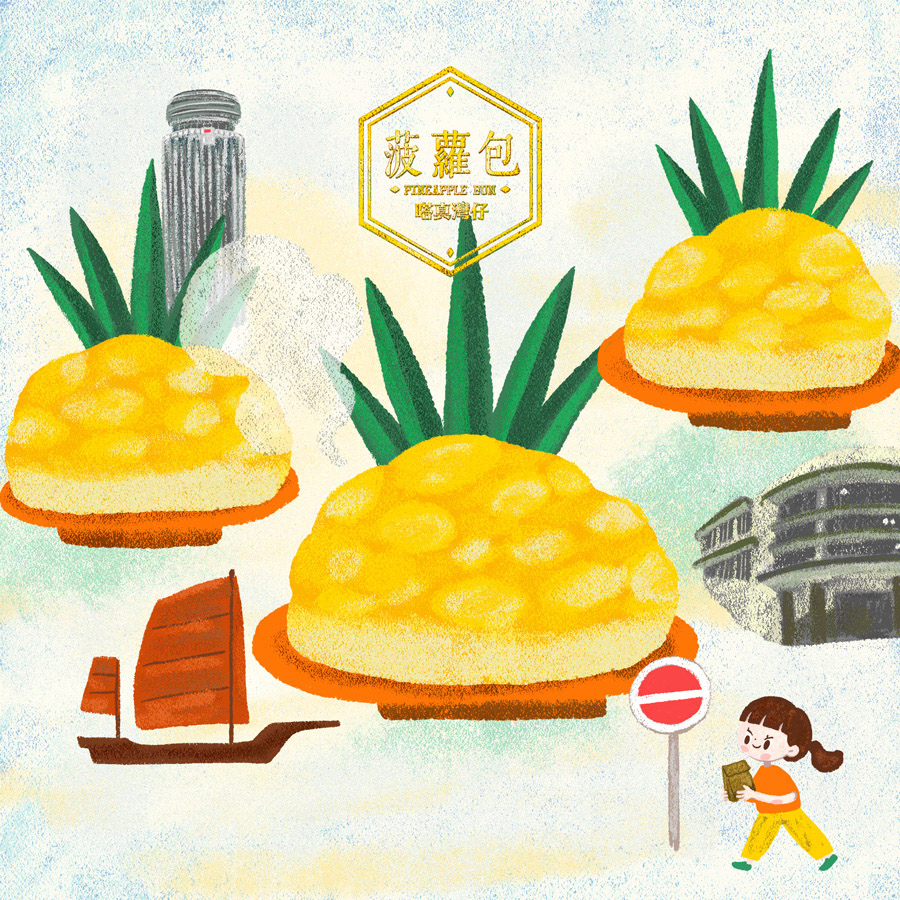 Pineapple bun
The pineapple bun is definitely one of the most popular snacks of Hong Kong, which looks plump with a sweet and crispy crust to offer a delicious bite. It is not only popular among local people, but also a famous international delicacy. It is said that the pineapple bun first made its appearance after the 2nd World War.
In the 1950s, the political turbulence in the mainland forced a great number of people from Weihai in the province of Shang-dong as well as Shanghai to migrate southwards to Hong Kong, some started opening restaurants. They also brought with them the kind of Russian-style bread that was popular in Weihai and Shanghai at that time, such as piglet buns, barley buns and the like, which is primarily meant for dunking in the soup when eating. Therefore, it does not need to have any stuffing, looking simple, awkward and even monotonous. Soon the local picky eaters grew bored with it. In response, the bakers thought of giving it a tasty stuffing by mixing sugar, eggs, flour, lard and other ingredients. Later, some simply made a crispy crust of it instead. While being baked in the oven, the crust cracks to form a decorative pattern of squares that looks very much like the rugged surface of a pineapple, so the rest is history.
Today, pineapple buns are found everywhere, whether it be Hong Kong-style cafes and bakeries, or large restaurants and upscale hotels, in a wide variety of shapes and tastes such as pineapple buns served with a chunk of butter in the middle, pineapple buns with coconut shreds, pineapple buns with red bean stuffing, pineapple buns with custard stuffing, pineapple buns served with BBQ pork stuffing…which truly reflects the adaptive creativity of the Hong Kong spirit.
Recommended Shops
1) ABC Cake House
Address: G/F, 255 Queen's Road East, Wan Chai
Telephone: 25440301

2) Happy Cake Shop
Address: G/F, No. 106 Queen's Road East, Wan Chai
Telephone: 25281391