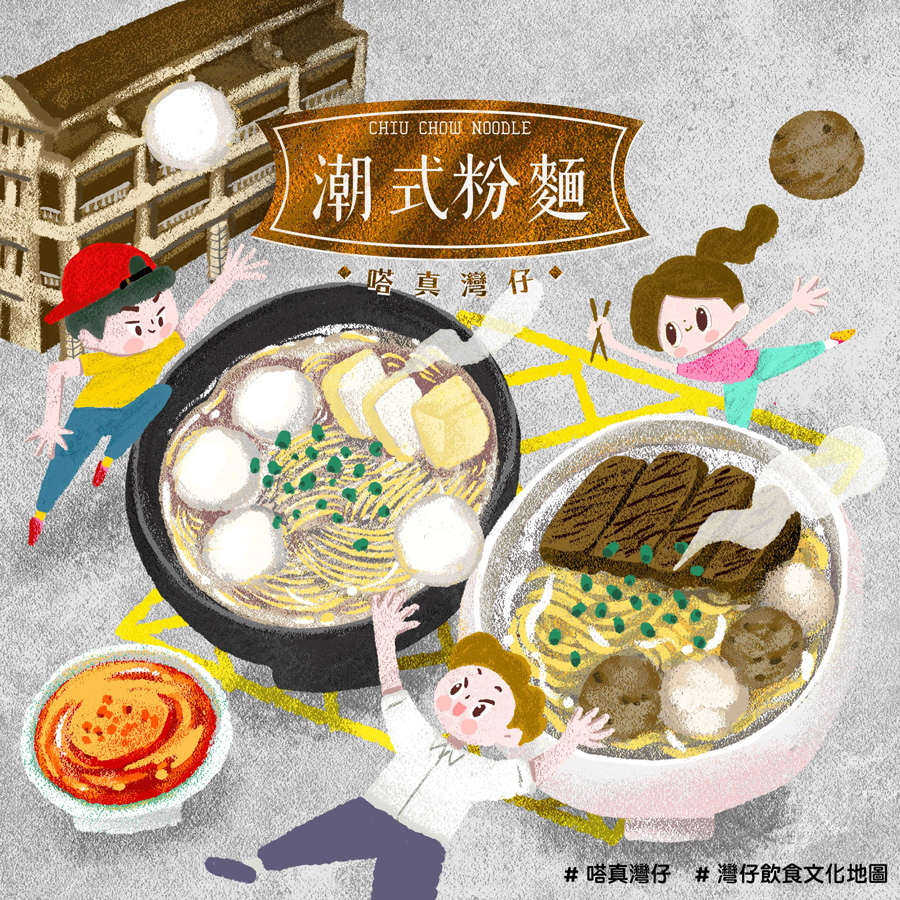 Chiu Chow-style Noodles
Chiu Chow-style noodles, as the name suggests, are the authentic noodles prepared by the Chiu Chow natives. They were originally the culinary delights of Chiu Chow, which were passed on to Hong Kong by the emigrating natives and gradually get integrated and popularized into the local culture. They can be generally classified into 4 categories: fish ball, beef brisket/entrails, pork entrails and meat balls/dumplings. Fish balls are mostly made from such cheaper fish such as conger-pike eel and whiting, being deboned and beaten incessantly with two iron rods until the meat becomes brightly whitish and elastic to the palate.
When these fresh fish balls are served with broad and flat rice noodles, which is Fish Ball Noodles. Beef entrails and brisket are prepared by simmering them in a spicy brine, consisting a mixture of the basic ingredients such as peppercorns, star anise, cinnamon, black cardamon and so forth; besides, whole white pepper and galanga, the seasoning that the Chiu Chow natives are so fond of, are also used. The authentic Chiu Chow recipe calls for hours of simmering until the meats become succulent and fragrant to the taste. Pork entrails are prepared differently, for which the base of the broth is pepper and pork bones, being boiled until the broth becomes milky white, ridden of any unpalatable flavors and richly soothing to the smell. The Chiu Chow tradition has it that they be served together with shreds of Chinese celery and bits of preserved vegetable and deep-fried garlic. Last but not least, there are the meat balls and dumplings, which are generally called the Three Treasures, i.e. The Beef Balls, Cuttlefish Balls and Fish & Meat Dumplings; sometimes, Fish Sticks might be added, then it would be called the Four Treasures instead. Of course, it goes without saying that this dish be served in the traditional Chiu Chow fashion with dried sea weeds together with a spoonful of bits of Chinese celery, preserved radish, preserved vegetables and deep-fried garlic.
Recommended Restaurants
1) Wah Lam Noodle Restaurant
Address: G/F & 1/F, 5-11 Thomson Road, Wan Chai
Telephone: 25272478

2) Hop Lung Noodle
Address: Shop A, G/F, 3 Tak Yan St, Wan Chai
Telephone: 28891618

3) Chiu Hing Fishball Rice Noodle
Address: Shop B, G/F, 364-366 Henessy Road, Wan Chai
Telephone: 35270527

4) Chiu Shing Noodles House
Address: G/F, 137 Lockhart Road, Wan Chai
Telephone: 28613637