The SANUPS A22A is a smart modular UPS system to realize highest availability
and optimize TCO for your critical application.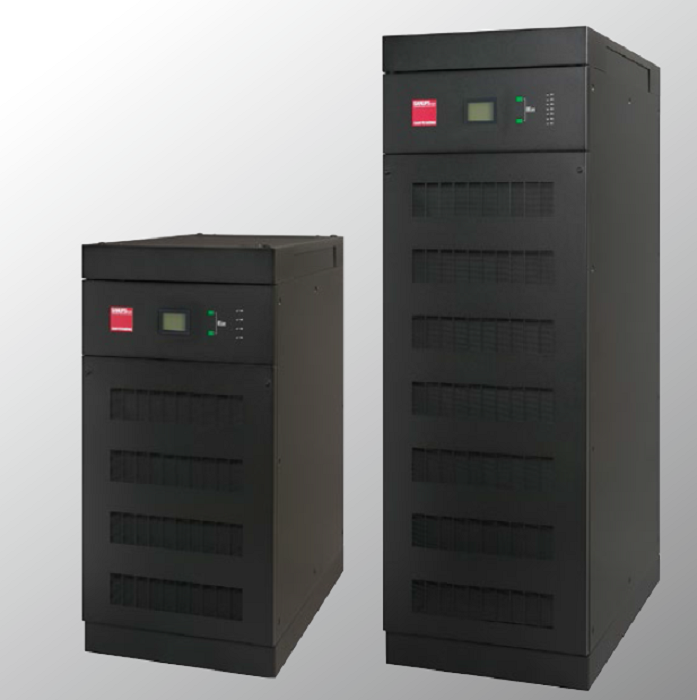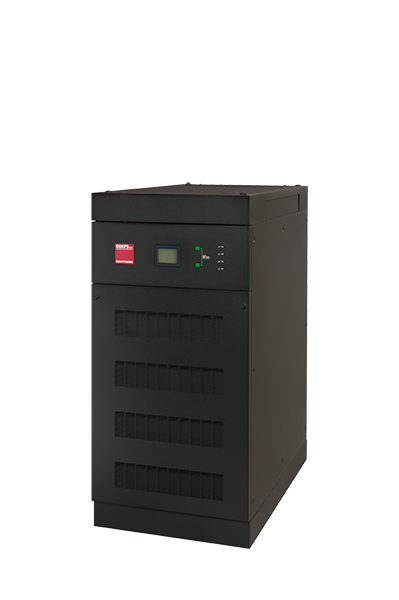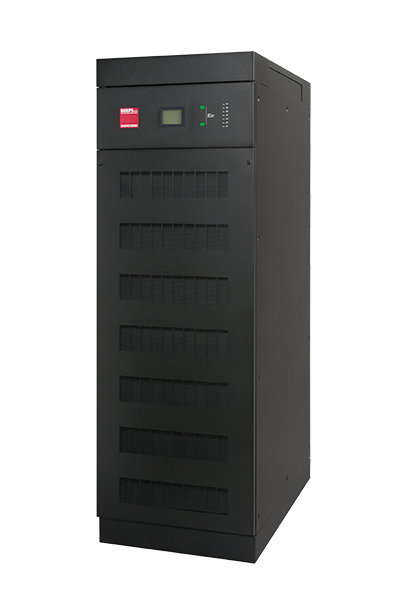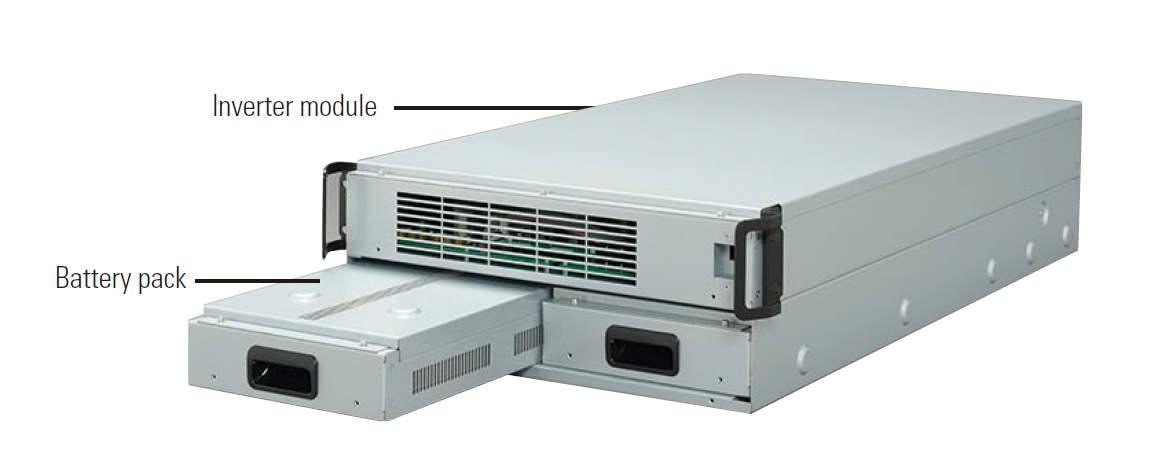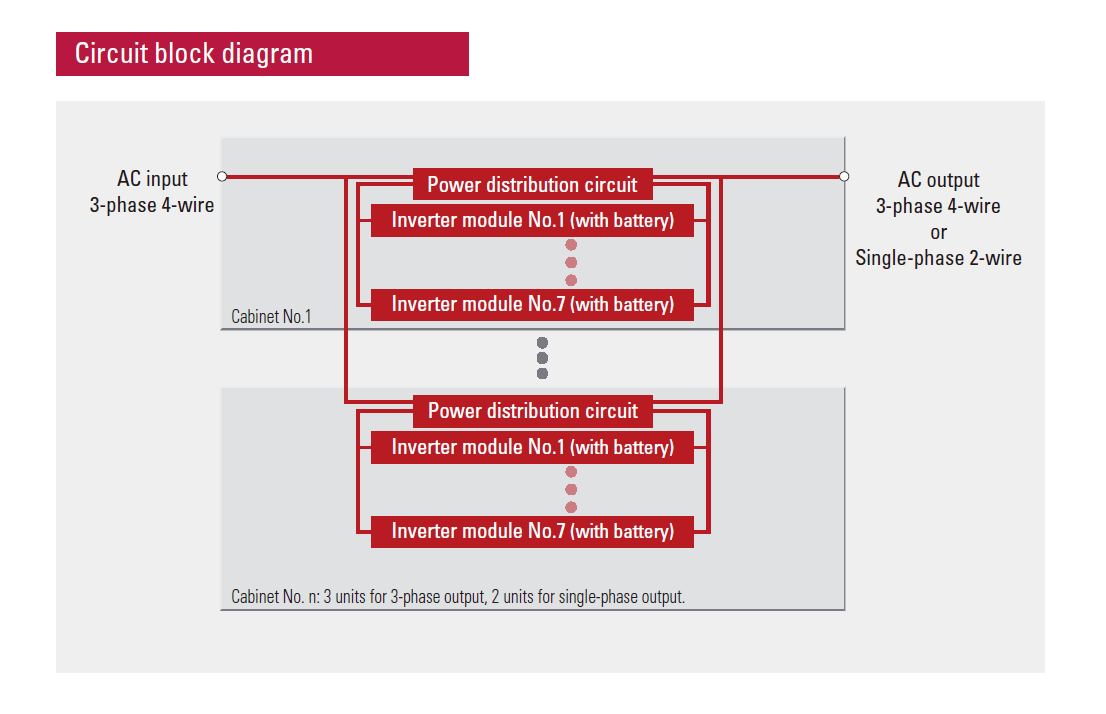 ・Product Features・
Industry's Highest Efficiency*
The A22A UPS achieves high efficiency level of up to 94.5%,
Reduces running cost and contributes to energy savings.
* Based on our own market research as of September 11, 2019, among onlibe UPSs on the market with equivalent voltage and capacity


Flexible System Configuration
5kVA modules of the A22A UPS allow users to select the output capacity
To match the needs of the application.
By combining optional external battery modules, backup times during power outages can be extended.
This provides a scalable capacity range from 10 to 105kVA,
While max. capacity per cabinet is 35kVA, and 105kVA when 3 cabinets are set.

The double conversion online topology of the A22A UPS ensures continuous supply of stable high quality power.
Parallel redundant operation further improves reliability of the power supply.
With a wide input voltage range of 240 to 460 V** and a wide input frequency range of 46 to 54 Hz***,
The A22A UPS can deal with unstable power sources.
This prevents unnecessary battery operation, minimizing battery drain.
** Input voltage range value when input voltage is set to 400 V.
*** Input frequency range value when input frequency is set to 50 Hz.
Front-access design of the A22A UPS allows users to install and remove battery and inverter modules easily.
Maintenance can be performed without interrupting the inverter power to critical loads
During parallel redundant operation.
In addition, power can continue to be supplied even if an outage occurs during maintenance.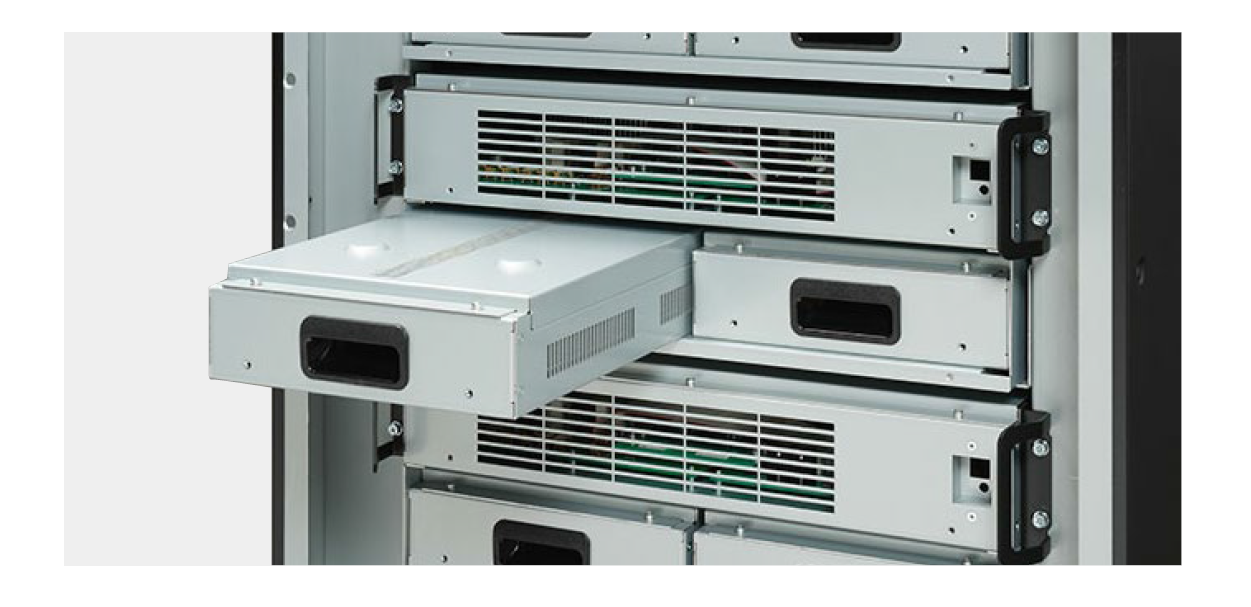 ・Simple Specification・
Model
A22A502A001E
Technology
Topology
Double conversion online
Cooling Method
Forced air cooling
Inverter Type
High-frequency PWM
Inverter Structure
Modular
Battery Structure
Modular
AC Input
No. of Phases/wires
3-phase 4-wire
Single-phase 2-wire
Rated Voltage
380/400/415 V
220/230/240 V
Rated Frequency
50/60 Hz (auto-sensing)
Input Power Factor
0.97 or more
AC Output
Rated Capacity
5 kVA/5 kW
No. of Phases/wires
Single-phase 2-wire 
Rated Voltage
220/230/240 V
Rated Frequency
50/60 Hz
Load Power Factor
0.7 (lagging) to 1.0
Battery
Type
Small-sized valve-regulated lead-acid (VRLA) battery
Battery Backup Time
10 min
Battery Configuration
12 V/9 Ah
Batteries/Inverter Module
16
Overcurrent Protection
Drop (instantaneous), inverter shutdown
Acoustic Noise
55 dB or less
Width
477 mm
Height
174.5 mm
Depth
800 mm
Mass
30 kg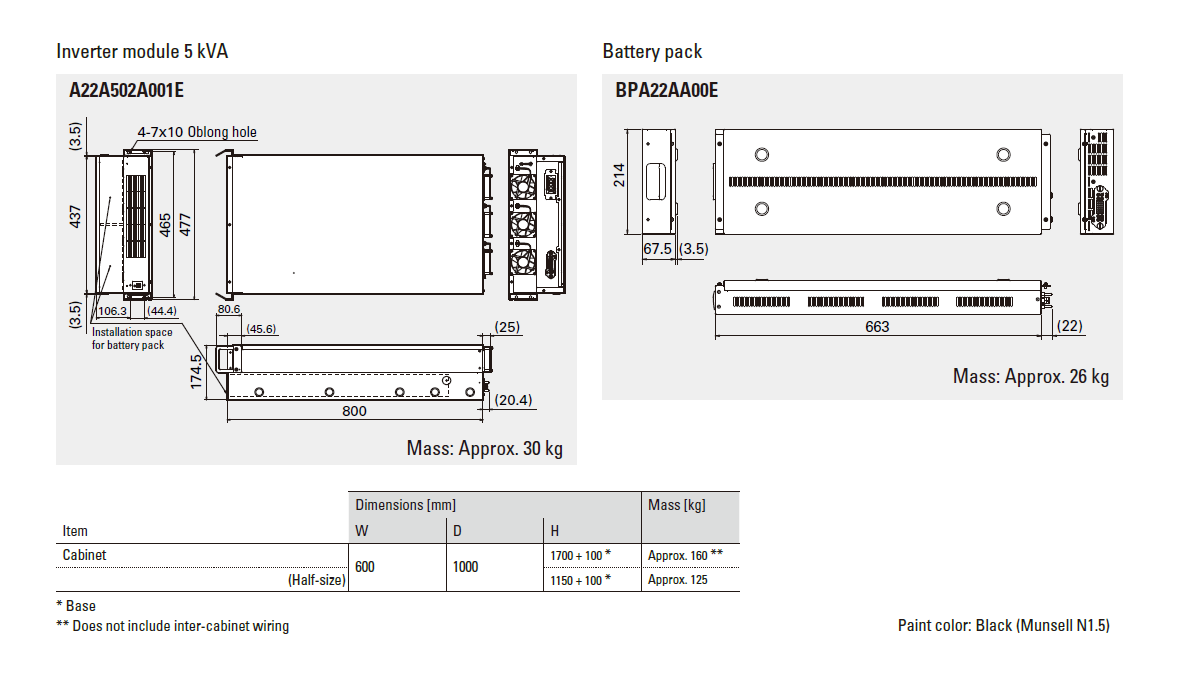 - 3-phase 4-wire 400V Model -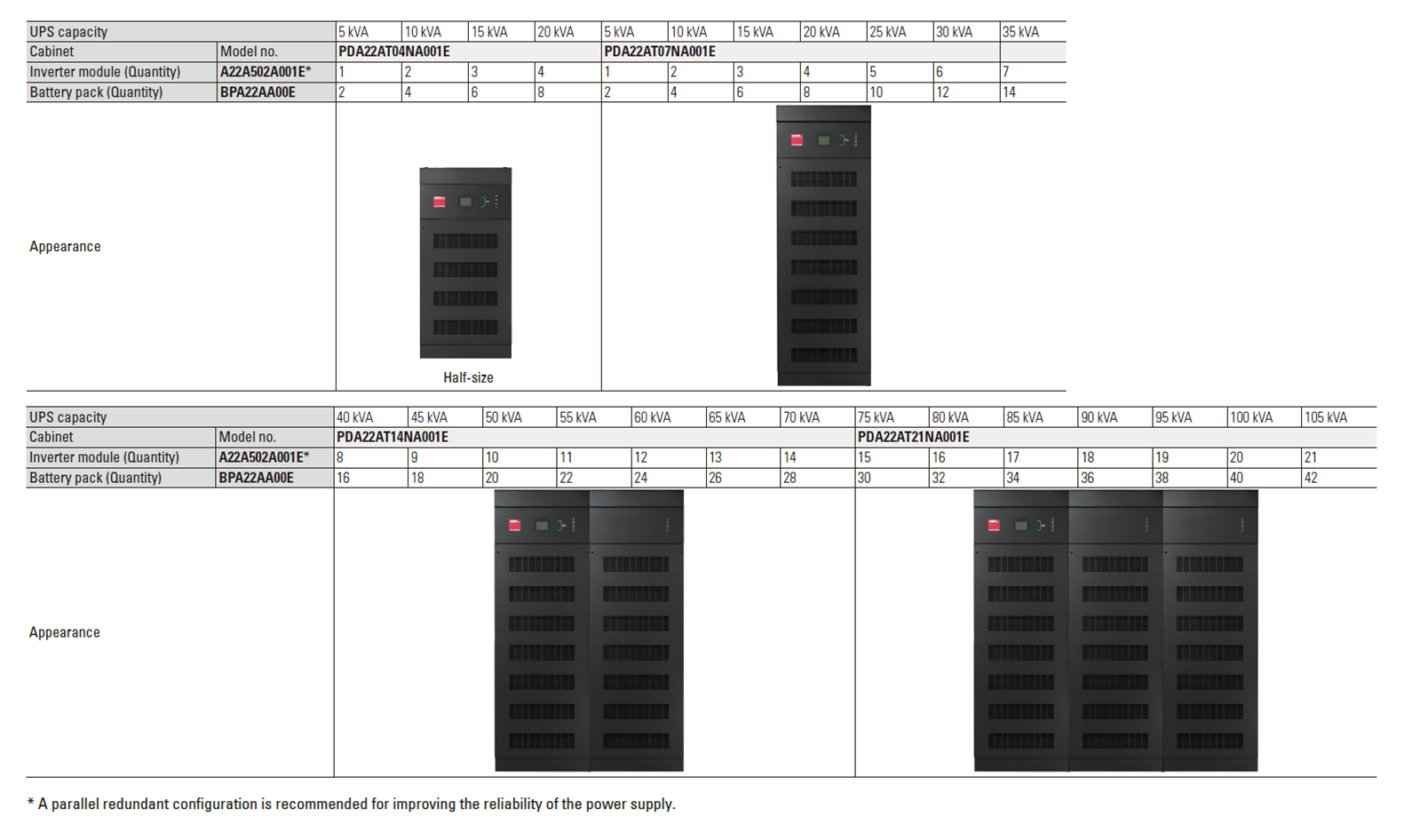 - Single-phase 2-wire 200V Model -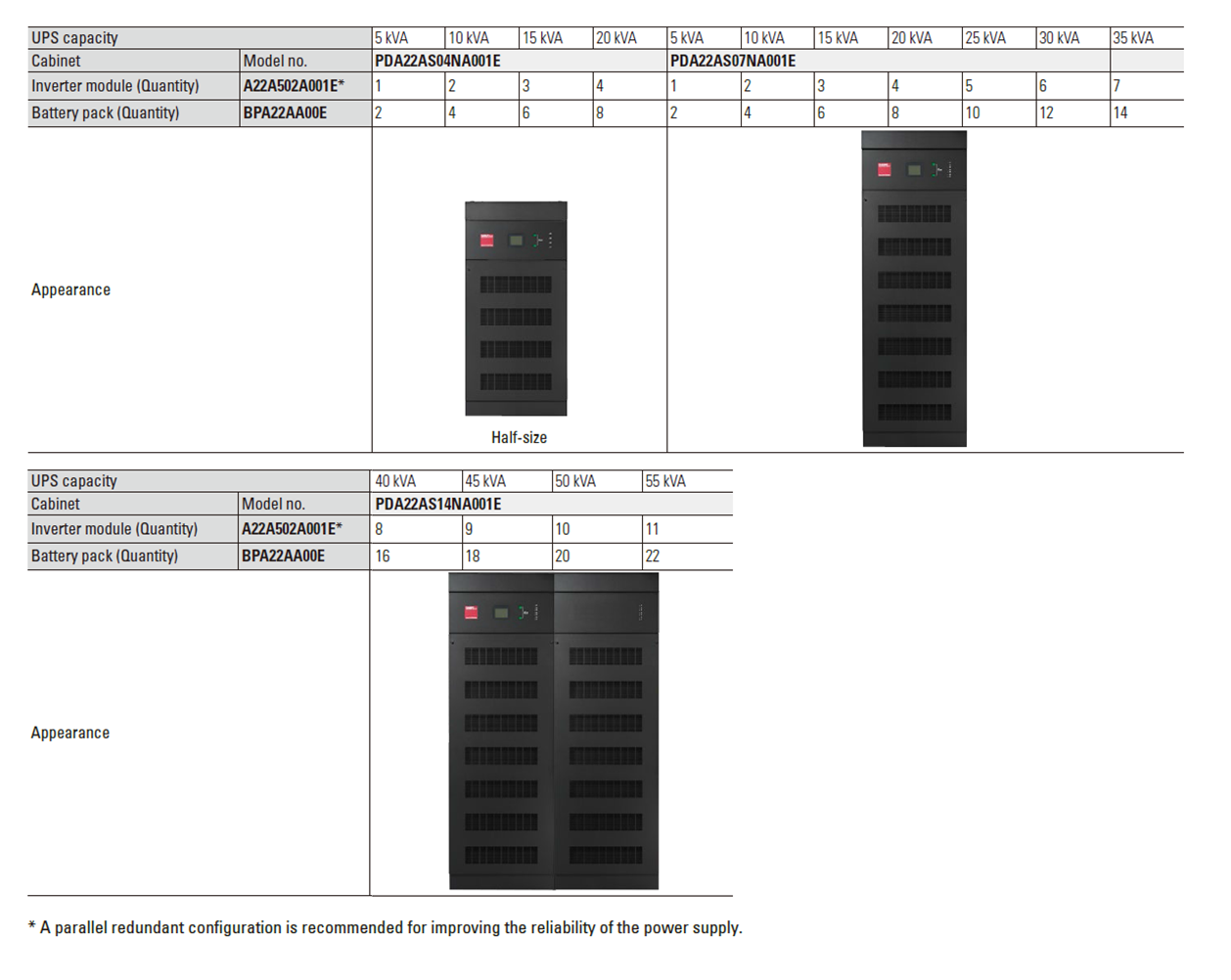 ・Line-up・