29 Oct 2014
Accelerating Growth
In Europe, sales of electric vehicles (EVs) have doubled annually since production vehicles were first marketed in 2010, according to a study by the environmental think-tank Transport & Environment. The same report predicts that China will be the next cab off the rank. Hong Kong offers pole position for manufacturers looking to tap this demand, highlighted by last month's expansion of the United States' Tesla Motors in Hong Kong.

Hong Kong could "potentially be the place to showcase the success of electric vehicles to the rest of Asia," according to Veronica Wu, Vice President of Tesla's China operations.
"We want Hong Kong to be the Norway of Asia," she said. "The Hong Kong Government is very open to the idea of electric vehicles and very committed to supporting sustainability. I think that Hong Kong will be a reference city in Asia-Pacific in terms of electric vehicle use."
| | |
| --- | --- |
| "We want Hong Kong to be the Norway of Asia. I think that Hong Kong will be a reference city in Asia-Pacific in terms of electric vehicle use." | The California-based electric vehicle manufacturer set up its Hong Kong office in 2010, followed by a service centre in Tsuen Wan in 2011. To cope with growing demand for electric vehicles in the city, and a workforce that has increased from 10 to 50 people, Tesla has moved to a new showroom more than three times the size. Ms Wu expects that staff numbers in Hong Kong will exceed 100 by the end of this year. |
Long-term Commitment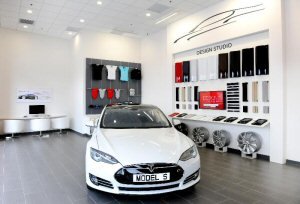 Tesla sells its Model S sedan, with three types of battery capacity, in Hong Kong. The expansion meets the company's long-term goal to provide sustainable transportation in the city, Ms Wu added.

"We're very much looking forward to further developing the Hong Kong market because it is unique and interesting," she said. "Geographically, it is a very small city, so customers only need to recharge their cars once a week basically, and that makes our products especially appealing. In addition, we appreciate the first-registration tax exemption for electric vehicles in the city, and that also allows us to set a very competitive price in the market."
Driving Green Makes Sense



Electric vehicles have no tailpipe emissions, so replacing conventional vehicles with EVs can help improve roadside air quality and reduce greenhouse gas emissions.

The Hong Kong Government promotes the use of EVs in several ways:

• Waiving the first-registration tax for EVs until end-March 2017.

• A HK$300 million Pilot Green Transport Fund, encouraging transport operators and non-profit-making organisations to test innovative green and low-carbon transport technology.

• Allocated HK$180 million for franchised bus companies to purchase 36 electric buses for trial runs to assess their operational efficiency and performance under local conditions. (The trial is expected to commence progressively in the first quarter of 2015.)

• Installing, in August 2014, an additional 100 EV charging points across Hong Kong, taking the number to more than 1,000.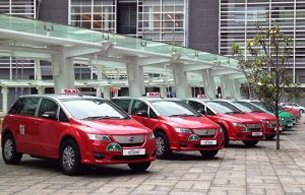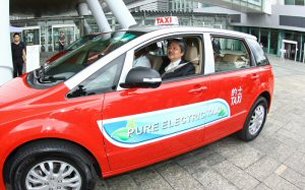 In May 2013, China's BYD Company Ltd, in collaboration with Malaysia's Sime Darby Motors Group, launched Hong Kong's first all-electric taxi fleet. At the launch of the first 45 BYD e6 taxis, Hong Kong Financial Secretary John Tsang reaffirmed the government's commitment to "promoting environmental sustainability by laying the foundation for Hong Kong to become a zero-emissions city." Today, 60 e6 electric cabs, operated by two taxi companies, are operating across Hong Kong.

In addition to its taxis, BYD also sells its Premier sedans in Hong Kong, offering to the general public what Peter Goh, Managing Director of Sime Darby Motors Group, describes as "even more unique, eco-friendly driving and transport experiences." BYD says it has an optimistic outlook for the Hong Kong market, since more fleet or private customers are considering the switch to EVs.
Eco-friendly Driving
It takes only two hours to fully charge the e6 using AC charging equipment developed by BYD. "This pure EV can travel for an unprecedented range of up to 300 kilometres, providing both the driver and passengers with an incomparable driving experience and zero emissions/zero pollution," Mr Goh said.

Shares in Hong Kong and Shenzhen-listed BYD, the world's-largest supplier of rechargeable batteries, rose nearly 100 per cent between May 2012 and May 2013. The company was ranked top of Bloomberg's and Business Week's 2009 Tech 100 list.

Company CEO Wang Chuanfu expects that the next three years will see a boom in electric vehicles, "just like what happened to e-commerce 10 years ago, and the Internet 20 years ago." BYD's sales revenue of e-buses is expected to hit Rmb10 billion this year.
Hong Kong was also among the first Asian cities to import the first emission-free all-electric vehicle, BMW i3, launched in December 2013. The sub-brand, BMW i, reflects the luxury German manufacturer's commitment to sustainable urban mobility. Apart from being emissions-free, the i series also uses the maximum possible amount of sustainably produced and recycled materials – especially inside – so that 95 per cent of the materials used to produce a BMW i3 are recyclable.

BMW Concessionaires (HK) Ltd will display the BMW i3 during Eco Expo Asia in Hong Kong (29 Oct-1 Nov), and arrange test drives for fair visitors.
Ideal Market
"This vehicle is capable of driving up to 160 kilometres on a fully-charged battery, giving it plenty of power to traverse the 1,100-square metre city of Hong Kong," said Newman Tsang, company Managing Director. " Drivers will find that charging stations are already well established, with more than 1,100 charging points in place and navigable with the [in-car technology] BMW ConnectedDrive. With all necessary infrastructure in place in Hong Kong, the BMW i3 is more than ready to roam this city."

The staunch support of the Hong Kong Government and local power suppliers has further paved the way for the growth of electric vehicle-friendly conditions, Mr Tsang noted, citing the government's first-registration tax exemption, and the provision of free vehicle-charging service by CLP Power. "These proactive measures combine to encourage responsible and environmentally-conscious citizens to choose electric vehicles as their preferred private vehicles," he said.

Mr Tsang said that at the Standard Chartered Hong Kong Marathon in January 2015, BMW i3 will serve as the first emission-free all-electric lead and clock car for the event. "The first BMW i3 has been handed over to CLP Power, making the energy provider a pioneer in the new electric driving experience, helping to promote green driving in Hong Kong."
Related Links
BMW
BYD
Eco Expo Asia
Tesla Motors