9 June 2015
Coffee Or Tea?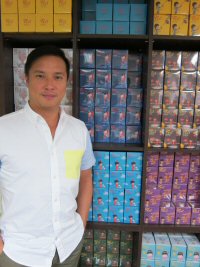 In 2010, former advertising executive Allen Wong launched Or Tea, a Hong Kong brand offering quality Chinese tea packaged in a contemporary design. The company name is inspired by a familiar choice between arguably the two most popular beverages. Or Tea's signature products include flavours such as Dragon Well, Monkey Pinch and Mount Feather, where tea leaves are conveniently packed in eco-friendly sachets.

A hospitality graduate who studied in Switzerland, Mr Wong worked for an international advertising firm before starting his own advertising company. But it was only in late 2011, when Or Tea broke into the European market, that he was able to dedicate himself full time to Or Tea. With a foothold in five European countries, Mr Wong believes that Or Tea's branding makes it stand out from other teas in the market.

Why did you set up Or Tea?
I want to shine a new light on Chinese tea, which is usually perceived as conventional. I want to bring out the idea that it's cool to drink Chinese tea, especially when boutique tea cafes are sprouting everywhere as tea-drinking has become trendy.

It had always been my dream to have my own brand after working in advertising for some 10 years, where creative ideas can only be sold to one client for one occasion or campaign. The chance came in 2009 when my family and I moved to the Netherlands. I had a bit of extra time and it struck me: why not sell Chinese tea? I am not a tea expert, but my strength lies in branding, and it came to me that I could rebrand this traditional beverage with contemporary art.

Where does your inspiration for the packaging design come from?
Humour is central to our drawings. If you look at the packaging on our Dragon Well tea, you'd see a girl throwing away a popular drink into a well and choosing a cup of tea instead. For Monkey Pinch, we have a monkey hanging from a tree stretching out its hand. Beautiful visuals are universally understood, and humour makes it more interesting. Even though the concept for each flavour is different, they share one core message, which is to bring happiness.

With China's contemporary art scene booming, I thought about collaborating with some of the artists. But we realised it's not very cost-effective when they have many limitations. So we've commissioned three freelancers to produce artwork according to our style.

How did you enter the European market?
We attended various trade fairs around the world and managed to build a solid network of distributors. Our latest Matcha (green tea) line was sparked by interest from our European customers who know about its health benefits. The product is now available at Harrods in the United Kingdom, Le Bon Marché in France, and other countries including Spain, Sweden and Denmark. Turnover is high and so are profits; we are satisfied. We hope to establish an office in Europe to oversee logistics and operational matters as our business grows.

What were the main challenges in setting up the business?
As I transformed my previous advertising firm into Or Tea, it turned out that my knowledge and experience in branding and advertising only plays a minimal part in a trading business. There are many things that I didn't know; for instance, distribution channels and customs regulations.

Another challenge was making contacts. It was labour-intensive at first – I went to each of my friends and showed them my products. But I realised this (strategy) was not viable, so we focused on campaigns and projects that had a positive impact on our business.

What's in store for Or Tea?
We will introduce new flavours, including longan and red dates. Our Art of Giving gift line is in full swing. With the European market established, we hope to enter other markets, including North America, Australia, Japan and ASEAN.
Related Link
Or Tea
Follow HKTDC on Facebook, Google+, LinkedIn, Twitter @hktdc