22 June 2015
Empowering Women in Business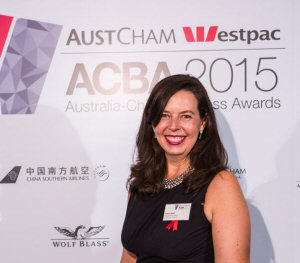 Fiona Nott, Director of Aesop Hong Kong, is a corporate governance and compliance consultant who divides her time between paid work and pro-bono service. In 2003, she left her role as Company Secretary for PCCW to volunteer in the non-profit sector. She co-founded the Hong Kong chapter of Room to Read, a charity that promotes literacy and education for girls in the developing world.

More recently, Ms Nott has focused on promoting the interests of women in business in Hong Kong, including founding the Australian Chamber of Commerce (AustCham) Women in Business Network (launched March 2015), which she chairs. Originally from Sydney, Ms Nott recently won the AustCham 2015 People's Choice Award for Advancement of Women in Business.
What brought you to Asia?
I originally came to Hong Kong on secondment from a Sydney law firm in 1998 to work with a client in the telecoms, Internet and media sector. It was a really exciting time for that industry and I jumped at the chance to experience living and working in such a dynamic global centre as Hong Kong. A couple of years later, I was offered a local position by my client [PCCW]. By then, I was managing issues across Asia based from Hong Kong. I loved the dynamism, can-do attitude and working in such an international environment.
"It's so easy to get started in Hong Kong, and no matter what your enterprise, the business attitude here is all about growth, results and being open to help others achieve."
Why move from a high-flying corporate career into volunteer service?
I wanted to balance my working life, experience a different sector and spend some time giving back to the community. As I've been passionate about education and women's issues since university, Room to Read was a natural fit. Our aim with launching the chapter was to grow it like a business and Hong Kong really embraced the cause. We had individuals and companies willing to listen to our proposals or at least drop into our first event right from the start, which is often the first step. Donors, corporate sponsors and media support then followed.

Do women still need a leg-up in business in this day and age?
Women have made significant strides into the business world and there are wonderful success stories. But there is still more to do. There remains an imbalance between the high number of female graduates entering companies and the lower number of women in leadership positions within organisations. Surveys have shown that the number of women at executive levels in Hong Kong is relatively high at around 30 per cent, but only 11.5 per cent of Hong Kong-listed company directors are women. Mentoring, networking, leadership and other programmes run by organisations such as The Women's Foundation, AustCham Women in Business Network and others, help support and advance women in business – particularly at that leadership level – and support companies with their own diversity programmes. It's great to see that these types of programmes are actively supported by Hong Kong business.

How do you divide your time these days?
It's a mix of corporate [paid] and non-profit [unpaid]. I am passionate about corporate governance and consult to various companies in Hong Kong, ranging from insurance to the retail sector, on either pre-IPO or current compliance issues. I am also a non-Executive Director of Aesop Hong Kong, an Australian-headquartered skincare brand with a number of retail outlets in Hong Kong. On the non-profit side, my focus recently has been on promoting the interests of businesswomen in Hong Kong, particularly in encouraging greater participation of women business leaders onto corporate boards, as well as the establishment of women's networks.

Business versus social enterprise: which is easier?
Hong Kong's entrepreneurial spirit works equally well for social issues as it does for a start-up company. It's so easy to get started in Hong Kong, and no matter what your enterprise, the business attitude here is all about growth, results and being open to help others achieve. In this dynamic and creative environment, if you have a business idea or a non-profit idea that is compelling, you have the chance to grow incredibly quickly.

How's the divide between business issues and social causes in Hong Kong?
The Hong Kong business community is hugely giving and supportive of non-profits. Increasingly, there is less of a gap between business issues and social causes. It's fantastic to see so many local and international businesses supporting gender diversity in Hong Kong; for example, the 30% Club launched by The Women's Foundation in 2013, which is committed to bringing more women onto Hong Kong corporate boards, now has over 50 corporates and chairmen as members.
Related Links
Aesop Hong Kong
Australian Chamber of Commerce (AustCham)
Room to Read
The Women's Foundation
Follow HKTDC on Facebook, Google+, LinkedIn, Twitter @hktdc