26 June 2015
Mekong Might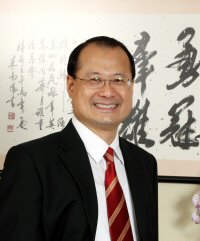 ASEAN is tipped to be the world's hottest emerging market, with the impending economic integration of the 10 economies of Southeast Asia. Among the most promising markets is Vietnam, according to Jonathan Choi, Chairman of Hong Kong's Sunwah Group.

Sunwah has been in Vietnam since 1970, opening a seafood processing business to become Vietnam's largest importer-exporter. The company has since diversified into real estate, financial services and coffee. Sunwah was among the first foreign companies that was allowed to set up a representative office in Vietnam. In 2008, Dr Choi founded the Hong Kong-Vietnam Chamber of Commerce in Hong Kong to promote bilateral trade ties. In First Person, Dr Choi explains why he believes Vietnam is among the most dynamic economies in Southeast Asia.
When did Vietnam start opening its market to the world?
When Vietnam implemented its open-door policy in 1989, we were allowed to set up a representative office and we started looking into branching out into different sectors. Because of our longstanding ties in Vietnam, we were among the first companies to acquire a piece of land in the central business district in Ho Chi Minh City. We acquired the building of a former courthouse and built the 25-storey Sunwah Tower, which is 100 per cent foreign-owned, housing most of the Fortune 500 companies, including Citibank, KPMG and Mizuo Bank.
How did you feel then about the potential of doing business there?
At that time, we felt there was good opportunity to expand. Unfortunately, in 1997 the Asian financial crisis hit the entire region. Our building occupancy fell to only 20 per cent. It was a very difficult time to pull out of that economic cycle.
After about 10 years, the market slowly returned and by 2005, it had recovered. An influx of foreign investment led to a surge in the property market and stock market – which jumped 114 per cent per year, the highest in the world. At the height of the market in 2006-2007, our rental income was comparable to that seen in Hong Kong, Shanghai and Beijing, with rental space commanding US$80 per square metre.

But inflation went up by almost 25 per cent, so eventually the market crashed. Two incidents greatly affected Vietnam's economy: the Asian financial crisis in 1997, and later the 2008 global financial tsunami.

Foreign investors have been returning to Vietnam in recent years. Where are some of the country's opportunities?
Vietnam has a population of 90 million people, with an average age of about 30. Its membership in the World Trade Organization, ASEAN, and likely the [proposed] Trans-Pacific Partnership, makes it an ideal export base. As a potential production base, Vietnam has become competitive. Apart from cheap land and labour, its people are also very productive, and are the best in ASEAN. They're similar to Guangdong in terms of productivity, only they're more cost-competitive.

As a potential consumer market, Vietnam's standard of living has risen in the last 20 years. They have become an importing country. Luxury brands such as Louis Vuitton and Gucci, as well as electronics giants, LG, Samsung, Lenovo, are everywhere in Vietnam. Hong Kong brands, such as Esprit and Giordano are already there and are well-suited to the Vietnamese market.

I believe that in the next few years, more international investors will arrive as it was already among the world's hottest emerging markets before the 2008 financial tsunami. The Americans, the French and the Chinese all know Vietnam, so it's a very special place. It's an Asian country that's also very Westernised.

There are also many good infrastructure investment opportunities. Vietnam wants to build toll roads, high-speed trains, airports. Even the port is still in the central business district. All these forms of infrastructure are needed and the government wants to do it. But it's not easy relocating residents and gaining financing. With the new Asia Infrastructure Investment Bank, however, the Japanese government has indicated its willingness to finance projects, so we hope it can be done as soon as possible.

What are some of the challenges of doing business there?
Local people want trendy products, but their consumption power still does not compare with Hong Kong's. Therefore you need to localise and work according to the local consumption power, whether in products or services.

Doing business in Vietnam requires commitment; you cannot just go in there one year and go away; it doesn't work. We've been there for 45 years, through its up and downs, therefore we know what's happening, the people, the culture – so we have integrated into the local economy. In order to sell in Vietnam, you have to be international, yet local to get the best of both worlds.

How did last year's anti-Chinese protests affect investment sentiment?
It was very unexpected, because in the 45 years we've been in Vietnam, we had never faced such a problem. Some of the local communities reacted to the recent geopolitical tensions in the South China Sea, and targeted foreign investors, especially the Chinese. But the incident, last August, mainly affected Taiwanese factories. At the beginning of last year, the Chinese mainland government led a large investment delegation to Vietnam. But the anti-Chinese protests have prompted mainland companies to take a wait-and-see attitude towards investing in Vietnam. But other Asian countries, such as Japan and South Korea, are taking advantage of the improving business environment. Hong Kong also continues to invest.

How will ASEAN's impending economic integration impact trade dynamics with China?
The ASEAN Economic Community, which should be formalised this year, will operate like a common market. China has signed a free trade agreement with ASEAN, which is also negotiating a similar pact with Hong Kong.

Once we have a free trade deal with ASEAN, China and Hong Kong can work together to explore that market, especially for major projects. The mainland is strong in products and infrastructure, while Hong Kong is strong in professional services. So for infrastructure projects, you need service expertise in areas such as financing and architecture – so we can combine the hardware and software to work together. Hong Kong is not only a super connector, providing a platform for mainland companies to go into ASEAN; we're not only providing financing or professional services, we can co-invest with them into ASEAN. We have the expertise, the financial strength and connection to go together with them.
Related Link
Sunwah Group
Follow HKTDC on Facebook, Google+, LinkedIn, Twitter @hktdc