30 June 2015
Beloved Memories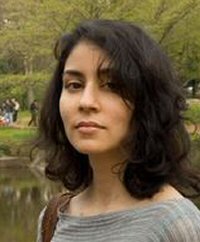 Hong Kong-based author Maria Chaudhuri published her first book, Beloved Strangers, a coming-of-age memoir, last year with Bloomsbury. Born and raised in Bangladesh, Ms Chaudhuri moved to the United States for university, where she obtained a Masters of Fine Arts (MFA) in creative writing from Goddard College in Vermont. Ms Chaudhuri will offer her insights on writing at next month's HKTDC Hong Kong Book Fair, 15-21 July.

What is your memoir about?
The catch-phrase might be a coming-of-age memoir, but to put it in a deeper and more meaningful context, it's about the challenges of crossing cultures, of struggling with family dynamics, pressures and expectations, as well as juxtaposing religion and tradition against personal inclinations, and growth.

Beloved Strangers was your MFA thesis. Tell us about the process of writing it.
Initially I thought it was going to be a fiction book, actually. But a lot of the content was based on my life, and a quarter of the way through the writing, I realised that it would work better as a memoir. I was reading a lot of memoirs and non-fiction at the time, which helped me understand why that particular form and structure would work better for my story.

Memoirs as a genre and some of its misconceptions will be the topic of your forum at the Hong Kong Book Fair. What do you think are some of the misconceptions of the genre?
People have this idea that memoir is this mysterious, scary genre that is so different from fiction and so different from the exercise of writing a novel. Some people think you can't even write a novel if you're a memoir writer, but that's not true – it's exactly the same exercise as writing a novel, and in some ways, it's actually harder because it's the interior journey that is far more important in a memoir, compared to a novel where it's easy to get the plot going with action. I want to address that stigma and the confusion around that.

I think one of the things that naturally deter people is that people have this tendency to lump together biographies, autobiographies and memoirs. A memoir is typically a work of non-fiction that has to be treated novelistically, which is why it is such an interesting form to work with – that's what got me interested. I think people need to be more aware of these differences, which might in turn lead them to read more memoirs.

Because your memoir is about family, were you nervous about how your family members, in particular your mother, would react to the book's publication?
Yes, I wasn't so worried about revealing myself and my life to the reader out there; I think writers write because they feel a special intimacy with their readers. But how my family members might react was a daunting thought as they tend to be your most judgmental readers. You have to get over it, though, if you are going to write a memoir, so I confronted my fears long before the memoir was published.

My mother had the strongest reaction to the book and said, "None of this happened." I said, "Well as far as I remember, it happened." And I think that's one of the things that one needs to remember about memoirs: that it is true, but it is truth the way you remember it. It is not absolute truth, there is no such thing; not when you're talking from memory. My mother came around and said that it did happen, but that she remembered it differently and that was perfectly fine. That was the moment we both made peace with the book as well as what had happened.

How did you get published?
I was approached by my publisher, Bloomsbury. My editor read an excerpt from my memoir, which was published in a literary journal out of Bangladesh. She contacted the journal and got my details and that's basically how it happened. It sort of sounds like a fairytale, but it kind of was.

Is it challenging to get published while being based in Hong Kong?
I got picked up by my publisher while living in Hong Kong so it absolutely is possible – you don't have to live in London or New York, the epicentres of the [English-language] publishing world. Living there might make it easier, though.

Having said that, getting published is still an easier thing to do – living in a place like Hong Kong – than getting marketed. If you live in cities where your publisher has an actual, physical presence, it can be easier for the publisher to help get you into readings, festivals and talks. However, I've been lucky. In addition to going to literary festivals, I've done many interviews, both in print and on the radio, which have all helped.

What have been some of the challenges as a first-time author?
I learned that most sales happen on Amazon as opposed to bookstores, so while I feel badly that I can't do a lot of the bookstore readings because I live in Hong Kong, I take some comfort in the fact that a customer review on Amazon is almost as important as a bookstore appearance in terms of sales. Reading itself has become far more electronic with the likes of iPad and Kindle.

For me, the biggest challenge was the post-publication activities. I went through a steep learning curve in terms of how much you're expected to do for yourself. There are a few things that the publisher will do in terms of sending you to some of the big literary festivals and setting up some reviews and interviews, but the rest is up to you.
Related Links
Bloomsbury. Born
HKTDC Hong Kong Book Fair
Follow HKTDC on Facebook, Google+, LinkedIn, Twitter @hktdc