8 July 2015
The Hong Kong Connection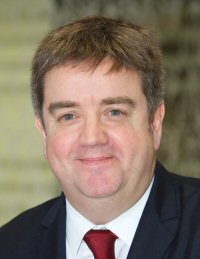 As Managing Director of Deloitte China's International Business Development Group, David Percival helps Chinese mainland companies go global. The Shanghai-based former British diplomat and Commercial Consul to China was recently appointed Chairman of the Manchester-China Forum. Last month, Mr Percival travelled to Hong Kong as guest presenter at a seminar organised by property investment company IP Global. At the forum, Mr Percival outlined the opportunities for Chinese investment into the United Kingdom's "second city," and why Hong Kong is an effective conduit to channel that investment flow.

Firstly, tell us about the Manchester-China Forum.
The forum is a business-led initiative established by British Chancellor of the Exchequer George Osborne, in April 2013, with the aim of driving inward investment to Manchester from China. It builds on the recommendations set out in Lord Nat Wei's report Growing East – A Strategy for Greater Manchester's Engagement with China, published in July 2012. Lord Wei's report identified China as a strategic priority for Greater Manchester, with a strong potential for growth in trade, inward investment, tourism and education. I joined the forum in March 2015.

Why invest in Manchester?
From a Chinese business perspective, Manchester is increasingly emerging as one of Europe's most appealing cities for establishing overseas connectivity. Its drawing power includes an economy and infrastructure that shows no signs of slowing down, along with exceptional strengths in governance and growing autonomy. However, there is still a great deal of work to be done in getting this message across to a broader audience of Chinese leaders and investors, and the Manchester-China Forum is making good progress with this challenge.

Tell us about Manchester's economic prospects.
We are very much of the view Manchester is about to boom even more than it already is, and to drive forward the northern powerhouse agenda that's being set by the [UK] government. We think that China and Hong Kong will play a significant part in that, and it's already beginning to happen. The well-publicised Beijing investment into Manchester's Airport City will build a platform for about 60 to 70 Chinese companies to set up. Key links into Manchester education are also beginning to drive what is already a very productive relationship with China and Hong Kong, topped as well by direct flights by Cathay Pacific.

What's the link to property investment?
My agenda is to show Manchester as an interesting and vibrant place to invest, and the bigger picture of how Manchester will be positioned as part of a northern powerhouse of cities in the UK, connected together by better infrastructure, universities and their education systems, by their quality of life, and the politics of having a new mayoral system being set up for Manchester. All those key parts are what are driving, we hope, Chinese and Hong Kong investment into Manchester and the north of England, and of course, one of the effects of that is significant opportunity in the property market.

What's the potential of Chinese investment in Manchester?
It has probably the most potential. Northern American investment into the region is at the moment higher than the Asia-Pacific, and that would be the case almost anywhere in the world. The Chinese investment that is pouring into the UK right now comes from a low base. The strategic opportunity for Manchester is probably highest with China and Asia. The Chinese are looking to invest in companies, technologies and brands that don't just give them a foothold into Manchester, but something of relevance to what they're doing back in China, so that makes them strategically important.

How does Hong Kong serve as a bridge to those investments?
In general, people from Hong Kong are much more sophisticated in their global outlook; they usually lead the way. Hong Kong's connections in the UK in general are very important. Students from Hong Kong are studying at [the University of] Manchester – it has the largest campus in Europe, and the second-largest Chinese community in Europe after London, and a very significant element of that comes from Hong Kong.

The connection between Hong Kong and the UK drives the connection with Manchester. Considering that 70 per cent of all money that goes out of China is channelled via Hong Kong, Hong Kong has an influence as to where it goes next.
Follow HKTDC on Facebook, Google+, LinkedIn, Twitter @hktdc