30 July 2015
Smart Move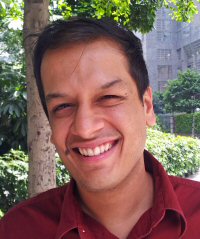 Hong Kong-based incubator Brinc provides support and services to start-ups developing technologies for the Internet of Things (IoT). Launched last year, the company was set up by Manav Gupta and Bay McLaughlin. A telecommunications and network engineering graduate from Purdue University, Mr Gupta spent a year working in the United States before moving to the Chinese mainland, where he worked with companies, such as Hewlett-Packard, before launching his own start-ups.

Brinc's goal is to foster an entrepreneurial environment through a strong community and start-up partnerships. With satellite offices in Shenzhen and Guangzhou, the incubator makes use of Hong Kong's proximity to the mainland.

What led you to set up Brinc?
I had my own software development business in south China for seven years that focused on building consumer experiences for our corporate clients in China and around the world. I saw several businesses fail to bring their product to market, and an opportunity for IoT start-ups around the world to successfully launch businesses to a global market. I looked at some of the challenges and thought there has to be an easier way.

Many start-ups struggle with infrastructure and support and knowledge in different aspects. We can support them through the Brinc platform and alleviate the problems of young IoT start-ups, such as access to software, quality control and logistics.

What types of services does Brinc provide?
Many start-ups have great ideas but don't look at how they can bring their products to market in a commercially viable way. We look to take on start-ups in batches of up to 10. We support them through cash and services to help them define the right business model. We help support them from concept to full validation, helping them design the right kind of product for their target consumer market and help get the branding and marketing right when launching a product. We plug them into funding and help oversee product development and bring them to distributors. It's an end-to-end platform taking companies from concept to commercially viable business. It can be a fairly long process but there are no short cuts when building a sustainable IoT business.

Why is it so important to provide start-ups with links to the Chinese mainland?
In the start-up space, to develop a physical product you need to work with the mainland. You can succeed by building the right relationships with the right manufacturer and understanding how to leverage quality control and logistics.

It's very cheap to manufacture at scale and cost in south China compared to anywhere in the world. Most companies come to develop and build in the mainland. They need support to plug into the ecosystems, working with the right manufacturers, logistics and shipping companies.

There are many challenges in terms of getting factories to work and take low-quantity orders; basically to do high-quality work at low volumes. Because we provide a platform with tremendous volume, we can work with these factories on behalf of our start-ups.

How would you describe Hong Kong's start-up scene?
We are seeing fantastic new start-ups with a very strong technical background that are trying to successfully develop brands and launch in Hong Kong and China. Western start-ups develop their brands and their business models but don't have the technical skills. Hong Kong start-ups are a lot more technical by nature. There's a real synergy between West and East. That's why we mix East and West in our batches.

What are some of the biggest hurdles for start-ups?
I think the biggest hurdle in our space is that it's very new and most start-ups have to prove their reason for existence over and over again to us and to their investors. We help simplify that process by educating the market on that product in the IoT space.

Many start-ups have to learn how to educate the market on the need for their product. Every day we encounter so many innovative ideas, but at the end of the day, these start-ups have to prove the viability of that idea.

What have been Brinc's biggest successes to date?
We have teams from Batch One that started nine months ago and are now in the process of getting their first samples done and will be shipping by Christmas. They have received fantastic traction and made more than HK$1 million each in sales in less than one month. Retailers around the world are ready to put their products on shelves.

One product is the SoundBrenner Pulse, which is the world's first wearable device designed specifically for musicians. A musician wears the Pulse, which helps them stay on beat by delivering silent, punctual vibrations. The other product is Aumeo Audio, which provides tailored audio. It's been fantastic to see these teams in less than nine months get ready to distribute in a massive way.

What's next for Brinc?
We're primarily focused on developing and supporting the IoT ecosystem from our strategic base in Hong Kong. We plan to expand our acceleration programme to other cities around the world.
Related Links
Aumeo Audio
Brinc
SoundBrenner
Follow HKTDC on Facebook, Google+, LinkedIn, Twitter @hktdc