5 Aug 2015
Space-Savers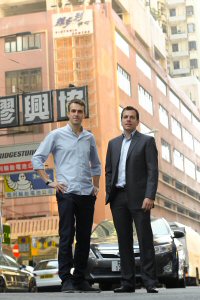 In a compact city such as Hong Kong, with a high-density living environment, everyone needs more room. Recognising a need for on-demand storage, in September 2014, Italian entrepreneurs Lewis and Stuart Cerne founded Spacebox, a web-based storage business designed to offer a fast and convenient service. Despite being just one of many in this fast-growing sector, the brothers are tapping the local start-up ecosystem to raise millions of dollars in angel funding. Lewis Cerne explains how.

What gave you the idea of starting Spacebox?
Living with my wife in a 400-square-feet (37-square metre) apartment, we realised that homes in cities like Hong Kong are not at all equipped to cater for the amount of belongings people own. We were looking at ways to use space in apartments more efficiently with better furniture, and as part of that exercise realised every piece of furniture except where you sit and sleep is a storage system. So the idea became, why not take the storage system out of the home, place your things on your digital devices, but keep them accessible at the touch of a button? The Spacebox concept was born.

Why did you choose Hong Kong as the ideal place to launch?
We have been entrepreneurs for many years and have worked extensively in East and South East Asia, Singapore included. Hong Kong is ideal for a new digital consumer product in Asia because of its mature consumer population, and because everyone is online. In our specific industry case, the space shortage everyone faces in the city also makes it particularly suited; people are familiar with external storage, we've just made it much more accessible to everyone.
"Hong Kong is ideal for a new digital consumer product in Asia because of its mature consumer population, and because everyone is online."
What was the initial investment?
We committed HK$10 million to get started, through self-funding and by raising minority interests from personal connections. We are working on raising in excess of HK$50 million. We are in advanced discussions with a variety of investor types – a venture capitalist, private-wealth managers, and high net-worth individuals.

How have you found the start-up funding environment in Hong Kong?
Hong Kong is a great place for raising funds. You need to spend some time developing your network and connections, but it is not hard. No door is closed to you if you have a good idea and dedication to it; from this perspective we find Hong Kong is much better than other places in Europe. What also really helps Hong Kong is its regulatory environment and the fact that there are very material opportunities as many sectors, in our case storage, have seen very little innovation for many years.

Through using a co-working space, we have also managed to leverage advice from other Hong Kong businessmen – it's the perfect partnership.

The Hong Kong storage market has become quite crowded in a short time. How do you convince investors of Spacebox's competitive advantage?
You need to have a clear vision on how you differentiate, and you must commit to it in the long term. You also have to articulate this clearly to the public and to your investment audience. We already see our users appreciating our commitment to superior quality and amazing client services against several of our competitors. We have a number of product releases that will differentiate Spacebox drastically from our competition.
Related Link
Spacebox
Follow HKTDC on Facebook, Google+, LinkedIn, Twitter @hktdc