26 Aug 2015
Goodness from Down Under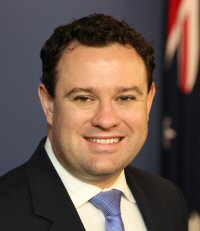 Famous for its diverse agricultural production, the Australian state of New South Wales returned for the second year to the HKTDC Food Expo, 13-17 August, with a group pavilion.

On his first official trip to Hong Kong, Stuart Ayres MP, New South Wales Minister for Trade, Tourism and Major Events and Minister for Sport, hosted a gala dinner, featuring celebrity chef Martin Yan and Australian restaurateur James Viles, who served delicacies using New South Wales' high-quality produce, meat and seafood.

With trade offices recently launched in Indonesia, Singapore, Malaysia, and a new free trade agreement signed with China in June, Australia, Mr Ayres said, is keen to use Hong Kong to explore business opportunities in the region.

What are some of the highlights at the New South Wales Pavilion this year?
The oysters from Australia's Oyster Coast are among the many fantastic products displayed. I love the freshness of the oysters, and the proximity of Australia to Hong Kong allows people to savour the fresh oysters. The Aboriginal brand Indigiearth is bringing 10,000 years of indigenous culture to food. Our olive oils are outstanding – they are healthy, low in cholesterol, and are great for adding flavour into meals.

Wine in a Glass has also garnered strong interest. It sources wine from Australia's southeast region, and by putting them into single serve, pre-filled glasses, it allows people to take them to conferences and sports venues.

What's unique about Australian produce?
One of the things New South Wales really takes pride in is the environmental regulations. Good management of soil and land is something that our country has been built on. We know there's a close connection between the environment and the quality of food and produce. This notion is embedded in the Australian culture. The access to clean ground water is really the secret to Australia's fantastic food and wine.

What are New South Wales producers coming away with from this show?
We are looking to generate business from this expo. For example, one of our producers has signed a deal with a Philippine company. Some of the exhibitors I talked to said they had meetings with potential buyers and distributors, who are mainly from Hong Kong, China and Indonesia. It shows our produce has great appeal across the Asia-Pacific region. The beauty of the Food Expo is that it attracts people from across the region, and that's why we are here.

How can Australian suppliers use Hong Kong as a launch pad to break into the Asian market?
Many Australian producers build close relationships with Hong Kong distributors and suppliers as a way to enter the Chinese mainland. New South Wales has been working closely with Hong Kong to break into China. I think the government and the business sector here in Hong Kong have done a very good job in positioning this city as a gateway.

The Food Expo is one of the largest food expos in Asia, and we've taken a showcase position to introduce Australian brands to Hong Kong, and to support our food producers and manufacturers in New South Wales at the same time. The fact that Hong Kong has been a great launching pad for Australian businesses for well over 50 years now is testament to the strong friendship between New South Wales and Hong Kong.

How will New South Wales take advantage of the recently signed China-Australia free trade agreement?
I think there are opportunities around improving the quality of our trade arrangements in the traditional agricultural area, particularly dairy products, wine and spirits. Those sectors will continue to strengthen as there's a significant reduction in tariffs in the next few years as part of that agreement. This will boost trade ties as the products become cheaper in the Hong Kong and China markets. Health and aged care issues are also highlighted to tap into China's growing aging population.

Are there new areas where Hong Kong and New South Wales could explore partnerships?
Businesses from Asia are turning to Australia and New South Wales for financial services expertise. In fact, Australia's financial services exports to Asia have grown by 43 per cent in just one year. Australia exported almost A$800 million worth of financial services to Asia in 2013-2014.

I am interested to see how the trend will grow around our services sector. The financial services in Sydney and New South Wales are very strong, particularly in risk and wealth management. Its deep pool of start-ups and the state's dominance in financial services mean that New South Wales is emerging as a leading Asia-Pacific base for the fintech industry.

With an emerging middle class and aging population in Asia, I think there will be a really strong chance for New South Wales to collaborate with Hong Kong as well as China, in areas including healthcare and aged care. Australia has a track record of quality aged care, and I think it's a really unique service to sell to this part of the world.
Related Links
Australian Trade Commission
Destination NSW
Follow HKTDC on Facebook, Google+, LinkedIn, Twitter @hktdc