10 Sept 2015
Tackling Food Security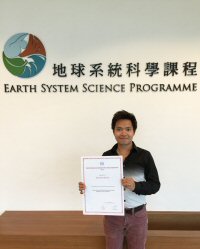 Hong Kong has been recognised for its work on global food security with Professor Amos PK Tai being awarded the United Nations' World Meteorological Organization Research Award for Young Scientists 2015. Professor Tai, of the Earth System Science Programme at the Chinese University of Hong Kong (CUHK), is the first Hong Kong scientist to win the prestigious award. It was presented in recognition of a scientific paper entitled "Threat to future global food security from climate change and ozone air pollution," which Professor Tai published in the science journal Nature Climate Change.

Tell us about your background before joining CUHK.
I was a post-doctoral scholar at MIT (Massachusetts Institute of Technology) for a year, and before that I was at Harvard for my PhD for five years. My undergraduate degree was also from MIT, so I was in Boston for 10 years before coming back to Hong Kong to join CUHK two years ago.

Why the special interest in global food security?
My broader motivation is the imminent food crisis that affects most of the world's population. According to the United Nations' Food and Agriculture Organization, worldwide demand for food is expected to double by 2050 – but human beings' ability to produce enough food is severely challenged by climate change. As an atmospheric scientist, I run climate and air quality models, but right now many of the environmental problems we face are highly inter-disciplinary. We really have to jump out of traditional boundaries in order to assess problems altogether, such as the food-water-energy nexus. I'm particularly interested in linking disciplines, to cross boundaries, to see how we can apply physical principles from climate science to solve big challenges more holistically.

What were the key findings of your study published in Nature Climate Change?
I found that warming alone will reduce global agricultural production by more than 10 per cent by the year 2050. But the combined effect of global warming and air pollution can be even more detrimental to crop yields. In the worst-case scenario, the undernourished population in developing countries can climb about 50 per cent by 2050.

The study showed that various crops in different regions can either be more sensitive to air pollution or to global warming. For instance, maize and corn in most of Europe and the United States are more sensitive to warming than to ozone, but it's the other way round for wheat. By pinpointing where this occurs, farmers can be more aware of the biggest problem they face, and decide their adaptation strategy accordingly; ie should we grow more heat-resistant or pollution-resistant crop varieties?

How is Hong Kong responding to local and global environmental challenges?
Hong Kong is highly interconnected with other parts of the world. No longer are environmental scientists focused only on problems directly affecting our city – like rising sea levels and air pollution – but increasingly over the past decade, more and more have been contributing to research on global environmental issues. We're also seeing new undergraduate programmes and graduate degrees trying to train a new generation of young people to work in the interdisciplinary areas of environmental conservation and climate solutions.

Can you share some examples?
At the Earth System Science Programme at CUHK, we have a cryosphere geophysicist, Professor Lin Liu, working on the melting of glaciers in Greenland – which impacts on sea level rise – and in Tibet, which affects the sustainable water supply in China. Professor Francis Tam is working on El Niño, and how climate change would affect rainfall pattern and extreme temperature pattern in East Asia. Seismologist Professor Hong Feng Yang is working on predicting earthquakes in areas susceptible to them. Professor Mannin Chan, an atmospheric chemist like myself, is using laboratory studies to demonstrate how organic air pollutants form in different city environments. Our Programme Director, Professor Teng Fong Wong, has the vision of bringing everyone together to be a highly inter-disciplinary research team with a global outlook.

How confident are you that solutions to the world's environmental problems can be found?
Problems are many-fold, but so are solutions. Hong Kong is not a big food producer; more than 90 per cent of our food is imported from elsewhere. But as one of the biggest food-consuming cities in the world, we can play an immediate role through demand. Switching to less meat-intense diets would help greatly, as would reducing food waste. They would help alleviate the pressure on food production and distribution system, and greatly reduce carbon footprints and help climate mitigation. The Hong Kong government and citizens can also play a role on the supply side. There is huge potential in the city's abandoned farmland; by re-growing on those plots, we could increase the proportion of locally grown food to more than 20 per cent.

Food composting and food recycling are other areas of active research. Hong Kong scientists are very concerned about how climate change can affect not only supply, but local food prices and nutrition. We are working on that to suggest ways that our policymakers and farmers can pursue.
Related Link
CUHK
Follow HKTDC on Facebook, Google+, LinkedIn, Twitter @hktdc