30 Dec 2015
3D Doodling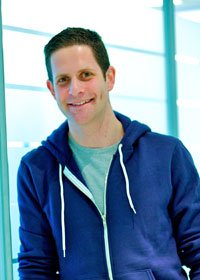 Billed as the world's first 3D printing pen, the 3Doodler allows users to create three-dimensional sketches by heating a single strand of plastic that hardens almost immediately after extrusion. The product was launched nearly three years ago by Hong Kong-based WobbleWorks, after securing US$2.3 million from the crowdfunding site Kickstarter.

The innovative product was named by Time Magazine as one of the best 25 Inventions of the Year 2013. Co-founder and Director Daniel Cowen explains what sets the product apart in the fast-growing 3D printer market.

How did the idea of 3 Doodler come about?
We wanted to design a 3D printing device that could be used within minutes without needing any technical knowledge, software or computers. We also wanted it to be affordable and fun so that anyone could doodle. The 3Doodler allows you to literally draw in the air or on a surface – whether freestyle 3D sketching or tracing shapes from templates to make larger structures and objects.

How does it work?
The 3Doodler heats a single strand of plastic and as the user presses the button, the plastic extrudes and quickly cools, solidifying into a strong stable structure. This allows you to build an infinite variety of shapes and items. Most people will instantly be able to trace objects on paper, and after only a few hours of practice, you will be able to make far more intricate objects.

In terms of category, we straddle tech and engineering, crafts and hobbies, as well as the education space. In fact, we've appealed to users in all of those areas since the beginning.

How scalable is the product?
Our focus has to be on what you can do with the product, and to that end, we'll keep growing our community. We have since published a project book, What Will You Create?, which takes learners from the basics to the complex, so that the entry barriers to "creating something" disappear. We also plan to keep listening to – and catering for – our users.

How to focus on each of these markets without becoming diluted is also interesting. With a smaller market area it's almost easier – you have a niche. We have to think about how to stimulate these different kinds of people all the time, and hope to capture more people along the way.

What are the advantages of being based in Hong Kong?
Hong Kong is a comfortable way of being based in Asia – the region is at your doorstep but you have this Western approach to business and Western lifestyle that attracts all kinds of talent and leaves all kinds of possibilities. And it's convenient. On Monday, we can decide to prototype something and in the same day be talking to factories and partners. On Wednesday, we can be across the border looking at the prototype.

So why not just move to China? Hong Kong has an international talent pool, especially when it came to logistics, operations, engineering, merchandisers, shipping experts, accounting and sales management.

Experience counts. Our multitude of partners is experienced in supply chain and fulfillment issues. Some of these partnerships have allowed us to expand our operations without having to grow our team to an unmanageable size. Then there are the travel facilities and access, which you can't underestimate the value of: we have more than 30 distributors across 55 countries.

Hong Kong is also a focus for key trade shows and meetings in all of our market segments, including two electronics shows and a Mega Show. This month's Hong Kong Toys & Games Fair is also a key event for us. Distributors and sellers from around the world meet in Hong Kong for at least a week to make their product selections.

What's next for the company?
As the hype around 3D printing grows, and materials get better, people will increasingly do their own prototyping at home or at work. We can all benefit from that. There is so much interest in this area that software will be cheaper and the skills will be more accessible as the software simplifies. We are also thinking about what else you can use the pen for – and it's pretty open. Think of how big the app market is – there's now an app market for almost everything.

2016 will see a series of exciting releases for the 3Doodler, including the long-awaited junior version. This will open the world of 3D to a new generation – so the January toy fair is really important to us. But the whole ecosystem will develop as we release some really exciting add-ons and accessories. We have the next five years mapped out. We wouldn't have achieved this much anywhere else.
Related Link
3Doodler