16 Aug 2016
Sustainable Sourcing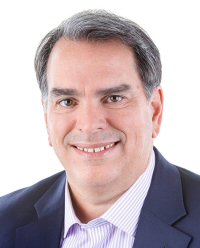 Global packaging material firm Avery Dennison Corporation manufactures and distributes adhesive materials, apparel branding labels and tags, RFID inlays and specialty medical products. As Vice President of Procurement for Asia-Pacific and Global Sourcing, Eric Hutchinson is in charge of implementing the company's responsible paper-sourcing programme in the region. In line with the company's 2025 sustainability goals, this includes buying 100 per cent of its paper from certified sources, of which 70 per cent will be Forest Stewardship Council-certified. Since moving to Hong Kong in January 2013 from the United States, Mr Hutchinson has also worked with local purchasing teams to develop stronger, more strategic relationships with suppliers, driving excellence throughout the value chain through a shared commitment to sustainability.

How difficult is it for companies to source sustainably?
The availability of sustainable materials is improving as sustainability becomes a key differentiator in the marketplace. Three years ago when I arrived in Hong Kong, we had just started our Responsible Paper Sourcing initiative. We have made great progress and are on track to have over 40 per cent of our paper purchases this year to be Forest Stewardship Council (FSC)-certified. This accomplishment is only achievable with support of external partners, suppliers and leadership from the top. We were fortunate to have partnered early on in our journey with Rainforest Alliance and FSC to help set industry standards and support the process to track compliance and drive real change. In our other areas of purchase, the industry standards are not as developed, which is both a challenge and an opportunity. We have a goal of 70 per cent of our chemicals and films purchases to adhere to our guiding principles.
How does that apply business-wise?
As an industry leader, we have an obligation to lead. For us, it starts at the top and our CEO's passion to lead the industry in sustainability. However, we have financial responsibilities. Our challenge is to develop, source and manufacture products at cost parity or as close to cost parity as we can get. We have learned that sustainability does not need to come at a cost and we have not lost our competitive advantage. For example, we sold over US$800 million in FSC-certified products last year, with no incremental costs. Importantly, in order to accelerate the adoption of sustainability, we need to work to ensure we can meet current costs.
"We have learned that sustainability does not need to come at a cost and we have not lost our competitive advantage."
How did Avery Dennison hone its sustainability focus?
We developed our 2025 sustainability goals based on The Natural Step principles. This framework has been around for more than 25 years and is the basis for many sustainability initiatives with consumer packaged goods and within our industry. Its principles can be summarised as minimising the impact on the planet: so, do not take, make or destroy faster than the earth can naturally repair, return, replenish or regrow. These principles have been translated into hard metrics: for example for "make," Avery Dennison has committed to three per cent year-on-year absolute reduction of greenhouse gas emissions, and to be 100 per cent landfill-free.

How do you follow those goals when it comes to sourcing from China?
It is a very interesting dichotomy. China has been in the midst of an industrial revolution of their own, much like the early 19th century in England and the US. Should China's growth be constrained by having limited access to the lowest cost energy available? On the other hand, the technology today allows China to be smarter and in a better position to grow and protect the planet. But it is possible for China to achieve economic growth while balancing environmental interests.

For example, Avery Dennison has partnered with a strategic supplier partner in China to collect and recycle our paper liners after application. The supplier produces the liner, collects after application, and recycles into packaging material. This unique programme grew revenue and reduced costs for our supplier, while having a positive impact on the environment.

What advantages does Hong Kong offer in sustainable sourcing?
Hong Kong is in a unique position to have a leadership role in making sustainable products more available. The city acts as a bridge bringing Western ideas and innovation to China, and sustainable sourcing could be the next opportunity in creating a key differentiator in rapidly developing markets.

In my role, I am actively sourcing suppliers who understand the changing market dynamics and having companies in Hong Kong as partners to help me build those relationships. All companies are looking for a value proposition for sustainable raw materials at cost parity that ultimately creates the pull from customers. ASEAN and India are probably five years behind China and Hong Kong in their development of sustainable raw materials, but the change is underway in Southeast Asia.

What advice do you have for companies striving for best-practice sustainability?
Consider the human factor. At Avery Dennison, we have included people in our 2025 sustainability goals through our commitment to a safe and diverse workplace, and investing in the communities in which we work. Our safety record is at world-class levels and we have established the Avery Dennison Foundation to provide grants to help communities where Avery Dennison employees live. The people goal is a unique way we drive engagement and make our sustainability goals personal to our employees.
Related Link
Avery Dennison Corporation