21 Sept 2016
Springboard to Asia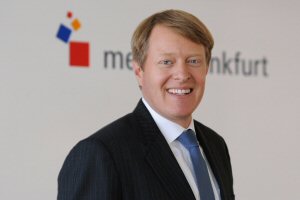 Southeast Asia is a potential new market for Messe Frankfurt to extend its footprint in Asia, where it has been present for nearly 30 years. Germany's leading trade fair organiser first launched in Asia in Hong Kong and has since expanded mainly in the Chinese mainland. It co-organises with the Hong Kong Trade Development Council (HKTDC) two fairs in Hong Kong: the International Stationery Fair and Eco Expo Asia.

Stephan Buurma , Managing Director, Messe Frankfurt (Asia, HK), says Hong Kong remains an ideal base from which to continue helping European exhibitors find new markets in the region.

Tell us about Messe Frankfurt's Asia connection.
Messe Frankfurt came to Hong Kong in 1987 because we felt that our exhibitors needed to internationalise their business structure, and as an exhibition organiser for small and medium-sized enterprises, we were ideally placed to do so. So we launched our first exhibition, in textiles, in Hong Kong in 1987.

We set up our first subsidiary in Hong Kong in 1994 and from there, we branched out in Asia, setting up subsidiaries in India and South Korea. We organise 60 events in the region, mostly in mainland China and India. But in terms of revenue, our mainland business is far bigger than what we have in India. But we control the Asian region from Hong Kong.
Why did you choose Hong Kong as your regional base?
We have legal certainty and enormous financial flexibility in Hong Kong, where we also have a great staff. That combined basically makes Hong Kong still the hub for us in Asia. It's ideally placed from a geographical perspective. You are in Japan within five hours; three to four hours you are in Southeast Asia, so it's perfectly located. It also has good connections to Europe, which makes it an ideal location to be.
How did the partnership with the HKTDC come about?
Our first partnership with the HKTDC was for our shows in Germany. The HKTDC helped recruit exhibitors to Frankfurt, and that cooperation with the HKTDC has evolved over the years. We also organise smaller exhibitions in Hong Kong with the HKTDC. It's a natural platform not just for German, but European exhibitors to present their products to an Asian audience. Pen and Paper, which started in 1996, was renamed in 2001 to become the International Stationery Fair. It was a traditional industry that Messe Frankfurt had strengths in and we felt that the HKTDC would be the ideal partner for us in Hong Kong to offer a platform for small and medium-sized enterprises that wanted to reach an Asian audience.
"Messe Frankfurt has learned that working together with local partners always brings benefits."
Ten years ago, we started Eco Expo Asia, which is a relatively new and very innovative event that deals with a great need in Asia to address its environmental concerns not just in Hong Kong but throughout Asia. We felt that by working with the HKTDC, we would be able to create an international platform, offering the latest technologies to address these concerns.

How has Messe Frankfurt's partnership with the HKTDC helped to strengthen its presence in the region?
Through its long experience working overseas, Messe Frankfurt has learned that working together with local partners always brings benefits. Local partners have contacts with the government, local industries and buyers. And working together makes it a much more competitive option than staging it by yourself.

Our partnership with the HKTDC, which is a very reliable partner and high-grade exhibition organiser, meant that Messe Frankfurt has learned a lot from the HKTDC. And I hope Messe Frankfurt has been able to contribute a bit to Hong Kong's development as an exhibition centre as well. So both sides have learned from each other and Hong Kong has been the ideal platform to make that possible.

Hong Kong remains the ideal base for Messe Frankfurt because it's right next door to China, which is Germany's biggest trading partner in Asia. So we are close to China and are also able to access ASEAN in a short period of time. Hong Kong is the ideal base to proactively approach these markets. While we don't have many projects in ASEAN at the moment, we hold shows in Vietnam and Thailand and are looking at how these markets develop.

What role does the exhibition industry play in helping SMEs expand their market?
All exhibitions are classic tools for SMEs. Large corporations do their own roadshows, they have big advertising budgets, but SMEs do not have those resources. So they come to exhibitions, which rely on people who know the local market to organise relatively cost-effective platforms for SMEs and this enables them to make their first step into the market.

If you're going into the Chinese mainland, Hong Kong or India, you need a platform that allows you to access markets in a relatively inexpensive way and exhibitions perform that service.

Hong Kong is naturally an ideal launching pad if you want to start business in the mainland. It has structures that are familiar to Westerners. It has a population that is more familiar with Western ways of thinking so it's much easier to recruit staff who you can communicate with and who understand you, and then move into mainland China step by step.
Related Link
Messe Frankfurt