14 Oct 2016
The Lifestyle Business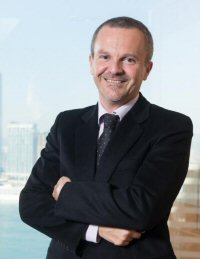 More than food and wine, Italian culture is about a unique lifestyle that celebrates a simple and relaxed way of living. Antonello De Riu, Consul General of Italy in Hong Kong, says the annual Bellissima Italia festival, which runs from September to December, is proof that Hong Kong's expanding Italian community punches above its weight when it comes to offering culture and lifestyle business opportunities.

The Italian community in Hong Kong may be considered small, but what makes it unique?
Hong Kong has more than 3,500 Italian nationals. If you compare that to the French community, it is about one-quarter of the size. But consider our community abroad and Hong Kong is the second-largest community of Italian expats in Asia. That means that Hong Kong has more Italians registered at the consulate compared to Shanghai, Beijing, Tokyo and Singapore.

In Hong Kong, the 3,500 Italians are working in very well-established sectors: of course the fashion, logistics, banking and finance industries, and we cannot forget food and beverage. At the moment, there are almost 90 Italian restaurants.

How would you describe the cultural and business ties between Hong Kong and Italy?
What I found when I came here was a very positive environment towards Italy. There are plenty of people who go to Italy every year not only for business, but for leisure. I didn't have to convince people about Italy, but I had to find something to stimulate their interest towards my country. That is why we started Bellissima Italia last year. We set it up at the end of August and started a campaign with both Italian and local companies. There were already institutions that were being carried out every year, activities that related to the leading sectors in which Italy is engaged, but not in a unified manner. Everyone was acting individually and if you go individually, you target just one community, one particular category of customer.

What types of activities can people expect from Bellissima Italia this year?
The idea is to present a programme in a unified manner, so Bellissima Italia is a sort of container of events. It's like a brand where we give to the people of Hong Kong the idea that Italy is doing something; that we have a programme that can stretch from opera to classical music, jazz, exhibitions, photograph exhibition, wine-tastings or particular promotions or events in some Italian restaurants.

Tell us about the lifestyle aspect of the festival.
The slogan of Bellissima Italia is the culture and lifestyle festival. You know how important lifestyle is, it's something more than a concept, it's a philosophy that fascinates everyone in the world. And, like every philosophy, there are different points of view, but the Italian lifestyle has a strong influence on many people around the world.

What people understand about Italians is that even normal people can enjoy life, enjoy food, enjoy a good suit or shoes. This is something that is available in Italy also for the middle class. This does not happen in many other places and I think this is the aspect that is fascinating.

Why is education an important part of spreading Italy's cultural message?
We also want to stimulate the educational aspects of our culture. This year, there will be some initiatives involving the theatre and also for the younger generation at school. This will be done in English, by an Italian, who lives here and founded a theatre. Another initiative will be the opera, not only to bring famous singers here, but also to try and do some master classes.

Apart from cultural pursuits, how is your office forging stronger business links with the community?
I think the business perspective, we can say, is quite stable since I've been here. When I arrived in Hong Kong, the Italian population here was between 500 and 600 people less, so that means that it is a growing community.

We are also doing other initiatives that can help support the image of Italy here. Hong Kong has a very important network of universities and there are several students from Italy, PhDs and professors, who were previously not in touch. I started talking to universities about research and innovation.

This is a city of banking and finance, so we are pushing hard on promoting investments to Italy, where Chinese investment is very strong. In 2015, we were the top destination for foreign direct investment from the Chinese mainland to Western Europe. About 80 per cent of mainland investment passed through Hong Kong, so Hong Kong is very important for Italy financially, but also because of its role as a super-connector. This is why we were able to recently organise a seminar with people from the Italian Stock Exchange, presenting investment opportunities to top companies. It was a success with almost 80 people attending.

What is your goal for Hong Kong's Italian community?
I'm working to create a better "ourness" of Hong Kong in Italy. Some people in Italy don't have it clear in their mind about the difference in the features of Hong Kong and the mainland. They tend to consider the country all together and sometimes take their business to the mainland when they should come here. From a commercial point of view, Hong Kong is the third-largest commercial partner for Italy in Asia, behind mainland China and Japan. We're working on not only a commercial point of view, investment, but also another factor to which Hong Kong attaches a great importance: trying to stimulate start-ups. We have already built a group within the Italian Chamber of Commerce aimed at stimulating Italian start-ups in Hong Kong, given the positive environment here. Taking into account the importance of Hong Kong as a financial hub, we're stimulating the presence of Italian start-ups that are focused on research.
Related Link
Consul General of Italy in Hong Kong