10 Nov 2016
Navigating a Steady Course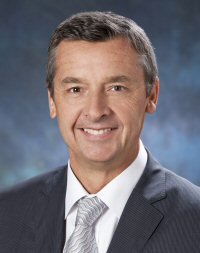 In 2013, Royal Caribbean's Voyager-class ocean liner Mariner of the Seas was the first cruise ship to dock at Hong Kong's newly opened Kai Tak cruise terminal. Michael Bayley, President and CEO of Royal Caribbean International, outlines the company's latest plans to further capitalise on the city's burgeoning cruise business.

Tell us about your company's presence in Hong Kong.
Royal Caribbean has always had a strong and positive relationship with Hong Kong. Since its opening, the Kai Tak Cruise Terminal has been the home of our Royal Caribbean ships visiting Hong Kong.

With Mariner of the Seas' arrival in 2013, we were the first cruise line to offer round trip voyages from Kai Tak. We opened a Hong Kong office in 2014. In 2015, Voyager of the Seas became the first Royal Caribbean ship to home port in Hong Kong, and we recently completed our second very successful sailing season from Hong Kong.
Why is the Asia-Pacific region so important to the cruise industry?
In 2015, 697,000 cruise travelers hailed from Asia, nearly equaling the combined number of tourists from other regional markets. The number of Asians taking cruise trips has grown at a compound annual rate of 34 per cent since 2012, reaching 1.4 million in 2014, according to research by Cruise Lines International Association.
"With its connectivity to the Pearl River Delta, central China and Taiwan by air, high-speed rail and land transport via the Hong Kong-Zhuhai-Macau Bridge, Hong Kong is looking at a cruise potential of 54 million passengers."
Greater China is currently the largest source of cruise travellers in Asia and the eighth-largest in the world. According to a study by the Hong Kong Tourism Board, there are potentially 83 million cruise passengers in just seven source markets within Greater China, which is four times the current number of cruise passengers worldwide. With its connectivity to the Pearl River Delta, central China and Taiwan by air, high-speed rail and land transport via the Hong Kong-Zhuhai-Macau Bridge, Hong Kong is looking at a cruise potential of 54 million passengers.

China especially is a very important market for Royal Caribbean. It has grown at more than 50 per cent for the past five years, the biggest growth rate of any market we have operated in around the world. Our total guests from China homeports (including Shanghai, Tianjin, Xiamen and Hong Kong) numbered more than 400,000 in 2015, making us the largest cruise operator in the region.

Based on these encouraging results, we added Ovation of the Seas to our China fleet this year to take advantage of the strong reception to this class of ships in the region.

What does Hong Kong offer your business?
Hong Kong has long been a strategic location for Royal Caribbean's expansion in Asia. Together with Shenzhen and Guangzhou, the market is among the most affluent in Greater China and boasts a combined population of 35 million people within a two- to three-hour driving distance from the Kai Tak terminal.

Hong Kong has one of the highest GDPs per capita in Asia and is home to a host of sophisticated, knowledgeable and pioneering travelers. In 2015, we welcomed more than 35,000 Hong Kong guests on board our ships. That 20,000 of those guests sailed on Voyager of the Seas confirms that our decision to home port here in Hong Kong has been a successful strategy. Passenger demand prompted us to extend the homeport season this year to five months (from June to October 2016). Forward bookings are also strong for the next sailing season in 2017, with Okinawa, Japan as the most popular destination choice for Hong Kong cruise travelers.

What are Hong Kong's advantages as a home port?
Moving Voyager of the Seas to home port in Hong Kong was a strategic move that has enhanced our presence in the very important Asia-Pacific region. It has made cruising more attractive and accessible to travelers in this region. Coupled with our "Gold Anchor Service" and the support of local travel agencies, we have established a strong business model in Hong Kong.

Hong Kong is a multicultural city with amazing food, nightlife, a rich heritage and natural scenery. Not to mention the gorgeous Victoria Harbour. The city is already a highlight of any cruise itinerary. As a strategic port, Hong Kong has the perfect location to begin or end an Asian cruise adventure. All the wonders and excitement of China, Taiwan, Korea or Japan, plus the tropical charm and beauty of Vietnam, Indonesia, Thailand, Malaysia, Singapore and the Philippines, are just a few days' sail away. Hong Kong also has convenient transport links to mainland China, Macau and the entire pan-Pearl River Delta.

How has opening the Kai Tak Cruise Terminal helped promote cruise holidays?
The terminal is located in the downtown district and is easy to find with plenty of public transportation connections and parking space. Passengers can arrive in the city centre of Tsim Sha Tsui in 30 minutes. It offers panoramic views of the picturesque Hong Kong skyline. As evidenced by the incredible pictures of Quantum of the Seas cruising through the harbour, the gorgeous view impresses tourists and residents alike.

Royal Caribbean will continue to work closely with Kai Tak Cruise Terminal and other stakeholders to deliver the best possible cruise experience for our guests from Hong Kong and around the region.

2016 was the first year that we deployed two ships, Voyager of the Seas and Ovation of the Seas from Hong Kong, which enabled us to increase our sailings to 30 per season. This gave us capacity to welcome more than 100,000 vacationers this year, about a 43 per cent increase compared to 2015. As a consequence, Royal Caribbean will remain committed to Hong Kong. The city continues serving as an important port for us.
Related Link
Royal Caribbean International