28 Nov 2016
Bridge to India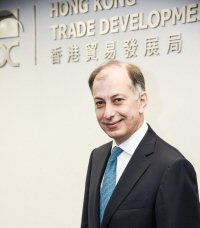 A high-level Indian business delegation travelled to Hong Kong in November to identify potential local industry sectors in which Indian companies can collaborate. The seven-member team from the Confederation of Indian Industry (CII) held meetings with Hong Kong government officials and business groups, as well as with the Hong Kong Trade Development Council.

The visit follows a February trip by a Hong Kong delegation, led by Chief Executive CY Leung, to New Delhi to explore bilateral trade opportunities. CII President Dr Naushad Forbes, who led what was the Confederation's second mission to Hong Kong, explains how Hong Kong companies can capitalise on business opportunities in India.

Tell us more about the Confederation of Indian Industry.
The Confederation of Indian Industry comprises up to 8,600 SMEs and multinational corporations across a spectrum of sectors, from information technology to food processing, energy and bio-fuels. As a non-profit organisation founded in 1895, CII pledges to create a sustainable environment for the development of Indian businesses by enhancing their competitiveness through specialised training and advisory services, and providing a platform for them to launch overseas. CII has established a strong global presence, with nine international offices and strategic partnerships with 320 organisations in 106 countries.
How does the CII help India strengthen trade ties with other economies?
CII works in four areas: policy advocacy, enhancing Indian firms' competitiveness, providing a platform for consensus-building and networking, and connecting companies with international businesses. We have an active role in engaging with different markets – from mature to emerging markets – and then evaluate how we could play a role in helping Indian firms go overseas with their proprietary technologies and capabilities to access markets in the Asia-Pacific region, the Middle East, Africa and Latin America.

We achieve these goals by bringing delegations to high-level meetings, including with government officials in different countries. This year, we have taken CEO core group delegations to Iran, Myanmar, South Africa, Indonesia, Vietnam and Sri Lanka. It enables people to make initial contacts in countries they have never been to. In places where people have been to, such visits help deepen their understanding, which helps formulate investment strategies.
As this is CII's second visit to Hong Kong, what is the purpose of your latest trip?
It is about building a sustainable, ongoing relationship. When the Chief Executive of Hong Kong visited India earlier this year, we were very happy to host him in CII for an interaction with Indian industrialists. We see that Hong Kong can really facilitate trade between India and China. This time, we hope to highlight how Indian firms could do business in Hong Kong, and use the city as a base to do business in China. At the same time, we also welcome Chinese mainland firms to make greater use of Hong Kong to do more businesses in India.
"We hope to highlight how Indian firms could do business in Hong Kong, and use the city as a base to do business in China. At the same time, we also welcome Chinese mainland firms to make greater use of Hong Kong to do more businesses in India."
How can Hong Kong help Indian companies expand their markets in the Chinese mainland?
As firms, we have good capability to develop. But to some extent, all but the largest Indian firms are sometimes intimidated by the size and scale of Chinese mainland businesses. We would often ask "How do you get in? Where do you get in? Where do you start?"
Hong Kong knows that; it knows who you should engage with, where you should start, where you should be based. There's this familiarity with business structures and it knows the way to succeed in China. In the meantime, Hong Kong and India share similarity in terms of legal structure and the way business operates. These really give us a feeling of comfort.

What are the key sectors your delegation is looking to further develop with Hong Kong companies?
There is great potential in electronics assembly. India has a significant presence in most areas of the global supply chain, but we have next-to-no presence in electronics, which is one of the major sectors in manufacturing.

Hong Kong has played a key role in developing electronics supply chains by providing professional industrial design services. Hong Kong is also familiar with developing overseas markets. There is great potential to do things in almost every product area in India, and Hong Kong designers could really make use of that.

India has a strong presence in pharmaceuticals, and I think they should look to Hong Kong as a base to do business in other parts of the world. Indian IT services providers and supply-chain solutions are actively using Hong Kong to engage in many parts of the world. We also have presence in auto components, textile and garments. Hong Kong manufacturing firms based in China could look to India as a base for manufacturing.

How would you describe the current state of business ties between India and Hong Kong?
The level of business is significant. It has been growing nicely, but the potential is much greater. Even though we are the fourth-largest export country in Hong Kong, there is still a big gap between us and the first export country. That's an indication of the potential.

Lifestyle Expo in New Delhi takes place in the Indian capital, 19-20 December, featuring 80 exhibitors from Hong Kong and the Chinese mainland that will showcase consumer products for the Indian market.
Related Links
Confederation of Indian Industry
Lifestyle Expo in New Delhi