3 Jan 2020
Tradition, innovation blend at drinks fair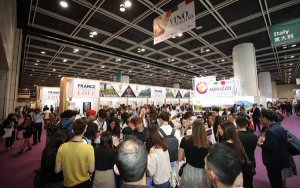 A Nordic birch-sap alcoholic beverage isn't the obvious thirst-quencher in a city as hot and humid as Hong Kong, yet if that's what tickles your fancy, then Swedish sparkling wine Sav was just the ticket at the HKTDC Hong Kong International Wine & Spirits Fair held in the admittedly cooler and drier month of November. This bubbly made from fresh sap, collected each spring once the snow begins to melt, was just one of the many exotic tipples being showcased at the fair.

Overall, wine merchants from far and wide flocked to the city, keeping the number of exhibitors at 1,075, while the tally of buyers peaked at 21,000. As well as being able to purchase their favourite beverages, non-trade buyers also took part in a range of events, including master classes, wine tastings and cocktail demonstrations.

Attendees were spoilt for choice. Alongside the usual large pavilions of renowned wineries from France, Italy, Germany and Latin America, the fair provided a much-needed platform for lesser-known niche brands that piqued buyers' curiosity. The smaller stalls, made up of single booths, were mostly occupied by new exhibitors from Latvia, Lithuania, Vietnam, Ukraine and the Czech Republic, all of which flocked to the fair hoping it would prove to be a gateway to Asia's vast markets.

Evija Sparāne, Global Portfolio Director of Latvia's Amber Beverage Group – which manufactures low-calorie, kosher-compliant, fruity wines – made her debut at the fair. "We are hoping to find a business partner who loves our brand as much as I do and can help us reach the end-consumers in this part of the world," she said.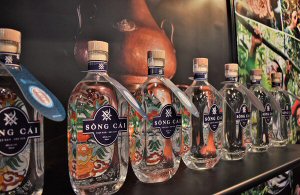 A similar aspiration brought Michael Rosen from Vietnam's Sông Cái Distillery to the city. After winning a silver prize in a competition organised by the HKTDC earlier this year, Mr Rosen and his business partner Daniel Nguyen came to Hong Kong to showcase the first artisanal gin made in their country. While their main aim was to increase their visibility, Mr Rosen said they also hoped to find distributors in Hong Kong, Mainland China and the wider region. "Unfortunately, we haven't found a distributor yet, but we are talking to some people," he said towards the final day of the show.

The more established wine merchants didn't experience similar frustrations. Given the organisers' strong relations with various trade commissions, several renowned importers and retailers were present including France's Auchan, Russia's Wine Shopper, Spain's Caldos Extremenos, Uruguay's Los Dominguez, and Japan's Daimaru Department Store and Japan Craft Sake Company.
Premium service
To help premium buyers, the HKTDC also set up a buyer concierge desk that provided free business-matching services between buyers and exhibitors on-site. Manuela Liebchen, Marketing Manager of Germany's Deutsches Weininstitut, said appreciatively: "We have been exhibiting here for 12 years now. The fair has always been well-organised and draws a lot of quality buyers. Through the event this year, we were able to secure buyers from Mainland China, Brazil, Australia and other markets. The results are very encouraging."

Keen demand from buyers based in Mainland China played a big part in such encouraging results. Leo Ai Yi Fei, President of China's Aura International, said he felt the fair provided an excellent platform for connecting Western suppliers with Asian buyers, and vice versa. He said he had placed an initial order involving about 1,200 bottles of Scotch whisky from a United Kingdom based exhibitor and that talks were under way with a Japanese whisky supplier with regard to a potential order worth about RMB600,000 (US$85,900).

Zeng Qingxing from China-based Chongqing Boniu Trading Company, noticed buyers could communicate more easily with each of the exhibitors at the 2019 fair. "We can talk to them more and understand about their beverages in greater detail. We have placed orders for French, Italian and Australian wines."
Home-city brewing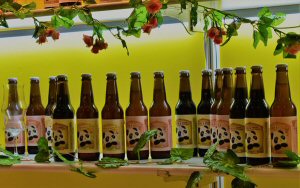 Hong Kong has traditionally served as a conduit connecting mainland buyers with Western sellers but this year the fair provided an equal platform for Asian producers to showcase wares to a larger audience, most notably in relation to Hong Kong's home-grown craft beers. The city's craft beer scene has boomed in recent years, yet only in the past year or so have efforts been scaled up, allowing local producers to team up to share the fair's first Hong Kong craft-beer pavilion.

Behind this collaboration was Tomy Fong, the Founder of MiMi Beer. Speaking about his motivation in getting local manufacturers to group together, he said: "Whenever I travel abroad, I find that foreigners don't really know about the booming craft beer scene in Hong Kong, so I took it upon myself to spread awareness of this particular local beverage. As everything is very expensive in Hong Kong, people who are making craft beer are really passionate about it. My mission is to connect them to potential buyers and distributors, so they can make some profit out of their passion. There's been an increase in awareness about our beer – not so much in Western markets, but definitely in Asia. For my own brand, I can say that buyers from Korea, Singapore and Japan are showing a lot of interest."

Apart from the focus on buyers and sellers, the fair organisers also emphasised teaching not only about the alcohol being consumed, but also about the cultures they come from. One particularly interesting example was the Miss Sake Hong Kong contest, which was in its fifth year. Co-organised by Japan Sake, the Shochu Makers Association and a number of other Japanese organisations, the contest promotes not just sake but Japanese culture, dining traditions and suchlike.

Apart from promoting culture and traditions, the fair also encouraged conversations around innovation. Panel discussions on how technology has been reinvigorating the global wine market were complemented by live demonstrations at the booth of Redsip, a start-up company that has built an app using artificial intelligence and augmented reality technology to help people trace the exact vintage, terroir and tasting notes of restaurant wines by simply scanning the label. With such novelties, it seems the fair is already raising a glass to the future.

The 12th HKTDC Hong Kong International Wine & Spirits Fair took place from 7-9 November at the Hong Kong Convention and Exhibition Centre.
Related link
HKTDC Hong Kong International Wine and Spirits Fair