1 Nov 2021
Natural home for fintech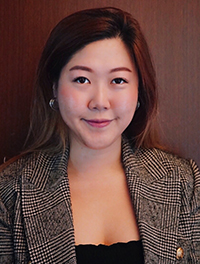 Innovation and technology thrive in vibrant, open environments. A plugged-in world city with a massive financial industry, Hong Kong is a perfect venue for fintech development and FINNOVASIA, a global fintech community established in Hong Kong in 2015 seeks to foster greater collaboration between fintech start-ups and the financial industry locally and globally.
FINNOVASIA works with local stakeholders including government and regulators to support the development of the fintech industry in Hong Kong.
As the official appointed organiser of Hong Kong Fintech Week, FINNOVASIA helps to build the programme and the whole week-long event held by Financial Services and the Treasury Bureau and Invest Hong Kong, according to the community's Business Development Manager Kris Fok. The sixth edition takes place from 1 to 5 November.
What's in this year's Fintech Week?
Following the success of last year's virtual event, in 2021 we are adopting a hybrid model that will integrate physical and virtual elements. Digital currencies are a big focus, while broader topics cover how the industry can adapt to the new normal. Fintech companies grew rapidly during the pandemic. As people were not going out to the bank, they were forced to use technology. Virtual banks in Hong Kong are developing very fast, and this looks set to be a big trend for 2022. In 2019, the Hong Kong Monetary Authority (HKMA) began issuing virtual bank licences, and these banks include WeLab Bank, Mox Bank and Airstar Bank. Some are more geared towards business to consumer, while others, like Airstar, are better suited for SMEs [small and medium-sized enterprises].
How did Fintech Week survive the pandemic?
In 2020, we still managed to pull off a special event, despite last year being a really challenging time for the event industry. We thought of cancelling it but our clients, partners and friends urged us to go ahead. With the pandemic, it seemed [to be] even more important to help the industry drum up business support, and the virtual event managed more than 1.2 million views. This year, we've partnered with CNBC and some Chinese media to produce more than 100 hours of content.
Virtual conferences have become the norm. What are the advantages of this format?
It's made it easier for big names to join the event, and [last year] we got big-name speakers like [United States investor and Bridgewater Associates founder] Ray Dalio, who attracted a lot of global attendees from the US and Europe, while this year we have Jane Fraser, CEO of Citi, sharing her insights on fintech and banking reformation, Richard Li, Chairman of Pacific Century Group, Joe Tsai, Co-Founder & Executive Vice Chairman of Alibaba Group, and many more. Last year, we also created more lifestyle content, so delegates could find out more about Hong Kong, go on virtual local tours, or even attend yoga sessions, so it was much more fun and livelier. That's why we are doing a hybrid event this year, and that's our direction for the future.
Are you helping fintech evolve in the region by organising visits for overseas companies to Mainland Chinese fintech firms?
Yes, back in 2019, we organised a visit for international clients to Shenzhen, and visited firms including Tencent, WeLab, ZhongAn and WeBank. The visit helped international delegations see how [such visits] could facilitate collaboration, and how they could expand beyond Hong Kong. We'd like to organise a tour to other [Guangdong-Hong Kong-Macao] Greater Bay Area centres in the near future, again visiting top fintech companies in the region.
How does Hong Kong's fintech community compare to other fintech hubs in the region?
Hong Kong is one of the top cities for start-ups to rapidly scale up. It has one of largest fintech company counts in region, and we want to support the local and overseas community here. We work with many regulators and government-funded tech hubs and they offer a lot of subsidies and low rentals for start-ups so they can scale up their business in Hong Kong. There's a strong community bond within the fintech community, and that is set to expand in Hong Kong.
You are committed to creating more of a gender balance in fintech. How are you doing that?
At this year's Fintech Week, almost 40% of our speakers are female, and we've been encouraging top female speakers to speak on stage and publicise their achievements. I think one of the biggest hurdles is overcoming the perception of the industry being male-dominated. Strong role models are critical to reducing structural gender imbalances and attracting more women to join the industry.
How do you expect fintech to evolve in Asia?
In the past few years, the fintech adoption rate has rocketed and Asia is definitely one of the most advanced regions in terms of fintech development in the world, particularly Mainland China and India. Even though we have already seen a lot of massive developments, I still see big room for growth, especially when more sectors are branching into financial services as people were forced to adopt the "mobile first" approach during the pandemic. While companies in the West are still considering whether to expand into financial services, [mainland] firms like Alibaba have already embedded digital finance in all aspects of customer's lives and I expect this to grow beyond Asia.
Related links
Fonnovasia
Fintech Week