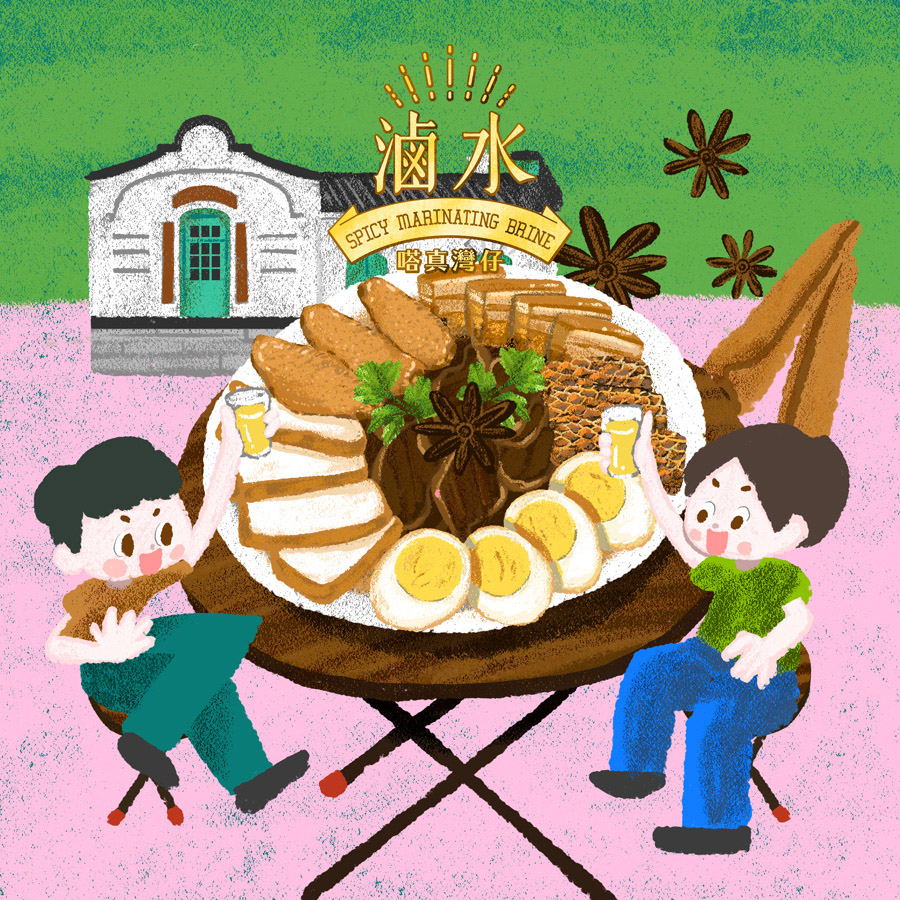 Spicy Marinating Brine
Speaking of Chiu Chou cuisine, it goes without saying that the focus is on the essence of its spicy marinating brine, the brownish mixture consisting of the basic ingredients such as peppercorn, star anise, tangerine peel, cinnamon, licorice, black cardamon, ginger, galanga, sand ginger, spring onion and rock sugar, resulting from many hours of simmering until a smooth and aromatic taste is reached.
However, there are other unique recipes to include kinds of medicinal herbs or goose oil and so on, depending on the preference and taste bud of the chefs as well as the eaters. The way of preparation is to simmer goose, duck, pork belly, pig ears, pig head meat, eggs, pig feet, hooves, pig stomach, tofu, peanuts, and goose liver, intestines, gizzards and the like in the brine. The variety of delicacies so prepared is endless. It is said that the goose was the first product of those marinated delicacies because Chiu Chou folks love eating goose, who wouldn't consider a meal a full meal unless it includes some kind of goose meat like such "oddities" as the heads, paws, tongues and intestines.
According to records, Chiu Chow folks began making spicy marinated goose in the middle of the Qing Dynasty, which translates into a history of more than 100 years. The way of preparation remains more or less unchanged, but it is worthy of note that the spicy marinating brine is used every day but never disposed of. Instead, seasonings are added each and every time to keep it mellow and fragrant to whet the appetite of the eaters. Given that, it becomes ever more delicious day by day after absorbing the enriching tastes of the various kinds of meats. An old stock of the spicy marinating brine is widely recognized as the most invaluable asset and charm of a restaurant.
Recommended Shops
1) Hsin Kwong Chiu Chow Restaurant
Address: 405-419 Lockhart Road, Wan Chai
Telephone: 25720830

2) Chao Jo Lu
Address: Shop 8, G/F, Luckifast Building, 1-13 Stone Nullah Lane, Wan Chai
Telephone: 37020068