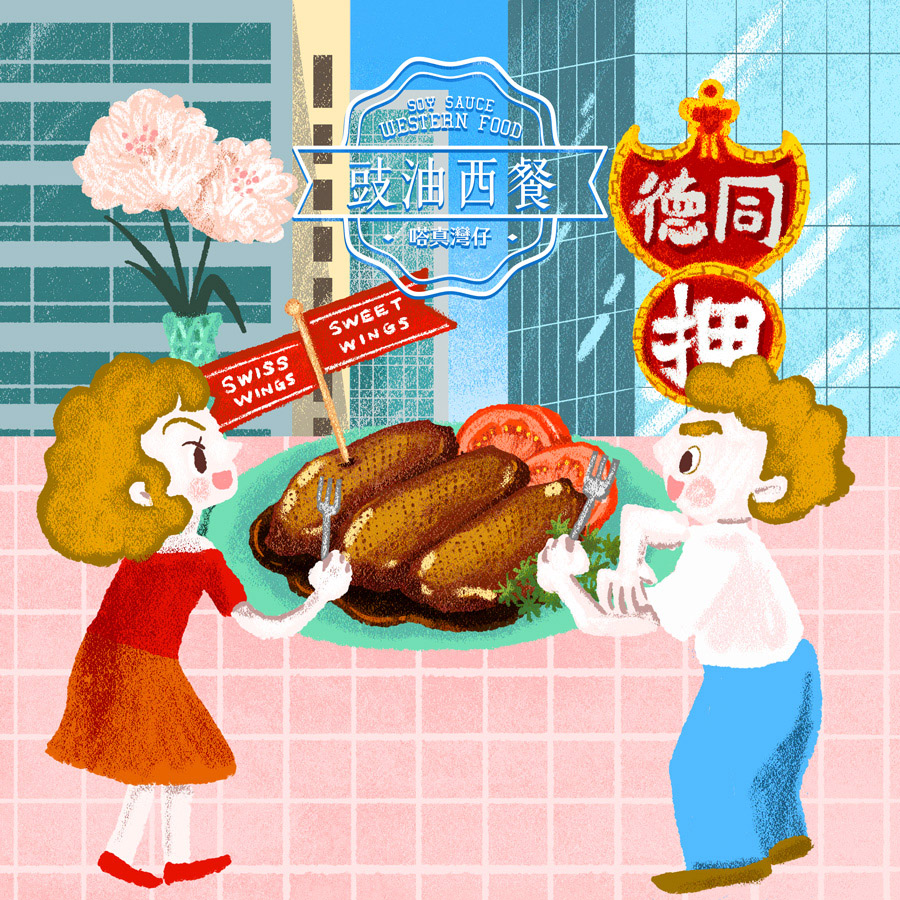 Soy Sauce Western Food
Hong Kong-style Western Food is also popularly known as Soy Sauce Western Food. The signature dishes are soy sauce chicken wings, prawn salad, smoked pomfret, steak on a sizzling plate…which are completely alien to the knowledge of the Westerners, but they have become the collective memories of Hong Kong folks. In fact, it is not a local flavor. Instead, it originated from the neighboring city of Guangzhou when the first Chinese-run Western restaurant, Tai Ping Koon Restaurant built on a sandbar of the Pearl River, opened for business in 1960. At that time, Guangzhou was already a major trading post where Westerners and locals lived mixed together.
The restaurant's founder Chui Lo Ko had worked as a cook of Western foods at a trading company where he managed to use Cantonese soy sauce instead of salt in his cooking. Such a unique taste in preparing grilled steaks, deep-fried baby pigeons, stir-fried beef noodles, etc. was not only agreeable to the local palate but also that of the Westerners. The most famous among soy sauce Western food should be the "Swiss (Chicken) Wings" that was initially named "Sweet (Chicken) Wings" as the wings were prepared with a soy-sauce flavor, which had nothing to do with anything Swiss. It is indeed a misnomer caused by a Westerner's misunderstanding of a waiter's poor pronunciation of "Sweet Wings."
Since then, the "soy-flavored sauce" has been known as the "Swiss sauce." After 1949, the founder's descendants went south to open their restaurant in Hong Kong and made soy sauce Western food very popular to the locals, thus attracting a great number of local restaurateurs to follow suit and opened their own restaurants of the same nature such as Hong Kong Island's Boston Restaurant, and Kowloon's Golden Phoenix Restaurant, Sweetheart Garden Restaurant, Mei Yi Lim Restaurant and so forth. Since then, Soy Sauce Western Food has gradually become an indispensable part of Hong Kong's food culture.
Recommended Shops
1) Boston Restaurant
Address: 3 Luard Road, Wan Chai
Telephone: 25277646

2) Loyal Dining
Address: G-1/F, 5 Tonnochy Road, Wan Chai
Telephone: 31253000