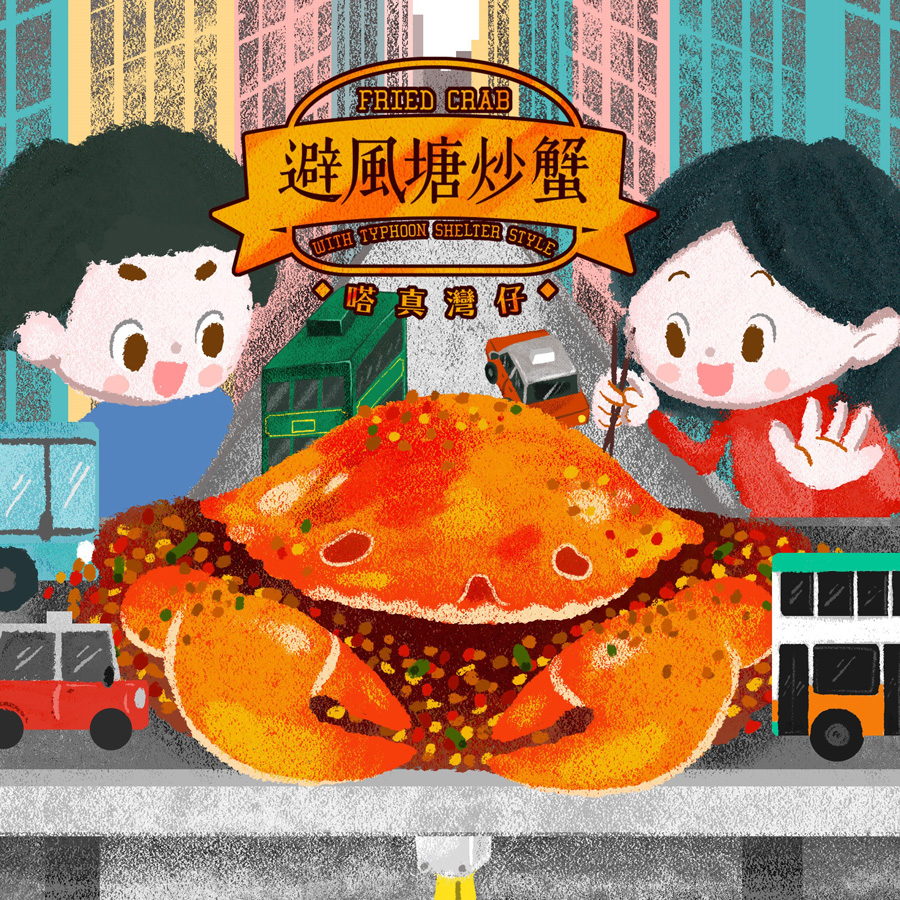 Typhoon Shelter Fried Crab
Typhoon Shelter Fried Crab is a 100% original local dish and truly has its roots in the HK Typhoon Shelter. The story started in 1883 while the Government was reclaiming the land in Causeway Bay, stretching from the present Tung Lo Wan Road to Causeway Road, making the bay adjacent to Causeway Road Hong Kong's first typhoon shelter. In 1950, the typhoon shelter was also reclaimed to build the Victoria Park. Then a replacement typhoon shelter was re-built on the side of Victoria Park Road, which is today's Causeway Bay Typhoon Shelter. In the 1970s of the last century, other than those fishing boats berthing in the typhoon shelter, there were also other boats anchored there and open to the public, providing both entertainment and food service, such as singing lounges, boat-style congee, BBQ duck noodle, poached squid, pork stomach and chive, etc. One of those joints on the boats called Hon Kee was specialized in serving fresh crabs fried in black bean and garlic sauce. The dish was so enticingly tasty and popular that the customers simply called it Typhoon Shelter Fried Crab.
Since then, this signature dish ushered in the golden era of the Causeway Bay Typhoon Shelter, attracting the patronage of even the celebrities and other wealthy business people. However, nothing lasts forever, as the cliché goes, the glories of the golden era drew to an end when the Government had announced a ban on catering on the boats. Despite the setback, this signature dish soon found itself landed on solid ground where quite a good number of restauranteurs had decided to open their own restaurants advertising Typhoon Shelter Fried Crab as their signature dish, such as Bamboo Village, Hee Kee Fried Crab Expert, Under Bridge Spicy Crab and Hing Kee Restaurant, etc., covering the districts of Hong Kong Island, Kowloon and the New Territories. Among them, the owner of Hee Kee found a way to re-invent the dish in a dry style using golden fried onion bits, instead of the usual wet style using black bean and garlic sauce, which has become the most popular version today. It is worthy of note that the dish is not only the tourists' most favored dish, but also an internationally renowned delicacy, making a name for Hong Kong worldwide.
Recommended Restaurants
1) Hee Kee Fried Crab Expert Ltd
Address: Shop 1-4, G/F, Dandenong Mansion, 379-389 Jaffe Road, Wan Chai
Telephone: 28937565

2) Under Bridge Spicy Crab
Address: Shop 1-2, G/F, 414 - 424 Jaffe Road, Causeway Bay, Wan Chai
Telephone: 25737698