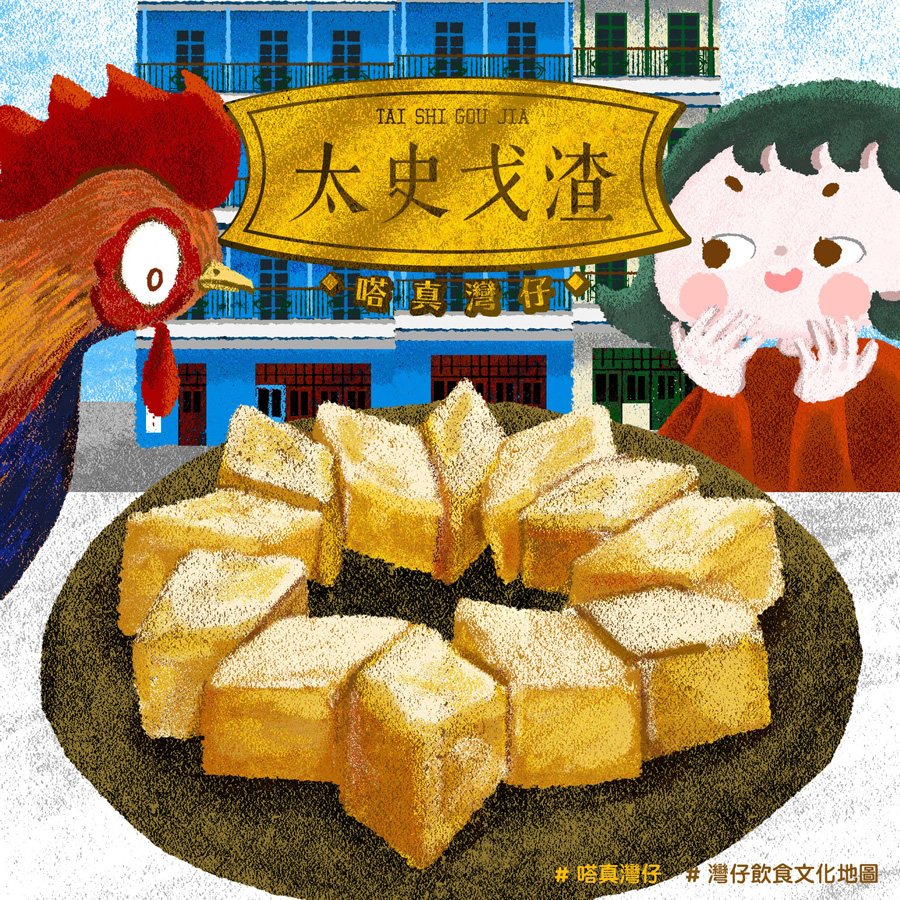 Deep-Fried Custard of Chicken Broth
Deep-Fried Custard of Chicken Broth, or "Tai Si Gwoh Jar" is a traditional Cantonese dish that fully reflects the subtle exquisiteness and skills of Cantonese cuisine. It is made of super premium broth, egg yolks and corn starch. The three ingredients might look simple, but it surely takes a lot of efforts in the preparation, starting by mixing the broth, egg yolks and corn starch into a good paste, pouring it onto a shallow tray to be placed into the fridge until solidified. The next step is to take it out and cut into diamond shaped pieces, dip them in corn starch before deep-frying them until done. However, it must be cautioned that it is rather difficult to strike a good balance, using more corn starch and less broth will render it too hard whereas less corn starch and more broth too soft; if the ingredients for the broth is too mediocre, it will be lacking in taste; if the batter is too thick, it will lack texture; if cut into over-sized pieces, it will be less pleasant to the sight.
A premium Gwo1 Zaa1 should be crunchy to the bite, tender and smooth within, melting in the mouth, leaving behind a long-lasting deliciousness of the broth. Such a delicate dish, according to Kong Hin Chu's cookbook, "The Essence of Traditional Cantonese Cuisine," was originally a sweet snack made of flour called ""Ge Zha" sold on the streets of Beijing. It is said that Kong's grandfather had once tasted it with much delight in Beijing. After returning home, he worked with his family chefs to prepare it with chicken testicles, thereby changing a sweet snack into a salty one, and a simple snack into a sumptuous one. It soon became a signature dish well-known at banquet tables, earning a lot of thumbs-up from the wealthy dignitaries… However, when the political situation took a wild turn in Mainland China, Official Kong's family fortune went downhills, even his last family chef, Lee Choi, left for Hong Kong and passed on the recipe and the skills to his competent apprentices, who later popularized it to become a signature dish in the art of Cantonese cuisine. What's more, what it used be exclusively enjoyed by the elite has now become available to everyone.
Recommended Restaurants
1) Kin's Kitchen
Address: 5/F, W Square, 314-324 Hennessy Road, Wan Chai
Telephone: 25710913

2) Seventh Son Restaurant
Address: 3/F, The Wharney Guang Dong Hotel Hong Kong, 57-73 Lockhart Road, Wan Chai
Telephone: 28922888